Week of June 22, 1997
John Gustafson
Conversations with bass players can often be tantamount to one-way communication. These people don't talk much, you see. They play. But occasionally you might just manage to squeeze a bit of information out of them as an answer to silly questions like: who inspired you when you first started out?
And more often than not they'll reply: John Entwistle of The Who, Paul McCartney, Jack Bruce…
Well, didn't we just know it! But then they'll add with a creative glimpse in their eyes… John Gustafson!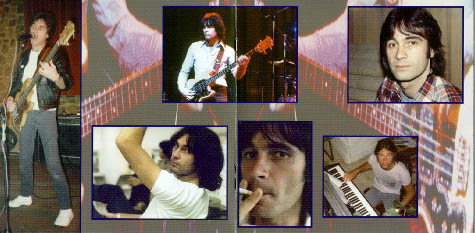 He was there, right from the beginning. With the Big Three deep down in Liverpool's sweaty Cavern Club, seeking out new possibilities for the electric bass guitar along with this other bloke, Macca. Later he joined The Merceybeats. And at the time when The Beatles were recording albums like "Rubber Soul" and "Revolver", this handsome looking young Liverpoodlian of Swedish/Irish descent was already launching his solo career on Polydor, releasing several singles in his own name. To little avail, unfortunately… and then things just generally fell apart.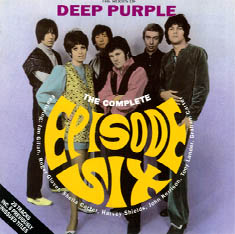 Sometime in 1969, after a couple of years of living from hand to mouth and occasionally sleeping on park benches, John Gustafson emerged from a pile of old newspapers somewhere and started to get involved with the remains of Episode Six, a group who had earlier featured Ian Gillan as their lead vocalist. They rehearsed for a while with girl singer Sheila Carter (who had previously released a single with the group), but the band fell apart, leaving drummer Mick Underwood, keyboardist Pete Robinson, and our very own Gustafson to form Quatermass sometime late in '69.
This was a progressive rock outfit, in some respects a long way from the sort of music Gustafson had been playing with the Big Three in the Cavern Club. But their problem was the same. They were just too good players, too much music and too little gimmick, too ahead of their time to make it big.
"We did a six week tour of the States though," John recalls. "And we played alongside a few of the big names over there at the time: The Buddy Miles Band, Earth Wind & Fire and Billy Preston. That made my eyes open wide."

One album was released, the now legendary "Quatermass". As this LP had a Swedish producer, touring Scandinavia became another obvious possibility, followed by work for people like Janne Shaffer.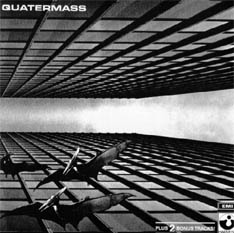 "After Quatermass had disbanded, I just joined the wonderful world of recording sessions, following which I ended up in Roxy Music. They had generally had some problems with bass players, and I received this telephone call. Would I like to play with them? And being the mercenary type, I said, "Sure." So that was that. I recorded three albums with them but all the time retained my status as a sideman. I was a hired hand in Roxy, on a steady salary. Only when my agent demanded that salary enlarged, I got the boot.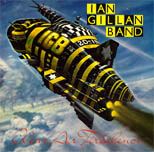 "Everything was getting very funky and jazzy around then, and I could easily identify with that. I have always felt 'half black' anyway. At the same time I never wanted to leave my original platform completely… I am a plectrum bass player and always will be. I never bashed the strings with the side of my thumb and that sort of thing."
Perhaps it was Gustafson's very ability to keep one foot solidly planted in each camp which appealed to ex-Deep Purple singer Ian Gillan. They were both involved with the performances of Roger Glover's "Butterfly Ball" in 1974, as indeed they had been back in 1970 with the recordings of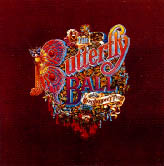 "Jesus Christ Superstar" (where Gustafson had sung the part of Simon Zealotes), and soon after John and Ian along with guitarist Ray Fenwick, drummer Mark Nauseef, and keyboard player Mike Moran had started rehearsing as The Ian Gillan Band.
In Gillan's escapades into jazz-funk have often been both mocked, neglected, and overshadowed by his previous efforts with Purple as well as the success he would later find in the early '80s with his new band Gillan. The fact is, however, that the Ian Gillan Band of the mid-seventies released some of the finest attempts ever to fuse British rock with black American music, and as such were a logical extension of what people like Gustafson,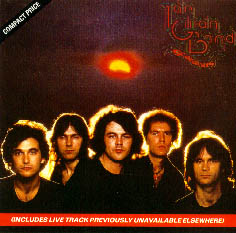 Fenwick (who had been in the Spencer Davis Group), and Ian Gillan himself had been doing up through the sixties and early seventies. The jazz and funk flavour was never allowed to dominate over their Britishness and their background in solid rock, and the band were amongst the few at the time who actually managed to produce an integrated melting pot of different styles rather than just patching together musical fragments taken from a number of different cultures.
The very best efforts produced by this band have already been superbly documented on the compact disc release "The Rockfield Mixes" (Angel Air SJPCD 007), and it is in this context that John Gustafson's solo album "Goose Grease" must be viewed.
Indeed, 1975 looked to be Gustafson's year. Jazz-funk was hot and fashionable… he was one of the few British bass players who could actually provide the basis for it. Furthermore, he was a member of the band behind one of the most popular British rock singers ever. And finally, Harvest Records re-released the album "Quatermass" from 1970. It seemed as if history had finally caught up with this groundbreaking LP.
All in all, it appeared to be the perfect time for a Gustafson solo album.
"It was Jeffrey Levinson who came up with the idea. He had some business associations with John Wolfe, who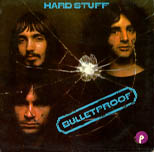 was running The Who's studio in Battersea at the time, and he suggested I make a solo album. I could record it at their studio in between other artists, when there was some free time available. I obviously thought this was a very good initiative. So we started talking about who I would want to play on the album, and I just came up with the names of all the best musicians I knew then from the sessions I was doing. Mike Moran I knew cause he was in the Ian Gillan Band, B.J.Cole was the famous pedal steel guitar player who had previously been in Cochise, and Mark Warner, who went on to form Quantum Jump. They all turned up. I also used two drummers, Barry Desouza, who must be one of the busiest studio musicians of all time, and a black American guy called Stretch, who was living in England around then. I actually knew him because we had been on a Rolf Harris session together!
"Morris Pert, who had been in a late reincarnation of Quatermass, is best known as a
fabulous percussionist, but he is also a brilliant keyboard player, which was what I used him for together with Ann Odell and Tony Hymas, who later joined Jeff Beck. Finally, we had a couple of really ace horn players, saxophonist Jeff Daly and trumpet player Henry Lowther, who came in to beef things up a bit here and there. I played the bass and did all the singing myself.
"It all went really well and I felt very enthusiastic about it at the time. The whole LP was recorded in some three weeks, which was enough since everyone was such experienced players. The album was to be titled, "Goose Grease".
"I used to be nicknamed "Gussie Goose when I was at school, which was something the other kids got from a famous cartoon character appearing in the Liverpool Echo around then. Furthermore, my mother, being Irish, had these strange remedies for diseases, one of them being a jar of goose grease which she kept in a cupboard in the basement of our house. The idea was to rub this thing on your chest if you had a cold. I don't think it worked as such, but the feeling and the smell of it definitely made you quite desperate to get well again. Anyway, this album title made sense to me as a description of the music we were playing… thick, sticky, greasy stuff."
A more neutral definition could, perhaps, be plain "hard funk-rock". Because while it's easy enough to draw connections between the Ian Gillan Band and this current record, this is also a much tougher, a more boogie-woogie-rocking kind of funk. It's a bass player's album, a true musician's album. And, as you might have already guessed… it has never been released until now!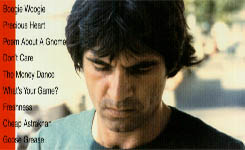 "Well, like so many things it just ended up on the shelf somewhere. There was some interest at the time, though. Deep Purple's label Purple Records nearly took it, and when that failed, there was some interest in Japan, where the Ian Gillan Band was doing well already. But that fell through as well, for some reason. I got involved with other things, went through a lot of touring and recording with the Ian Gillan Band and eventually ended up in The Pirates, whom I played with for seven years. And all the time "Goose Grease" was just standing there on my shelf, waiting for someone to come along and take good care of it."
And so here we are… and here it is! The great forgotten, lost, and revived, one and only John Gustafson solo LP recorded in 1975. Straight from the vaults of the master himself, through the magic remastering hands of Ray Fenwick, etc. etc. Angel Air is proud to give you… "Goose Grease"!
It's thick, it smells and it's gonna do you good. So stick it on, stand in front of your speakers… and rub it on your chest!
Claes Johansen
(Taken from liner notes from the Angel Air CD reissue of "Goose Grease" SJPCD008)
---
John Gustafson also appeared on two albums by Hard Stuff (see pictures above), along with John Du Cann (Atomic Rooster) and Paul Hammond: "Bulletproof" (1972, Purple Records, TPSA 7505) and "Bolex Dementia" (1973, Purple/Mercury, SRM 1 663)