Week of December 28, 1997 - ALEX'S PICKS' FIRST ANNIVERSARY!!!
Atomic Rooster
Personnel:
Vincent Crane - Keyboards
Nick Graham - Bass, Vocals
Carl Palmer - Drums
John Cann (aka Du Cann) - Vocals, Guitar
Paul Hammond - Drums
Pete French - Vocals
Steve Bolton - Guitar
Chris Farlowe - Vocals
Rick Parnell - Drums
Bill Smith - Bass
John Mandella - Guitar
Albums:
Atomic Rooster				(B+C Cas 1010)		1970
Death Walks Behind You 			(B+C Cas 1026)		1970
In Hearing Of Atomic Rooster		(Pegasus Peg 1)		1971
Made In England				(Dawn Dnls 3038)	1972
Nice'n'Greasy				(Dawn Dnls 3049)	1973
Assortment (Compilation)		(B+C Cs 9)		1974
Home To Roost (Dbl Compilation)		(Mooncrest Cdr 2)	1977
Atomic Rooster				(EMI Emc 3341)		1980
Atomic Rooster (Reissue)		Charisma (Chc 58)	1986
Headline News				(Towerbell Towlp 004)	1983
Headline News (Reissue)			Rawpower (Rawlp 027)	1986
The Devil Hits Back			(Demi-Monde Dmlp 1023)	1990
(Live material mostly from the 1980 Atomic Rooster comeback album)
Atomic Rooster (Reissue)		(Repertoire RR4135 WZ)	1991
Death Walks Behind You (Reissue)	(Repertoire RR4069 WZ)	1990
In Hearing Of Atomic Rooster(Reissue)	(Repertoire RR4068 WZ)	1990
Made In England (Reissue)		CD Sequel (Nem CD 61 0)	1991
Nice'n'Greasy (Reissue)			CD Sequel (Nem CD 61 1)	1991
BBC Radio One Live in Concert	1972	Windsong (WINCD 042)	1993
Made In England (Reissue Canada)	One Way CD (OW30644)	1994
Nice'n'Greasy (Reissue Canada) 		One Way CD (OW30645)	1994
45s:
Friday The 13th/Banstead	(B+C CB 121)		1970
Tomorrow Night/Play The Game	(B+C CB 131)		1971
The Devil's Answer/The Rock	(B+C CB 157)
Stand By Me/Never To Lose	(Dawn DNS 1027)		1972
Save Me/Close Your Eyes		(Dawn DNS 1029)		1972 
Reissued singles:
Devil's Answer/The Rock		(Mooncrest MOON 52)	1976
Devil's Answer/Tomorrow Night	(B+C BCS 21)		1980
Devil's Answer/Tomorrow Night	(Old Gold OG 9391)	1984
---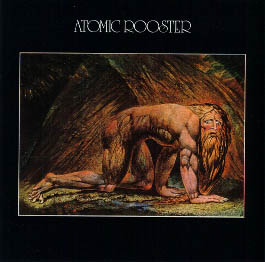 The central figure throughout the many line-ups of Atomic Rooster was Vince Crane, who'd previously played for The Crazy World Of Arthur Brown. Drummer, Carl Palmer, was recruited from Chris Farlowe's Thunderbirds. They seem to have taken their name from an album by the American group Rhinoceros and, having quickly established themselves on the club and college circuit, issued a debut album Atomic Rooster in 1970, which was well received and sold enough copies to make the Top 50. A couple of tracks were also put out on a 45 but these failed to make much impact. Their promising start was rapidly arrested in 1970 when Nick Graham departed for Skin Alley and Carl Palmer became one third of Emerson, Lake and Palmer.
In the Autumn of 1970 Vince Crane put together a new line-up bringing in former Farm drummer Paul Hammond and John Cann who'd previously played with psychedelic outfits Attack and Five Day Week Straw People and the progressive combo Andromeda. This line-up played a much heavier brand of rock which proved popular with the punters. The Death Walks Behind You album made the UK Top 20 and they also enjoyed two Top 20 UK hit singles with "Tomorrow Night" and their best-known song, "Devil's Answer", which peaked at No.4. In 1971 they signed to Pegasus Records and with the addition of vocalist Pete French (formerly of the US band Cactus) they recorded the In Hearing Of album, which many consider to be their finest. Once again their progress was hatted when John Cann and Paul Hammond left to form Bullet and vocalist Paul French departed to form Leaf Hound.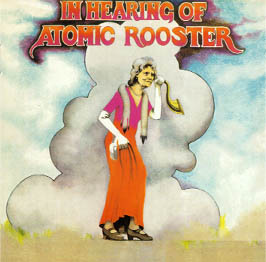 The next line-up Crane pieced together raised a few eyebrows by virtue of the inclusion of R&B singer Chris Farlowe. Supplemented by two girl backing vocalists Liza Strike and Doris Troy they changed from their previous hard rock format to a sort of soul funk recording a couple of albums and singles for Dawn. Earlier copies of Made In England came in a denim cover and, along with Nice'n'Greasy (on which guitarist John Mandella also played), these are their rarest items. The "Save Me" 45 was also a non-album cut at the time. The sales of the two Dawn albums were disastrous and taking the view that the band's fortunes were in irreversible decline Crane disbanded them in 1973. The inevitable compilations appeared over subsequent years of which the Home To Roost double set was the most worthwhile.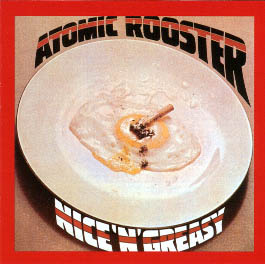 Having done some further work with Arthur Brown in the interim Crane reformed the band in 1979 reuniting with John Cann and drummer Preston Hayman. They recorded an album and a couple of singles for EMI and then, with Hayman having been replaced by previous member Paul Hammond, a couple of singles for Polydor and an album for Towerbell.
After the latter made no impact at all, Vince Crane decided to bring the Atomic Rooster story to an end for good. He was briefly a member of Dexy's Midnight Runners.
Atomic Rooster remain an important thread in the tapestry of early seventies progressive rock.
---
Taken from The Tapestry of Delights - The Comprehensive Guide to British Music of the Beat, R&B, Psychedelic and Progressive Eras 1963-1976, Vernon Joynson ISBN 1 899855 04 1
---