Week of August 29, 1999
Leaf Hound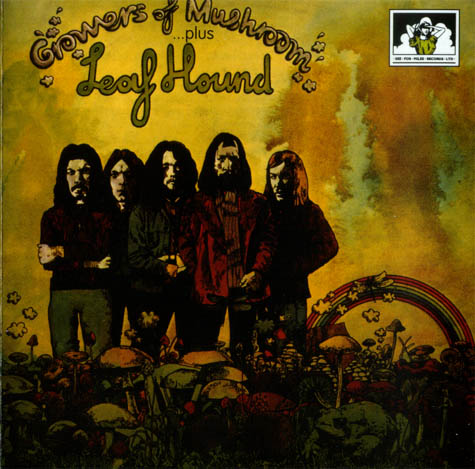 Personnel:
Derek Brooks - guitar
Stuart Brooks - bass
Pete French - vocals
Mick Halls - lead guitar
Keith George Young - drums
Album:
Growers Of Mushroom (Decca SKL-R 5094) 1970 R5
Also issued on Telefunken (14604) in Germany in 1971, but with fewer tracks. The German release has recently been pirated. The original German release included a poster of the band. The UK release was pirated in the early eighties on the US Discwaster label. The item is now a collectable too. Reissued on CD (See For Miles SEECD 403) 1994, with one bonus cut, It's Gonna Get Better (the 'B' side to their German-only 45 Drowned My Life In Fear) and on Repertoire (REP 4485-WY) 1994 with a second, previously unreleased bonus track (Hip Shaker) too. The See For Miles release was taken from the master tapes and has better sound quality, but the Repertoire one is better packaged and has one extra track.
A hard rock album. The Decca release, in particular, is ultra-rare and very sought-after by collectors of this genre. In fact the album is perhaps the most expensive major label album of the 'progressive' era.
Their vocalist Pete French, a South Londoner, played with his cousins Mick Halls in various rock/blues outfits like Switch and Joe Poe before teaming up with Bob Brunning to form the Brunning Sunflower Blues Band. By 1969, French had moved on to Black Cat Bones and Halls later joined him. Then, in the latter half of 1970, they evolved into Leaf Hound.
The album's name is very misleading. Anyone expecting an acid rock classic from the title and cover of the UK release is going to be very disappointed. This is driving hard rock in the Led Zeppelin mould which is only likely to appeal to fans of this genre. Nonetheless French's voice is raw and strong ideally suited to music of this type and the album is full of driving, incisive guitar work from Mick Halls and his colleagues. This is particularly evident on tracks like Drowning My Life In Fear, Stagnant Pool, Sad Road To The Sea and A Minute To Go but there are no weak cuts on the album.
During their short time together Leaf Hound got to tour Germany and their album was licensed to Telefunken for German release before it was put out in this country. Inexplicably the German release omitted two cuts: Freelance Fiend and the title track but it did come with a poster of the band. Telefunken also issued one of the album's strongest tracks Drowned My Life In Fear on a 45 backed by a non-LP song It's Going To Get Better (Telefunken U 56 154) in a picture sleeve in 1971. The Telefunken album release was pirated a few years back.
After Leaf Hound's demise French was briefly in Big Bertha, then joined Atomic Rooster. He later figured in US boogie band Cactus before returning to the UK to join Randy Pie. He played on their three German-only 1977 albums and put out a solo album and 45 the following year which were only released in Germany.
Taken from The Tapestry of Delights - The Comprehensive Guide to British Music of the Beat, R&B, Psychedelic and Progressive Eras 1963-1976, Vernon Joynson
ISBN 1 899855 04 1
---
Newsflash!
Leaf Hound have reformed!

Peter French has decided to reform Leaf Hound, and they've already made a triumphant return supporting Nazareth on their recent London date.

A new Leaf Hound album is already in production and hopefully should be out by the middle of next year.

Leaf Hound will be appearing at the Black Horse, 181 Sheen Road, Richmond, Surrey, TW9 1XF on 10th December 2004 as a warm up.
---