Week of February 15, 1997
Hard Stuff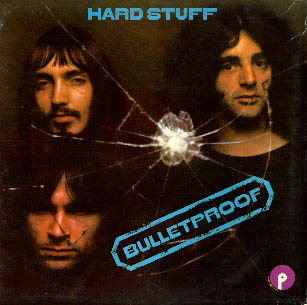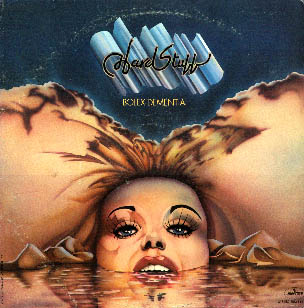 Personnel:
John (Du) Cann - Guitars
John Gustafson - Bass
Paul Hammond - Drums
Albums:
Bulletproof (Purple TPSA 7505) 1972
CD: LINE LICD 9.00381 O; also on Red Fox
Bolex Dementia (Purple TPSA 7507) 1973
CD: LINE LICD 9.00385 O; also on Red Fox, Won Sin
Singles:
Jay Time/The Orchestrator (Purple PUR103) 1972
Inside Your Life/How Do You Do It? (Purple PUR116) 1972

Often regarded as one of Deep Purple's proteges, this heavy, but melodic early 70s power trio had a credible reputation of a hard-nosed, no-compromise, heavy-rocking act in the Purple vein, throughout their short-lived career. They have released two albums on the famous Purple Records, indeed, Deep Purple's own label, which was also responsible for launching careers of such luminaries as Tucky Buzzard, Zephyr, Billy Cobham, and much more. Paul Hammond had previously played with Atomic Rooster, as did John Du Cann (also ex-Andromeda, Daemon); John Gustafson came from Quatermass, and cut a solo record, "Goose Grease" in 1975 - never released until last year.
Upon Hard Stuff's demise, Du Cann briefly joined Thin Lizzy in the first half of the 1970s, before cutting his own solo record for Arista in 1977 together with members of Status Quo, entitled, "Nothing Better" (also binned - until 1992, when it was reissued by Repertoire - REP4205-WY).
John Gustafson also played with Baltik, Roxy Music, Ian Gillan Band, Mick Farren, Axispoint, Kevin Ayers, Shawn Phillips and countless others!
(AG)
Discography Taken from The Tapestry of Delights - The Comprehensive Guide to British Music of the Beat, R&B, Psychedelic and Progressive Eras 1963-1976, Vernon Joynson
ISBN 1 899855 04 1
---