Week of May 10, 1997
Tucky Buzzard
Personnel:
David Brown - bass
Paul Francis - drums
Nick Graham - keyboards
Jimmy Henderson - vocals
Chris Johnson - drums
Terry Taylor - guitar
Paul Kendrick - guitar, vocals


Albums
Tucky Buzzard (US: Capitol ST 787, 1971)
Warm Slash (Capitol E-ST 864, 1971)
Coming On Again (Spain: Hispavox HHS 11-208, 1972)
Allright On The Night (Purple TPSA 7510, 1973)
Buzzard (Purple TPSA 7512, 1973)

CDs
Alright On The Night/Buzzard - Repertoire, 1996, REP 4623-WP
Tucky Buzzard/Warm Slash/Coming On Again - 2CD "Time Will Be Your Doctor - Rare Recordings 1971-72" Castle/Sanctuary CMEDD1249, 2005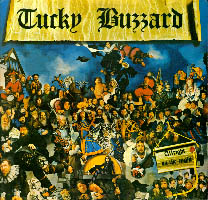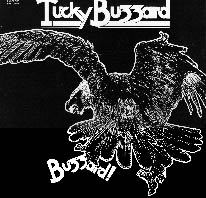 45s:
She's A Striker/Heartbreaker (Capitol CL 15687) 1971
Gold Medallions/Fast Bluesy Woman (Purple PUR 113) 1973
Gold Medallions/Superboy Rock'n'Roller (Purple PUR 134) 1977
This hard rock outfit was most famous for having been produced by Bill Wyman. Brown, Graham and Taylor had all previously been in The End. One of Tucky Buzzard's finest moments was 'Bo-Bo's Hampton' on Buzzard, which mellows in the middle and ends with some good guitar work. Elsewhere on the same album there's some Southern USA influence on 'Hanging On In There' and some good rock'n'roll with brass arrangements on 'Super Boy Rock'n'Roller 73'.
Taken from The Tapestry of Delights - The Comprehensive Guide to British Music of the Beat, R&B, Psychedelic and Progressive Eras 1963-1976, Vernon Joynson
ISBN 1 899855 04 1
---