Wizards Convention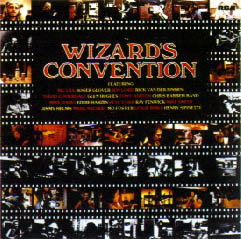 Players:
Eddie Hardin - vocals, various instruments
Ray Fenwick - vocals, guitar, backing vocals
David Coverdale - vocals
Roger Glover - bass
Glenn Hughes - vocals
Jon Lord - piano
Mark Nauseef - percussion, drums, bells
Tony Ashton - piano, vocals
Mo Foster - bass
Les Binks - drums
Henry Spinetti - drums
Ric Lee - drums
Rick van der Linden - piano, various instruments
Pete York - drums, percussion
Mike D'Abo - vocals
Mike Smith - vocals
Jimmy Helms - vocals
John Crocker - alto sax
John Slaughter - guitar
The Chris Barber Band - various instruments
The second half of the Connoisseur Collection 2LP set is made up of the Wizards Convention, an obscure album sought after by Deep Purple fans for the involvement of members of that band. The album was laid down just a few weeks after Deep Purple Mk 4 had played their final concert in Liverpool, with the members of the band all contemplating solo careers of one sort or another. The album was in the main Eddie Hardin's. He wrote (or co-wrote) all the material and played many of the instruments himself. Several musician friends were brought in and the decision was taken to credit everyone equally on the sleeve, to try to promote it as a kind of jam session.
Released in December 1976, the album got lost in the Christmas rush. Promotion was minimal and sales poor, with the album quickly reaching the bargain bins, hastened, no doubt, by the advent of punk. The inclusion of the Purple gang has added an interest in the album which it is doubtful it would otherwise have had. Apart from the Deep Purple members, several of the personnel will already be familiar from the Butterfly Ball album. By the time this album was taped, Fancy guitarist Ray Fenwick had graduated to The Ian Gillan Band, whose percussionist (and former Elf member) Mark Nauseef is also featured here. Rick Van Der Linden hailed from the Dutch band Ekseption, while Ten Years After drummer Ric Lee also made a brief appearance.
Coverdale's track, 'Money To Burn' remains of interest, a good performance not unlike the material he was soon to be laying down for his first solo album, 'Whitesnake'. Elsewhere, Tony Ashton turned in a spoof twenties' performance in his inimitable style. Within a few months he was to be teaming up with Jon Lord (also guesting here) in Paice, Ashton, Lord. As noted, the album was quickly deleted in the UK. A German gatefold edition which sported a reworked sleeve (from which the front cover logo is taken) lasted a little longer but apart from a poor reissue in 1986 which was even harder to find than the original, the album has remained unavailable.
Simon Robinson, 1989

Eddie Hardin & Guests - 2003 edition (remaster)
Wizard's Convention Purple Records PUR 316/5 022911 316310
New liner notes:
Former Spencer Davis Group keyboard player Eddie Hardin had many friends in the rock business by the time he came to record this album in 1976. Rather than do a traditional solo album, he wrote the songs and then asked a number of musicians to help him record them. Deep Purple's David Coverdale, Jon Lord, Roger Glover and Glenn Hughes joined other guests including Mark Nauseef (from Elf and Rainbow), Tony Ashton, Mike D'Abo, Ray Fenwick and drummer Pete York. The result was an album full of variety and styles, which later became much sought after by Deep Purple collectors. Yet, despite a couple of earlier attempts, the project has never been properly compiled for CD until now, where the original album is augmented by three bonus tracks done at the time which couldn't be fitted on the original album (with vocals by Ronnie Dio, who would join Blackmore's Rainbow shortly after this).

Other guests include: Ric Lee (Ten Years After), Rick van der Linden (Ekseption), Mike D'Abo (Manfred Mann), Mo Foster, Leslie Binks, and Henry Spinetti.

The CD is being advertised in Classic Rock and will be reviewed in the usual magazines. It is also being promoted via the Eddie Hardin and Deep Purple web sites. Eddie Hardin's name is very much associated with Deep Purple following many projects he and band members have worked on over the years, right up to the Royal Albert Hall Orchestral show in 1999 where he played keyboards.

The new sleeve has been adapted from colourful artwork done for the original album in Germany, while the accompanying booklet carries the usual detailed notes, rare pictures and a discography.

Original album:
[1] The Craig Song - vocals Eddie Hardin 1:34
[2] When The Sun Stops Shining - vocals Ray Fenwick 2:40
[3] Loose Ends - vocals Jimmy Helms 4:16
[4] Money To Burn - vocals David Coverdale 3:54
[5] Whose Counting On Me - vocals Mike D'Abo/Mike Smith 4:45
[6] Make It Soon - vocals Eddie Hardin 2:24
[7] Until Tomorrow Part 1-4 - vocals Glenn Hughes 6:53
[8] Light Of My Life - vocals Glenn Hughes/Eddie Hardin 3:44
[9] She's A Woman - vocals Jimmy Helms 6:40
[10] Swanks And Swells Part 1 - vocals Tony Ashton 3:29
[11] Swanks And Swells Part 2 - 1:13

Bonus Tracks:
[12] Goodnight Children - vocals Eddie Hardin
[12] Summer Days - vocals Eddie Hardin/Ronnie James Dio 3:06
[13] Seems I'm Always Gonna Love You - vocals Eddie Hardin/Ronnie James Dio 4:07
Simon Robinson, 2003

The Players:
(click on each player to get to the artist profile)
Ex-Manfred Mann lead vocalist and harmonica player extrodinaire, following solo hits in the 1960's a successful theatre career followed in the 1970's. The 1980's/90's have seen parallel careers in the theatre, on radio and again performing with the highly successful Blues Band. Paul got Eddie Hardin the audition with the Spencer Davis Group in 1967.
Ex-Les Humphries Singers, and, notably, Uriah Heep with whom he toured in the late 70s. Worked with Eddie on the Butterfly Ball album.
Ex-Ashton Gardner & Dyke and Paice Ashton & Lord, then recorded several albums with Jon Lord and also recorded with Paul McCartney. Appeared on the Butterfly Ball, now equally noted for his painting with many specially commissioned album covers to his credit.
Ex-Fancy, then has honed his bass playing craft to the extent that he has been first choice for many artists thus contributing to albums by Phil Collins, Jeff Beck, Gerry Rafferty, The Shadows, Joan Armatrading. Also appeared on the Butterfly Ball album. Nowadays equally comfortable in the producer's chair as the bassist's.
Session guitarist in the early seventies, then joined the touring band for Pink Floyd followed by membership of Thin Lizzy in the late 70's/early 80's. After playing on Peter Green's comeback albums, Snowy developed a solo career which reaped an international top 5 hit with Bird of Paradise. Following this, he assisted Roger Waters in the live production of The Wall.
Ex-The Who, has released solo albums and played on many sessions as a special guest. Now touring with Ringo Starr.
Little sister of the late Led Zeppelin drummer John Bonham, released her debut album in the late 1980's to great critical acclaim. Now just issued her next single and building up to recording her second album.
Ex-Moody Blues (founder member), then following a solo career including the classic Say You Don't Mind, became the chief collaborator with Paul McCartney in Wings, and helped notch up over 30 chart entries. Currently touring as a solo act again.
Ex-Spencer Davis Group, then Hardin & York. Collaborated with Roger Glover on The Butterfly Ball notably co-writing the hit Love Is All. Writer and Producer of the first Wizards Convention album, thereafter further producing albums for Mike D'Abo and Iris Williams. Continued to make own solo albums in the 1980s that were successful in Japan when the New Age genre developed. Eddie's other concept project centred on the novel, "The Wind In The Willows", a live performance of which was televised in the 1980's by German TV.
Eddie's daughter, and a fine vocalist to boot!
A career that began with several groups in the 1960's including super group After Tea, followed by joining the Spencer Davis Group. During the 1970's played with Fancy, followed by a long spell in the Ian Gillan Band, played on the Butterfly Ball album and in fact has been a regular contributor to most of Eddie Hardin's projects. The 1980's saw Ray score well with the the make-up group Forcefield which included Cozy Powell and Jan Akkerman, their four albums doing especially well in Japan.
CHRIS THOMPSON
Manfred Mann's Earth Band singer during the 1970's & 80's which included the hits "Davy's On The Road Again" and "You Angel You". Now concentrates on solo albums.
Ex-Roxy Music, solo artist whose eclectic style has just been amply demonstrated by an anniversary album issue by Virgin. Guested on albums by Nice, John Cale, Robert Wyatt, Brian Eno. Owns the Gallery Studio where this album was recorded and, following a stint as a label owner, is now concentrating his producing powers on his passion for Spanish and Latin American music.
CHRIS FARLOWE
"Probably the best singer in the world... Well that's what he told me" says Eddie. Classic hits with Out Of Time and Handbags and Gladrags during the 1960's accompanied by his famed backing band the Thunderbirds featuring, in turn, Albert Lee. An original member of Colosseum with whom he is now touring again.
ZAK STARKEY
Ringo's son and currently touring with his father, also previously toured with Roger Daltrey. Played on Eddie's Wind in the Willows album.
Ex-Manfred Mann replacing Paul Jones and here recording together for the first time. Wrote Handbags and Gladrags covered by Rod Stewart as well as Chris Farlowe; also wrote hits for the Foundations. Recorded several solo albums, produced many for others and now also works in radio. Recently on tour in Australia.
A singer for 18 years who has worked with luminaries like Janet Jackson, David Lee Roth, Alice Cooper, Neil Diamond and contributed to film soundtracks including Top Gun, Splash, Rambo III, Metropolis and Bachelor Party.
Best known for his guitar playing with Dory Previn on her tours and 12 albums but has also played with Spencer Davis, John Lennon, Badfinger, Bobby Womack, Jeff Lynne, Harry Nilsson & Olivia Newton John to name but a few.

Way back in 1974 Eddie Hardin co-wrote "The Butterfly Ball" with Roger Glover. Two years later he wrote and produced 'Wizards Convention'. Then in 1995 he returned to the UK from France (where he now lives), to record this album co-written with Ray Fenwick.
As with the first 'Wizards Convention', Hardin assembled one hell of a group of artists, including Mike D'Abo, Paul Jones, Tony Ashton, Debbie Bonham, John Entwistle, Chris Farlowe, Denny Laine, Phil Manzanera, Zak Starkey and Snowy White. Together these great musicians produce an album that is fundamentally the Blues. For your money you get Mike D'Abo and Paul Jones performing together for the first time on the lively 'Here I Go Again', the laid back 'Sultana', an instrumental featuring Snowy White and Ray Fenwick, Chris Farlowe singing 'Try A Little Tenderness' and Eddie Hardin taking on the vocals of a driving version of the Little Richard track 'Lucille'. If you like the Blues then you should find something on here that you'll like, as virtually every style of Blues is represented. A worthy successor to its illustrious predecessor.
Adrian Lyth, Classic Rock Society

The record moves back and forth emotionally in a silhouette of your typical love affair... The treasure here is not so much the concept but the songs. Each one written and performed for maximum impact and successfully so...
I have never had the opportunity to hear the first version of "Wizards Convention" but after the number of listens this disc has gotten in my house I am off straight to the shop to pick it up. If it is anything like this installment I will be getting many hours of enjoyment from it as well.
"On The Record", Music America magazine

EDDIE HARDIN - Wizards Convention 2
Angel Air SJPCD 009 (62:07)

Another mid-price re-release from Angel Air, this album, following in the wake of the original 70s concept classic, was recorded in 1995 and is well worth picking up, given the array of musicians guesting on it. Eddie Hardin (ex-Spencer Davis Group) produced the original Wizards Convention, and does an equally fine job here. Bring together the likes of John Lawton, Ray Fenwick, Tony Ashton, Snowy White, Phil Manzanera and even Bonzo's sister Debbie Bonham, you get some great, modern blues-rock with easy, MOR and occasional acoustic leanings. The Bonham/Lawton duet on 'Talkin' Ain't Cheap' is a highlight, but several other tracks are just too easy, and this 'session man's convention' often lacks that on stage raunchiness it really needs.
Joe Geesin
Record Collector Magazine, November 2001

(featuring bonus tracks - from WC I and previously unreleased)
Many words have been written about me and my music... often by people who don't even know me... and probably have no wish to!!
I take the pseudo-musician phraseology whereby friends suddenly become 'sidemen' and 'keyboardists' and others do 'guitaring' or 'vocaling'. I mean what the fuck is that all about?
On this album I decided to try and be as literate as possible for myself. This album was originally conceived in Cannes in 1976. I had been with the Spencer Davis Group and subsequently Hardin & York, and had just finished work on an album with Roger Glover entitled The Butterfly Ball from which the ever-successful song, 'Love Is All' came from. I suppose from my friendship with Roger Glover, an enormous amount of talent was introduced to me, certainly during the course of recording Butterfly Ball.
Roger and Deep Purple I had toured with both in Europe and the UK though the Butterfly Ball was to be our first venture in the studio. I had accumulated a good array of songs that frankly did not suit my style of singing, so I decided to start putting other voices to the tunes. I think with great success, David Coverdale turned 'Money To Burn' into something I wouldn't have thought of whilst Glenn Hughes worked closely with me to achieve what I consider to be two of the finest tracks on the album. All the basic tracks were recorded prior to the singer's involvement, not even keys were considered though fortunately all worked out well.
The first song to be recorded was 'The Craig Song', this was about John Craig, a friend of mine, who assisted from conception to fruition, though I think he had reservations as to when or even if the album would ever be completed. The second to be recorded was 'Swanks and Swells', this was reported at the Marquee Studios in Wardour Street with an entire Chris Barber Band and Tony Ashton's vocal was later added at Kingsway Recorders.
I think a point to note is that all the artistes involved are still around and working, and that counts for over a quarter of a century! EACH! Think of the bands and singers over the past few months even... who were they?
I look back of these sessions with great affection, it was this time that I met John Acock, the engineer, who came in the last minute replace Louie Austin who went off to engineer for The Sweet... far more important. I still work with John to this day, and have just completed two new albums with him.
Ray Fenwick, my friend now for nearly 30 years, plaid guitar and assisted on songs then as now. We have a tremendous bond in writing songs together though on this particular album most of the compositions are my own. You can always spot Ray's influence when the words 'sunshine' or 'stormy weather' appear! Sorry Ray.
The bonus tracks are somewhat of my own personal collection, and to a degree show how my songs are conceived, indeed some are in a raw state though I've grown to love them as they are.
On 'I'm Looking Forward To Tomorrow', I tried three singers, and have included here two of them, Billy Ocean and Maggie Bell, both completely different interpretations, though I felt it justified to include both versions. I have also added two songs sung by a friend of mine Lynn Sheppard, he is completely unknown though I'm sure you will agree his performance rates with the best on 'Perfect Survivors' and 'Why Can't We Go Home'. Zak Starkey (son of Ringo Starr) is on drums and guitar along with the ever present Ray Fenwick.
'Slippery Slopes' is a song which nearly made the album first time round, though here it is now! 'You're No Good' is a very personal tape, featuring my wife Liz, and is the only song on the album not written by myself. This is the kind of thing we recorded at home in the gaps! 'Without Your Love' is a real family affair, this has my daughter and my wife doing backing vocals; all other instruments aside from guitar of course are by myself.
On the Iris Williams track, 'Not Guilty', Denny Laine sings the vocal backing with Lynn Sheppard and myself. Ronnie James Dio duets with me on the tracks 'Summer Days' and 'Seems I'm Always Gonna Love You' though he wouldn't let me put his voice up any higher on the mix!
Finally I would like to thank all my friends and family for assisting me throughout this project, now amounting to 20 years of sufferance... I've loved every minute of it, thank you all.
Eddie Hardin

Merlin, in the form of Eddie Hardin, Chief Wizard, convener and your main man in the conical hat, has done it again. And before you are beguiled by the magic, let me assure you, this kind of gathering of multi-talents takes more than the wave of a wand from even King Arthur's mythological sidekick. Even so, Eddie's wanderful at it. Did I write that?
In this life 'tis said you get what you pay for. The evergreen Mr. Hardin (did he really play with the Spencer Davis Group all those years ago - how old was he, eight?) disproves another adage, then, by serving us an overflowing cornucopia of musical ambrosia. What's the other adage, you ask. You did ask? It goes something like 'They do write 'em like they used to'. Wrong. Mr. H. is writing 'em just like they used to. And I can't see any stoppages in this man's musical pipeline, either. Eddie manages to combine nostalgia, not only in his music, take a lingering look at the photograph he's chosen to front this album, but with a healthy optimism for the future.
It's not by chance that Wizards III opens with 'I'm Looking Forward To Tomorrow' - a definitive rendition, one to be savoured and played again and again. If, as the gentleman says, variety is the spice of life, then this is surely the nutmeg grated over a great and varied compilation.
And while we're talking feasts, Maggie Bell serves up her own inimitable a la carte course with 'Maggie's Theme'. This lady is well named, she goes like the clappers and leaves one's head ringing. Her delivery has all the impact of three snooker balls in a sock. Understatement is not in her vocabulary. What those educated tonsils produce however is sheer artistry. I've seen the gal in the flesh, heard her in the raw and I haven't been the same since. Keep her on the menu, Eddie. A different lady, but no less talented is Iris Williams who gives us Mr. Hardin's 'Not Guilty', a verdict I wholeheartedly agree with.
There's a chance of mood in 'Slippery Slopes' where Eddie's vulnerability shows through - and we do know which lady he has in mind when he composes and performs his love songs. Then comes a sea change with 'Without Your Love' whose confident refrain lets us know there ain't no slippery slope after all. He has his love and is pretty skittish about it. Who wouldn't be with his wife, Liz, by his side.
Eddie, introspectively, in 'Perfect Survivors' asks, am I wasting my time? But gives the game away in the title. He's a survivor all right. Great backing and he proves once again that he's the best interpreter of his own lyrics.
I hate to admit this, being a cynical old scribe with a typewriter grafted to my chest, but 'Can Dreams Come True?' pressed my button. Everything is right about this track; its sincerity, it's poeticity (don't look the word up, I've just invented it) and the lad's vocalising.
'Why Can't We Go Home' is vintage Hardin and should be savoured. It's evocative of the end of a meal shared at a table for two in some candle lit restaurant with the promise of the rest of the night to come - at home. Love it.
'You're No Good' is a great tease. The vocalist is Liz Hardin (nepotism, schnepotism, as long as you keep it in the family - but no one's complaining) and I loved this one, too. But, Liz, I didn't believe you for a minute.
Eddie teamed up with Ray Fenwick for 'When The Going Gets Tough'. Every musician knows about the tough times, but they are compensated for when they get it right for a solo performance or, as in this case, an album that hits the spot and has been a joy to make. Love ain't easy (song title, Mr. Hardin?) And Eddie knows this as well as most, but better than most he can revitalise and share with us an age-old theme.
Taken from the Wizards Convention, vol. 3 (1997, TDK CD, TDCN-5615) liner notes


Butterfly Ball and the Grasshopper's Feast

(DVD cover - click here for more info)
Players:
Roger Glover - synthesizer, piano, guitar, bass, percussion, backing vocals
Eddie Hardin - piano, organ, synthesizer, backing vocals
Les Binks - drums
Mo Foster - bass, double bass
Mike Moran - piano
Ray Fenwick - guitar
Ann Odell - piano
Mike Giles - drums
Nigel Watson - saw
Eddie Jobson - violin
Jack Emblow - accordion
Chris Karan - tabla
Robin Thompson - bassoon
Vocalists:
Glenn Hughes, David Coverdale, Ronnie James Dio, Helen Chappelle, Barry St. John, Neil Lancaster, John Goodison, Mickey Lee Soule, Liza Strike, Judi Kuhl, Jimmy Helms, Eddie Hardin, Tony Ashton, John Gustafson, John Lawton
As the pressures within Deep Purple began to reach a peak in early 1973, bassist Roger Glover, already suffering physically from the band's heavy touring schedule, decided to leave the band. Vocalist Ian Gillan had handed in his notice some months before and Glover, sensing that there were moves to bring in a new bassist, reasoned it was better for him to go before he was pushed.
Ian Gillan went off to try his luck outside the industry but Roger Glover, though tired of the touring, wanted to remain in the music business. He took on the role of A&R man at Purple Records and then decided to go into production full time, building upon experience gained with Deep Purple and the Purple label, for which he had already produced several singles.
His new career received a judicious start when his production work for Nazareth, a band Glover knew from their days as a Deep Purple support act, began to spawn hit singles. Glover began to find himself in demand, able to pick and choose his clients. He found little time for any recording on his own, though in late 1973 he toyed with the idea of a solo album and even got as far as recording four or five tracks before calling it a day. It took the Butterfly Ball commission to bring the strands of his career producing, writing and recording - together. The project landed at Glover's feet through the British Lion company, who had filmed Deep Purple's historic appearance with the Royal Philharmonic Orchestra back in 1969. The Butterfly Ball was originally a children's book in which artist Alan Aldridge (famous for his work in The Beatles' Illustrated Lyrics) had come up with intricate airbrushed illustrations to go with William Plomer's poems. The book sold well and seemed to suggest itself as suitable material for a musical of some sort. British Lion managed to secure the rights and discussed possible choices for a composer with Deep Purple's manager, Tony Edwards. The first suggestion was Jon Lord, who had composed Purple's Concerto For Group & Orchestra as well as being involved in other film soundtrack work. Lord was very busy with Deep Purple in 1974, however, and Roger Glover was approached instead. It was a challenge for Glover, who (apart from an unreleased project called Cher Kazoo, taped with Ian Gillan a few years before) had never done anything like this. John Craig, in charge of the project at British Lion, was keen to bring in new and younger talent to the film music scene though. "I think this is one of the main reasons they're taking a chance on me", Roger explained at the time, "but really I'm an untried quantity as far as they're concerned." It was certainly something of a risk. Indeed for a time, Glover himself wasn't sure he was up to it but was persuaded by Tony Edwards and others to give the Butterfly Ball a go.
Conceived as an animated 26-part cartoon series suitable for TV (marketed by the people who had done The Wombles!), which might then be combined to produce a full length cinema version, the Butterfly Ball hinged on Glover's music. This would be used in the cartoons and also featured on an album. It was envisaged that a stage musical might also be devised around the characters and the music. Glover even had the idea of making the concert an annual event in the tradition of pantomimes and suchlike. He got to work during the Summer of 1974, assembling a nucleus of people he had worked with in the past. Eddie Hardin, then working with The Spencer Davis Group, helped on keyboards and had known Glover since his previous band, Hardin/York, had supported Deep Purple back in 1971 (indeed their drummer Pete York had worked with Ian Paice on numerous occasions). On guitar, bass and drums, Glover recruited Ray Fenwick, Mo Foster and Les Binks, then working together in the group Fancy. Fenwick had previously played alongside Hardin in The Spencer Davis Group.
Glover felt it important to give each of Aldridge's characters a musical identity and brought in a wide range of vocal talent to achieve this, some more familiar than others. He had met Ronnie Dio on one of his first production jobs for an American group called Elf and persuaded their singer Dio to help on the Butterfly Ball. Dio ended up doing vocals on three tracks as well as co-writing a further two. Glenn Hughes and David Coverdale were brought in from Deep Purple after their Burn tour had ended, to join Tony Ashton from Ashton, Gardner & Dyke and John Gustafson (then bassist with Roxy Music), rubbing shoulders with John Lawton, Neil Lancaster and Barry St. John from outfits like The Les Humphries Singers and The James Last Orchestra (though Lawton was moonlighting with German rockers Lucifer's Friend and was soon to join Uriah Heep). Roger Glover also coaxed a very creditable professional debut from Judy Kuhl, soon to become Mrs. Glover. The Mountain Fjord Orchestra - a play on the name of founder Martin Ford - were called in to provide the classical backings, having worked in similar circumstances for many well known rock bands like Led Zeppelin, The Who, Camel and ELO, Alan Aldridge himself insisted on keeping out of the writing, beyond suggesting that Glover might listen to Benjamin Britten and Vaughan Williams before starting work, though in the case of the latter Glover was already an admirer. In the end though, after toying with the idea of approaching it in a classical fashion, Glover decided to combine orchestral elements with a more typical pop style.
The album was issued in December 1974 and Glover found himself parading round Regent Street accompanied by actresses dressed in bizarre animal costumes to provide silly snaps for the national papers. A short animated film was made to go with the Beatles-influenced single, 'Love Is All', designed to act both as a promotional device and to generate interest (as well as financial support) for the cartoon series. Yet even as the album came out, Glover himself foresaw some of the pitfalls that might occur. "I can see a couple of things that might hold it back, primarily my name. The album can't exactly be described as a family album but then again it's not anything in the mould of Deep Purple." Despite leaving his name off the front, the album was quickly labelled a Roger Glover solo project, even though the music was written as a commission rather than as a purely personal work. Glover's apprehensions were well founded. The album was shunned by rock audiences who felt it was kids stuff, while it received insufficient exposure to reach a wider public. When it was screened, the Love Is All film was very popular and in several European countries where there was less of a closed shop for pop TV, the single did very well - topping the charts in Holland, Belgium and France - the latter in competition with a cover version from Sacha Distel! Despite the problems of finding an audience, Glover managed to make the best of what was basically a non-existent story line, conjuring up the images of the animal characters nicely, helped by excellent performances from the musicians concerned. Ronnie Dio is particularly good on 'Sitting In A Dream', making it doubly annoying that he has restricted his post-Rainbow output solely to formula heavy metal. David Coverdale was also well-suited for the track, 'Behind The Smile'.
All might have been well had finance for the animation been found but nobody was willing to back the project. Seeing the whole idea going off the boil, the idea of a one-off gala concert was mooted to give the Butterfly Ball a boost. This finally came to fruition on October 16th, 1975 at the Royal Albert Hall. A star-studded event, Glover managed to get most of the people who had played on the album to perform live. In addition, two more Deep Purple members were added to the cast; Ian Gillan (singing live for the first time since he'd left the band) deputised for Ronnie Dio, by this time busy helping Ritchie Blackmore out in Rainbow and organist Jon Lord swelled the ranks of keyboard stars.
It was an enjoyable evening, the contrast between the rock musicians and more MOR performers proved interesting and only the inordinate amount of time necessary for the changeovers between what were after all rather short songs spoilt the gig. With hopes of a cartoon series fading, British Lion took the opportunity to film the concert, which was released in March the following year. (The possibility of using some of the audio performances from the Butterfly Ball concert in this package was looked at, but there remain some problems to be overcome before that can be considered). What could have been a reasonable live film was ruined by the addition of cheaply shot (and often downright bizarre) live action footage of people dressed in animal costumes cavorting around London. Roger Glover, when attending the premiere, was unaware of this new material and recalled sinking lower and lower into his seat with embarrassment as the film wore on! It was available very briefly as a video cassette before being withdrawn. With the demise of Purple Records, the Butterfly Ball album has long been difficult to obtain. With this reissue, the decision to provide a new sleeve rather than rehash the original was felt appropriate for collectors and new fans wishing to learn more about the project. In addition the extra track, 'Little Chalk Blue', previously only available on single, has been added to the album in the order it appeared in, at the live concert.
Simon Robinson, 1989