Hardin & York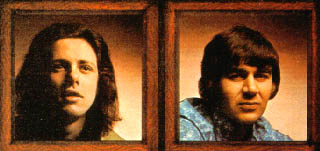 Hardin & York's career spanned arguably one of rock's most productive periods. Pop music of the early sixties had influenced a generation of bands who were keen both to push the boundaries further and experiment with the possibilities of the long playing album format. By the end of the decade, progressive rock was being championed by groups as diverse as Yes, Genesis, Led Zeppelin, The Moody Blues, ELP, Deep Purple and many more - all working hard to establish themselves with defining albums. This rush of energy lasted through into the early seventies before faltering as bands burnt themselves out and musical fashions changed.
Whilst never enjoying the worldwide success of the bands mentioned above, Hardin & York (who recorded their first album in 1969 and their last in 1971), nevertheless, fitted into and typified much that was exciting about that era. Even before they formed their own band, keyboardist Eddie Hardin and drummer Pete York had, as they say, been around a bit. The pair had tasted fame early on with The Spencer Davis Group, before going on to even greater success together. The only reason they're probably not better known is that most of this success came outside the UK. It was real success too, not some kind of "top 30 in an obscure Latin American country" nonsense. We're looking at big selling albums and tours. American record companies were jetting in A&R men to see what was going on. The pair were even booked for the front cover of Stern magazine in Germany - and only got pulled at the last minute because Sharon Tate answered a knock at the door without checking who was outside first. Hardin & York might well have stayed out there, milking the German stadia circuit for ever more, except that the endless round of touring took its toll, and threatened to stifle them creatively. You can only gig for so long running three different bands on stage (all will be explained!) before something gives - and when that something is your treasured Leslie amplifier, which your roadie has unwittingly packed solid with snow so that you go on stage, turn the switch and disappear in an inferno..., but we're leaping ahead of ourselves here.

In October 1968 Spencer Davis Group players Pete York (who'd been a founder member) and Eddie Hardin (who had beaten a lot of young hopefuls including Elton John, dressed, Eddie recalls, like an ice cream salesman for his audition - to become their organist) handed in their notices. The group had found it hard to counter negative publicity following the departure of Stevie Winwood (and his brother Muff) despite some excellent records, and Davis decided to pursue a more commercial approach. Eddie, who'd been with them for just over a year, preferred the more progressive direction and decided to call it a day. Pete York also took the opportunity to step off the treadmill. Eddie wanted to do more writing (he'd helped on many of the SDG tracks). York began doing sessions, jammed in a jazz club once a week, and worked for a time with Bakerloo. "I didn't intend to work with Eddie when I left," he recalled later, "I wanted to study music and take up the trumpet. I intended to do sessions (but) Eddie and I met over drinks one night and got talking about a duo, something we had discussed theoretically before. Eventually we decided to team up and give it a try."

A two-man rock band, consisting of Eddie Hardin on vocals/Hammond C3 organ and Pete York on drums, wasn't something that had been tried too often in the past (one journalist did some research and came up with the only other known organ/drum combo, who went by the name of Hanson & Karisson, working out of Sweden) but they felt they could pull it off. After settling on the name Hardin & York, the pair spent some months rehearsing and writing, and were a tight outfit by the time they made their live debut at London's Marquee Club on August 31st 1969 (where they were rebooked straight away). Top Pops magazine rated them as "one of the best oncer's worth around" and they began looking for a record deal. A demo was delivered to Apple Records after a friend mentioned that the label were looking for acts. Hearing nothing, Eddie called the office. Paul McCartney picked up the phone. When Eddie asked to speak to Paul, a scouse voice answered, "Do you mean Paul McCartney of The Beatles?" McCartney then said he wasn't Paul but a porter at Waterloo Station and Eddie surmised they weren't in a rush to sign his band after all.

They did quickly get a manager though, one Ian Smithers who was working for the Spencer Davis Agency (one of Davis' many enterprises). Smithers quit his job to work full time for the band and with his contacts, got them some important breaks. One of the first bookings was a private concert where Smithers persuaded a German agent, Frank Dostel, to see the band. Dostel was knocked out and quickly secured a residency for them at the Star Club in Hamburg, preceded by a slot at a festival in Essen before 15,000 people. Hardin & York came on and it clicked; the crowd gave them a rapturous reception. They quickly graduated to the Musikhalle-sized venues (though they always returned to play The Star Club and had the honour - and it was an honour; they even received a telegram from The Beatles of being the last band to play there in 1970 before it closed).

Few thought a guitarless rock band could succeed. "It was hell trying to sell the idea at first, no one wanted to know," said Pete at the time, "but we were accepted by the kids in Germany almost immediately. They seem to wonder where the rest of the band are when only two of us walk on, but after they hear the first number it's fine. When I was with Spencer Davis I think he thought my playing was a bit too busy at times. Playing with Eddie gives me much more scope because with only organ and drums you have to do a lot more playing to get a full sound."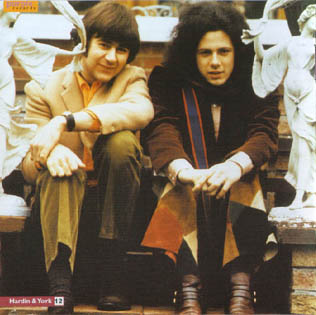 The buzz in Germany got back to Dick Leahy, MD of Bell Records in the UK, who signed them up. Their debut album, "TOMORROW TODAY", recorded at Olympic Studios in London, was issued in the UK by Bell (SBLL 125) in late 1969 (with the title track also issued as a single). "A cross between Procol Harum and Traffic", wrote one reviewer, and in truth Eddie did have something of Winwood's inflection about his voice. The album sold well in Europe (and the snazzy sleeve won a design award in America), but failed to catch on back home. The band had been given a month to record and mix the LP and, being well rehearsed, found it easy going. There was room for guests too, and when bassist Herbie Flowers, who was next door working on Bowie's "Space Oddity", came in to ask if he could "have a blow", the answer was yes, as it was to one time John Barry Seven guitarist Vic Flick. Sue and Sunny, credited with backing vocals, were married to two of Hardin & York's roadies, and were roped in after Eddie found out they'd been backing Joe Cocker on the "With A Little Help" single.

The album still sounds remarkably strong and adventurous today, with the nearest reference points probably being Traffic and The Nice. Eddie's Hammond covers so much musical ground it's hard to keep up, while Pete's drumming is both supportive and inventive at the same time. Their most prestigious UK show to date came in 1970 at the Plumpton festival, when they went down a storm though there was a surprise when people noticed bare toes peeping out from under the organ. "I always play in bare feet, because you can't play the bass pedals property with shoes and socks on!" explained Eddie. Offers of gigs rolled in after Plumpton but their manager suggested that they ought to hold on three months... "then we'll go back BIG". At the end of three months the buzz had largely dissipated, and rather than the increased fees they'd held out for, the offers had all but vanished.

One of the band's stage favourites were versions of The Beatles' "Norwegian Wood" and "Lady Madonna", brought together as "Northern Medley" which the pair had first performed back in Spencer Davis Group days, when it had always gone down well (the track was recorded for the second Hardin & York album). This developed into a strong jazzy piece, and it was the combination of jazz elements and rock which gave Hardin & York their unique identity. "Even when we play rock we try to make it swing," explained Pete. "With just the two of us, we can listen more closely to what the other is doing and respond to it much faster. Everyone listens to us and says what a tight band we are and what great arrangements we've got, but they don't realise that most of it is improvised. For instance, Eddie will play a figure and I'll know he's going to play it again, so when he does I phrase it with him. Everybody thinks it's something we worked out beforehand!" At another important UK show the band managed to arouse the ire of Al Stewart, who complained to the Royal Albert Hall audience that his set had been spoiled due to a "big ego trip by Hardin and York" who had overrun their allocated time. Afterwards he went backstage and berated the pair, saying "I'll make sure you never play on the same stage as me again." This was fine by them!

US labels also started showing an interest and Eddie recalls a concert outside Hamburg when one particular CBS executive showed up. The cashmere-coated, gum-chewing, cigar-smoking American disregarded the lengthy queues at the door and marched up to the front trying a "do you know who I am" routine to get in. With commendable patience the doorman listened to the guy and replied, diplomatically, "Fuck off to the back like the fucking rest."

The band's second studio album - "THE WORLD'S SMALLEST BIG BAND" - was taped at Olympic and De Lane Lea, although, as with their first, they still got the whole thing wrapped up inside a month. Some of the material had been stockpiled since their inception back in 1969 but with the pressures of touring, the sessions were hard work and the album wasn't as coherent.

Side one kicked off with three singer/songwriter performances, Eddie using piano rather than Hammond, followed by an abrupt change of mood as wild cheering heralded the start of a rock & roll medley which they'd decided to tape in front of an invited audience (of 'Soho deadbeats' as the liner notes put it!) This was followed by a lengthy drum workout titled, "The Pike", the nickname of their head roadie (it was he who had pulled off the snow filled amps trick mentioned earlier).

There were no guest musicians either, although Eddie remembers Jon Lord and Tony Ashton hanging around the studio at the time. Singer (and sometime Penthouse star) Dana Gillespie was also about, though only in her capacity as manager Ian Smithers' girlfriend. The results were issued in the then obligatory gatefold sleeve in 1970, again on the Bell label (SBLL 136).

So big were the band in Europe by now that they fell prey to bootleggers. "We were playing in a German Youth Centre," Eddie explained, "and the director asked if we would mind if his film club made a film of our show. It seemed OK. The next thing we knew was that an album had been released of the show. The filming had all been a cover to record a bootleg." Titled, "The Hardin & York Bootleg", copies were imported into the UK in early '71 with the first wave of European vinyl bootlegs.

The year flashed by in a blur of touring, and the new year looked set to be the same with Hardin & York booked to support Deep Purple on their February '71 UK tour. During the set, Purple's drummer Ian Paice took the chance to play alongside Pete York on a number called "Extension 345", an idea inspired by an Elvin Jones/Ginger Baker fiasco which York had witnessed. "That situation was contrary to the principals of entertainment, so Ian and I decided to show how musicians can work together and forget egos," Pete told a journalist.

In March '71, Hardin & York booked the Bumpers club for a marathon music "all star jam" session. By this time, both Eddie and Pete had their own bands with which to let off steam outside the confines of the duo. There was The Pete York Percussion Band, with vocalist Eric Dylan, guitarist Miller Anderson (from Keef Hartley's band), plus a brass section. Eddie's outfit went out as Hardin/Fenwick/Newman. The idea of the Bumpers show was to include slots by both offshoots, then finish with a Hardin & York set. At one stage they ended up with three drummers - Pete, Ian Paice and Keef Hartley - on stage together for a marathon version of "The Pike".

Their manager negotiated a new deal with Decca during this time, which took in a new Hardin & York album plus solo albums from both Eddie and Pete, though as far as Eddie was concerned, the deal came after the band had peaked. "We'd got lazy, or at least I had. We slipped into the dangerous trap of working Germany when we felt we needed a new house or car, and working England just for pocket money. Decca decided to grab us just as our enthusiasm waned."

The third Hardin & York LP, "FOR THE WORLD" (Decca SKI 5095, Sept. '71 UK) was a quieter album, with shorter and more melodic numbers, while almost half the tracks included orchestral arrangements and Ray Fenwick guested on the set too.

The move towards longer, quieter tracks worried some reviewers. "The album doesn't seem to take them any further ahead, mainly because of an overabundance of rather slow ballads. When they do start swinging, they are marvellous," wrote the Sheffield Morning Telegraph reviewer.

Despite his thoughts about the band, Eddie was pleased by the eventual outcome. "It still remains my favourite of all our albums". Eddie's solo album, "Home Is Where You Find It", was issued on Decca in September 1971. Written in collaboration with Ray Fenwick, it reflected his changing musical tastes. As he told a Sounds reporter, asked to choose between organ and piano, and he'd plump for the piano. What with the solo albums plus the new Hardin & York set, the duo spent much of their time that year in the studio.

They livened things up by embarking on a University tour triple bill in January '72 with Hardin & York, The Pete York Percussion Band and a solo spot from Eddie with Ray Fenwick on acoustic guitar. Given his close relationship with the band, it was hardly a surprise when in July 1972 Ray Fenwick joined Hardin & York officially, and for a time they went out as Hardin, York & Fenwick. Even so, there was still a feeling that they'd said just about all they could within the band and when early in 1973 Eddie ran into Spencer Davis in America, the upshot of their meeting was a decision to reform the last Spencer Davis Group line-up. By May '73, they were back on the road, with Hardin & York officially laid to rest.

Pete and Eddie have paired up on and off ever since, often on sessions. Both musicians have been involved in various Jon Lord solo projects, and he, in turn, appeared on Eddie's "Wizards Convention" album a few years later. More recently, Eddie Hardin was a guest at Deep Purple's mammoth Royal Albert Hall spectacular at the end of 1999.

Pete York, who moved to Germany to live, had a lot of success with a German TV series called "Superdrumming" and continues to tour across Europe, playing with various R&B and swing bands as the mood takes him.

Yet interest in Hardin & York has continued to manifest itself. Reissues of the band's original albums led to a one-off reunion album in the early nineties ("Still A Few Pages Left..."). Finally in 1999, thirty years after their formation, the pair decided it would be fun to team up again following (repeated) requests from promoters in Germany. This collection - which spans all three original albums - is an excellent reminder of why they are still remembered tomorrow today.

Simon Robinson
From the compilation CD, "Listen Everyone... The Hardin & York Story", Purple Records PUR323, 2000

"Tomorrow Today", Repertoire, 1994, REP 4481 WY
When keyboardist Eddie Hardin (born 19th February 1949, South London) was recommended in 1967 by family friend and Manfred Mann vocalist Paul Jones for the vacant position in the then internationally popular Spencer Davis Group he could scarcely have believed that his introduction to the world of professional music would have led to a career that is now well over a quarter of a century old. On joining the band in April 1967, he teamed up with Davis, guitarist Phil Sawyer and drummer Pete York (born 15th August 1942, Middlesborough) they took off on an American tour followed by a cameo appereance in the film "Here We Go Round The Mulberry Bush". They also scored two UK hits, "Time Seller" (No.30) and "Mr. Second Class" (No.35), before, in the summer of '68, both Hardin and York left to begin work as a duo - 'The smallest big band in the world' as they were initially dubbed by the music press.
Securing a record deal with Bell Records, the duo released an album (SBLL 125) and single (BLL 1064) both called "Tomorrow Today" in mid '69 and found themselves in considerable demand on the European live circuit, gigging with the likes of Deep Purple, The Nice and Keef Hartley. One concert in a youth hostel in Hamburg-Blankenese was recorded without the pair's knowledge and released as a bootleg disc which the duo only found out about when fans used to bring it to gigs for them to sign. Eddie Hardin eventually tracked down a copy of this excellent quality recording and set about "bootlegging the bootleggers"! The 1970 LP "Smallest Big Band In The World" (SBLL 136) was followed by 1971's "For The World" (Decca SKL 5095) before the pair went their separate ways by releasing solo LP's - Hardin with "Home Is Where You Find It" (TXS 106) and York with "Pete York Percussion Band" (TXS 109), both on Decca Records.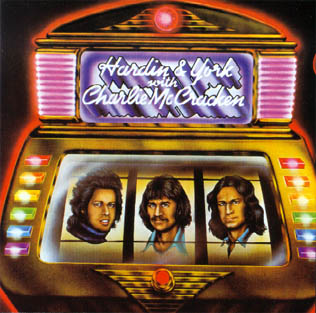 In 1973, along with Davis, bassist Charlie McCracken and guitarist Ray Fenwick, the pair took part in a reformation of the Spencer Davis Group and released two new LP's, "Gluggo" (Vertigo 6360038) and "Living In A Back Street" (Vertigo 6360105). The reunion, however, proved only temporary and so Hardin and York teamed up with Charlie McCracken and released one self-titled LP (6360622) in 1974, though this remained their sole recording.
Eddie Hardin released a solo LP "You Can't Teach An Old Dog New Tricks" (Attic LAT 1023) in 1977 and also worked closely with Deep Purple members Roger Glover and Jon Lord on their various solo projects. He also played in the band Axispoint releasing two LPs, "Axispoint" and "Boast Of The Town", both on RCA. In the early 80's he released three New Age style albums before again teaming up with York in various reformations of the Spencer Davis Group. Today he is busy overseeing the CD re-issuing of Hardin and York recordings and planning a new, more Rock orientated, solo album whilst Pete York, now a resident of Germany, was responsible for the 18-episode "Super Drumming" series which featured the likes of Cozy Powell, Ian Paice, Simon Phillips and Billy Cobham. Both, of course, can still be seen belting out their old Hardin & York standards on their occasional tours of European clubs.
Mark Brennan
From the CD reissue of "Tomorrow Today", Repertoire, 1994, REP 4481 WY

Hardin York's "Tomorrow Today" harks back to the early days of prog, and the digipak brims throughout its nine original tracks with bright ebullient rock of the Procol Harum/The Nice variety. Framed by warm keyboards and angelic female backing to the understated groove of the title track and spacey "I'm Lost", there are funky breaks on the gear-shifting "Drinking My Wine". Then again, 100 Years From Now bats for the acoustic Spencer Davis – style of the duo's recent past, while Candlelight and Mountains Of Sand open with Jon Lord'ly flourishes. Adding four bonus tracks, it's an irresistible 60s time capsule.
Tim Jones
Record Collector, December 2005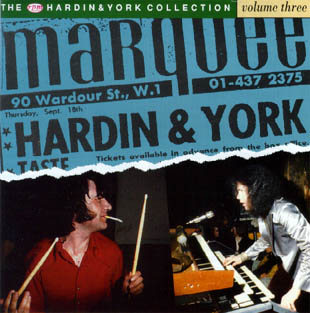 In October 1968, drummer PETE YORK together with keyboard man (and singer) EDDIE HARDIN handed in their notices to Spencer Davis. Pete had been with the Spencer Davis Group since the start, while to Eddie had fallen the unenviable task of stepping into the shoes of Stevie Winwood in mid '67 (the full story is told in depth on TAKING OUT TIME by THE SPENCER DAVIS GROUP - RPM 127). The revamped SDG had worked well for a time, but when Spence decided he wanted the band to change direction, Eddie and Pete both took the opportunity to rethink their futures.
Both separated to engage in low-key session work, but before long their paths crossed again, and they found themselves discussing the idea of forming a duo together. They'd jammed as a two-piece during sound-checks with SDG, it had sounded promising, why not give it a go? And so, HARDIN & YORK were formed, if not with a blaze of publicity, then at least a fair degree of interest, particularly in musician circles.
They made their live debut at the Marquee Club in London on August 31st 1969, and - thanks to extensive rehearsals (and the instinctive musical relationship they'd built up during SDG days) - were already a tight, professional live act. The day to day story of the band is told in complete detail on the RPM reissues of their first two studio albums - TOMORROW TODAY (originally issued in late 1969), and WORLD'S SMALLEST BIG BAND (from 1970) - but we'll recap briefly for newcomers...
The duo had an early break via a promoter who got them onto the German tour circuit. The timing was perfect, and the band became huge almost overnight. Their lengthy, progressive and improvisational sets matched audiences demands for music they could "get into", and the band's first album sold really well.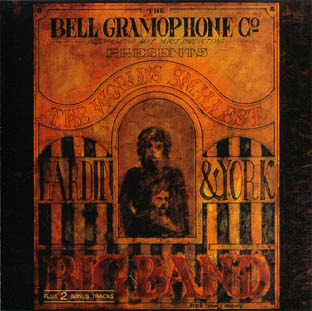 Back home HARDIN & YORK never managed to emulate their successes in the rest of Europe. They stole the show at the 1970 Plumpton Festival, but a poor management decision to reject the offers of work which followed (in the hopes of increasing their fee later on!) backfired, and they usually stuck to the college circuit, or went out as support to bigger bands like Deep Purple. In London they nearly always played The Marquee, who had rebooked them straight away after their debut at the club had gone down so well. In those days, The Marquee also operated their own studio and, rumour has it, taped many of the bands that played the club. What happened to these recordings isn't known (though if the club's paperwork is anything to go by... this was found scattered across the floor of the place when they moved out - and one enterprising collectors shop quickly scooped up binbags full of priceless contracts, many signed, which later found their way onto the collectors market), but Pete and Eddie held onto their master, and while RPM were rummaging through Eddie's tape collection for the studio albums, the box marked "Marquee '71" came to light once more. Eddie entrusted the newly discovered tape to his working partner Ray Fenwick. Ray had been in the Spencer Davis Group with Eddie and Pete, and later worked periodically with HARDIN & YORK, guesting on some of their albums and latterly helping them out on-stage when they wanted to broaden their sound by adding a bit of guitar. Ray found the master to be in mostly excellent condition, and it was decided to release it as a third and final RPM HARDIN & YORK CD (the band's third and last studio album had already gone to Repertoire).
Taped on June 15th 1971, HARDIN & YORK were at the peak of their career artistically. Two years on the road had seen them develop an instinctive response to each other musically, which is fully exploited on "The Pike" - here pushed to over half an hour in length. The rest of the set comprises new material: "I Care For You", "Find Myself Again" and the lengthy "Freedom Suite", which includes a cover of Dylan's "Like A Rolling Stone". None of these numbers made the band's third album, which came out a few months after the show, and it seems likely they were never laid down in the studio.
1971 in many ways marked the turning point for the band. The two years of touring had been more than enough, and both members decided to give vent to solo ideas for a time. Pete set up the Pete York Percussion Band, while Eddie wrote and recorded a solo album. By the time they decided to reactivate HARDIN & YORK, it began to accomodate elements of both partners' solo projects, and by the middle of the following year, Ray Fenwick had joined full-time. Twelve months later they'd all teamed up with Spencer Davis again for an SDG reunion, and HARDIN & YORK were no more.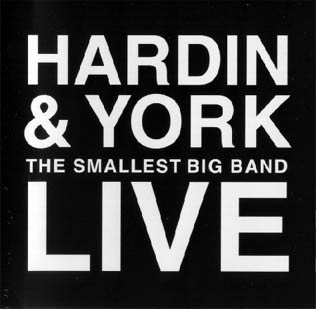 "The Pike" had been included on the second HARDIN & YORK LP, and was titled after the band's head-roadie, who had earned the nickname The Pike - they never did find out how. He was thrown in at the deep end on the band's first German tour, and proved to be rather less than barely adequate, as Eddie remembers. "There would be power failures, broken leads, broken organs, and sometimes broken heads too - he couldn't speak German too well." One night, Eddie arrived on stage, played the opening chord, and saw the band's entire equipment - bar the PA - fuse. Moving away from his mike, he proceeded to call The Pike all the names in the book. The Pike responded in kind, and told Eddie that it didn't matter anyway, as the audience were only a crowd of "fucking nazies". Unfortunately, he'd strayed towards the mike during this exchange, and his thoughts on the audience were thus relayed via the PA. A near riot ensued, and the band were lucky to escape unscathed. The Pike, taking time to pack his toolkit - a pair of pliers - followed them out.
On the last night of the tour, The Pike managed to drop Eddie's three Leslie speakers into the snow en-route to the hall. By the time he'd rescued them, hardened snow was packed into the backs of the gear, though he failed to spot this minor problem. There was a roar as the band made the stage, The Pike threw the mains switch, and - hey presto - the whole lot burst into flames!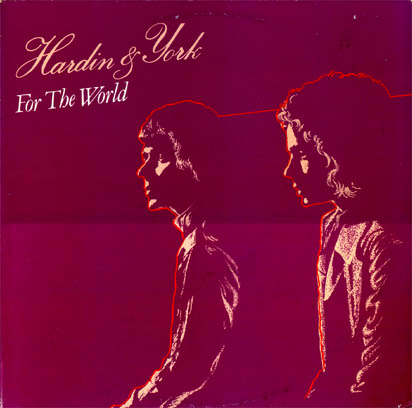 The Pike was just the first of many characters, and over their time together, HARDIN & YORK must have gathered, or worked their way through, the finest collection of eccentric road-crew and business operatives of just about any band going. Things began on a bizarre note with their first publicity agent, who titled himself Flag. Totally enthusiastic, his first flyer for the band had a crude childishly drawn image of the two band members waving from an aeroplane window to advertise their European tour - the height of design cool it wasn't. It turned out that not too many other bands wanted the guy's services either, a fact which communicated itself to HARDIN & YORK when Flag announced that, should they need him in a hurry for an important publicity meeting, he would be working on the pumps in a Clapham garage...
The Pike himself was replaced, after many more adventures, with a professional roadie called John, a capable technician who could be forgiven his habit of dressing up in a bow-tie and gold jacket before each concert. His days were numbered, however, when the band began getting bills for work on their transit which he'd fitted out with all manner of luxuries: aircraft seats, stereo, etc. He was travelling in more style and comfort than the band!
But if the Brits caused problems, tour support abroad also produced its characters, such as their driver for the first German tour. The myth of German efficiency was shattered when, two hours after leaving the airport in their car, Pete and Eddie realised there were still aircraft taking off and landing nearby: they'd been driving round and round the perimeter road! The driver was given his cards. He later turned up at a gig in Bradford demanding BP30 he claimed the band still owed him... Despite these characters, HARDIN & YORK did manage to get through at least some shows in fine style, and Live At The Marquee is a fitting tribute to a unique 70's band.
Simon Robinson
Taken from RPM CD, "Live at the Marquee" (RPM 135)

"The World's Biggest Small Band" were formed after Eddie Hardin (vocals/organ) and Peter York (drums) left the Spencer Davis Group... they decided to stay as a duo and recorded three albums before they called it a day... This recording was at The Marquee in March 1971, with Ray Fenwick also guesting on two songs.
It is not Hardin's vocals (strong as they are), the audience reaction (which sounds as if it comes from a bootleg) or even Peter York's strong drumming that is the star of this album. That is the wonderful beast known as the Hammond C3. Eddie proves that he not only knows his way around a keyboard (there is some beautifully delicate piano on "Paris" for example) but he knows how to wring the best out of organ (as it were).
...At times Eddie is comparable to the great Jon Lord, as he and Peter can really rock. This is a songs based outfit with an R'n'B edge, and with Eddie's soulful voice this is an album that will be enjoyed by those willing to give it a chance. Yes, it is dated, but if you asked me to listen to this or 99.9% of the "music" which is in the charts I know what I would choose, every time.
Feedback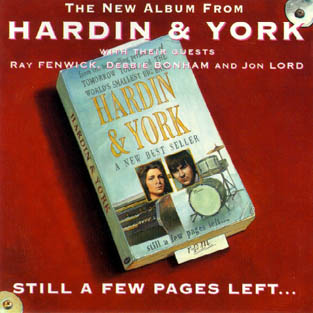 Following the successful Hardin & York reissue programme of 1994, when RPM transferred to CD the duo's important original albums, and after the interest these generated - particularly in their former stronghold of Germany - it seemed a natural progression to go on and record something new, hence "Still A Few Pages Left...", that difficult fourth album.
The first three studio albums - originally released in 1969, 1971, 1972 respectively - had obviously been a hard act to follow, and in any case certain other projects got in the way. Such as the Spencer Davis Group reformation in 1973 involving both Pete and Eddie; the Butterfly Ball album in 1974 and its immense hit single "Love Is All" (top 5 France again in 1993 thanks to a soft drinks commercial soundtrack) for Eddie (with Roger Glover), not to mention Eddie's own solo success (which continued into the mid-1980s with hit albums in Japan), Pete's TV series 'Superdrumming' which became a hit Germany in the late '80s (and is now out on video in the US). Thus they never quite got around to that fourth album until at RPM' s instigation Eddie's collection of manuscripts from the last few years was dusted off and songs selected. Coincidental timing has resulted the sound of the Hammond Organ being back in vogue in the Pop world. Said instrument was always Eddie's trademark and thus we set about tracking down his orginal machine from the late 60's/early 70's. Its present owners turned out to be The Pretty Things whose custodian, Mark St. John, kindly loaned the machine back to us for this recording. Amid great excitement and anticipation, the cumbersome keyboard was set up, connected to its even more cumbersome but de rigeur Leslie cabinets and the switch flicked to On… Sadly instead of the characteristic pumping organ sound, we got a quick chorus of "ooh fucking hell it's caught fire!"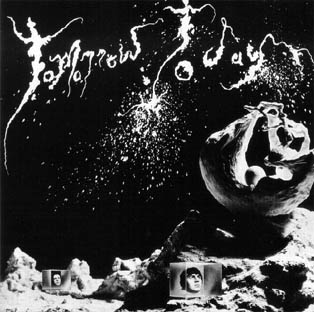 Further inspection thankfully sorted this situation out and, the errant valves having been restored to their rightful place, on went the recording . Following this auspicious start, Eddie and the Chertsey mafia set about a months working residency at Phil 'Roxy Music' Manzanera's Gallery Studio. Each recording take was accompanied by the quality reference sequence of, "Close, Getting Better, Could do Better, This Time!" on every single song. In turn, the different numbers were punctuated by the announcement that "they're closed in Australia", meaning time to open up the wine bottle again, following which Eddie would habitually break into 'Lady Madonna' on the Grand Piano, only to proclaim, "It'll never be a hit" - Ray would respond by breaking into 'Classical Gas' on the acoustic guitar and chaos would ensue. To add to the confusion, nobody is called by their real name and instead you find you are working with Cyril, Marlon, Happening Dave, the Griswalds and Zola!
The most remarkable track in its recording has to be 'Salvation' which was 'written' as a result of one unplanned jam that Pete and Eddie performed, simply sitting on their respective stools and both improvising. A wonderful flashback to the early days when nearly every Hardin and York number was conceived this way. The way the pair picked up on each other's playing so immediately was remarkable after such a long time apart. 'Salvation' did receive minor overdubs from Eddie to perpetuate the ethereal quality of the number, but 90% of it is the original jam.
Well that's enough eulogy, time to find the corkscrew again, well they're closed in Australia you know (and just when is that stock arriving'?!!).
(From the original 1995 CD - Still A Few Pages Left, RPM Thunderbird CSA 106)

1981 reunion - front and back covers of the Hardin & New York album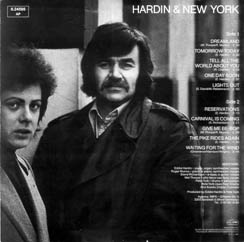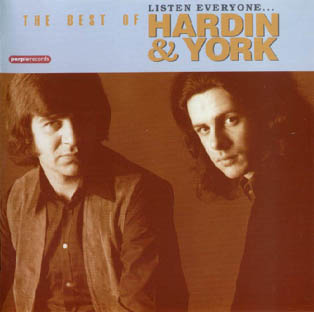 Thirty years ago, comparisons to the renowned British group Traffic were levelled at a certain duo called Hardin & York. Prophets without honour, in Britain, Hardin & York ad previously been the organist and drummer respectively with the Spencer Davis Group, Mk II. Eddie Hardin had the dubious privilege of filling the departing Steve Winwood's shoes when the aforementioned prodigy swanned off to form the aforementioned Traffic.

Pete York had been with the Spencer Davis Group from its inception, but when the hits started drying up, undeservedly (Mr. Second Class and Time Seller are as good as anything the Mk I band ever did), Hardin & York decided to take the unprecedented step of forming a breakaway Hammond and drums duo.

It shouldn't have worked, but it did. With Hardin nimbly holding down the bottom end with bass pedals (played with his bare feet) and York's dazzling, hyperactive jazz-inflected percussion barrage, there was more than enough racket to go around. The duo enjoyed great success in Germany - so much so that they have, in fact, reformed for a German tour this year!

Just why they failed to click over here is a mystery, though. Perhaps they lacked the theatricality of The Nice and the songwriting nous of Traffic. But Purple Records' new compilation makes explicit the fact that Hardin & York were a Class Act.

If you're a Hammond fanatic, look no further. "Listen Everyone" is chock full of thrilling, fat-toned keyboard extrapolations of mind-bending dexterity. Collectors should also note that the compilation includes one unreleased track and two extraordinarily vigorous selections from a BBC radio session which took place in 1969.

One might even be tempted to suggest "Listen Everyone"'s Big Organ Quotient as the ideal gift to round off The Sun's 'lunchbox week - the very week that my mother finally remembered to pack the marrow and two watermelons which I'd been demanding for so long into my lunchbox.
(Source unknown)

HARDIN & YORK - "Listen Everyone - The Very Best Of", Purple Records PUR323 (Purple Records, Aizlewood Mill, Nursery Street, Sheffield S3 8GG)

With shades of ELP, Procol Harum, Spencer Davis, Yes, Booker T., The Nice and The Peddlers to say nothing of the latter end of the Swinging Sixties and psychedelia + progressive, here's a very interesting item for nostalgia of a very special kind and a brave release for Purple. Keyboardist Eddie Hardin and drummer Pete York were a formidable duo and for us hearing this, having missed it the first time around, it is an eye opener. Not a guitar in sight, which will put some off, it's nevertheless a superb demonstration of what a duo can do - and there were very very few. Both chaps are ex-Spencer Davis Group, and Pete York particularly must've been bored stiff drumming there (???? - A.G.). What a superlative drummer, something which he never showed with his involvement with Spencer Davis and Steve Winwood & Co.! The group were always big in Germany and tour there again, reformed, later this year. Wonderful compilation, especially if, like us, you've not met them before. On 'Tomorrow Today', the original album represented here, one of the guests was none other than Vic Flick! As a live band, there was once a drum solo with Ian Paice, Keef Hartley and Pete York all at once (featured on "Pete York's Percussion Band" record - A.G.)! Some breathless organ and percussion from the guys and an amazing booklet and presentation from the chaps at Sheffield.
(Davy)
(Source unknown)

Hardin & York
Listen Everyone - The Best Of Hardin & York
Purple Records PUR 323 (75:09)

Finding fame in the Spencer Davis Group, original drummer Pete York and young organist Eddie Hardin found it difficult to continue in the band following Steve Winwood's departure. Later to follow his lead, the pair recorded three albums between 1969 and 1971. The heavy use of Hammond organ and York's technical drumming gave them a sound typical of the time, and Hardin's Winwood-like vocals made their material very listenable.

The three excellent, borderline progressive albums that Hardin and York cut stand on the edge the Deep Purple scene, strengthened by guest appearances by guitarist Ray Fenwick (also ex-Spencer Davis) and Purple drummer Ian Paice.

Lengthy organ workouts backed by solid drum and bass come over a dream, especially if you like a combination of ELP and Led Zeppelin sounds. Sadly, success for Hardin & York in the UK never matched that in Germany or the USA. With material from the three albums, an out-take and a couple of BBC sessions, this collection is further complemented by the usual extensive sleevenotes and photos you expect from Purple Records. A good introduction to a band with a complex history and lovely sound.

Ed Stone
Record Collector, July 2000

Record Collector, September 2000 reviews...
Hardin York "Live in the '70s" Angel Air SJPCD016

The idea of a progressive organ-and-drum duo recording, let alone touring, may seem odd. Yet, for this ex-Spencer Davis Group pair, it worked very well: technical expertise combined with their enthusiasm made up for the lack of guitars. Before turning to session work, Eddie Hardin and Pete York recorded three albums between 1969 and 1971, and this concert from '71 combines ELP and Deep Purple sounds with Winwood-like vocals. The 18-minute opener, "Freedom Suite", incorporates "Like A Rolling Stone", while other tracks feature guests Ray Fenwick, Will Tomson and Keef Hartley. Combining elements of jazz and classical, it's all very diverse and enjoyable.

Joe Geesin

Goldmine, October 2000 reviews...
Hardin & York, the drums and organ R&B duo formed by ex-Spencer Davis Group mainstays Eddie Hardin and Pete York, are remembered on "Live In The 70s" (Angel Air, U.K.), an excellent set recorded at the London Marquee on June 15, 1971. Similar in sound to other organ-led teams such as ELP and Hansson & Karlsson and high on Hammond-powered jazzy instrumentals, it's a high-octane performance that occasionally leaves you wondering how just two men could create such a vast amount of energy and noise - and wishing that fame had maybe rendered them something more than a mere footnote in British prog history.

Concert Roses
by Dieter Pelz
For my musical friends Eddie Hardin and Pete York
Melbourne, 2002/3
Concert Roses

In a quiet town in south-western Germany there lived an old lady. Her life's evening was like a quietly flowing stream. She was a widow who had never really mastered the solitary life, never really found her true self again after the death of her husband. In her younger days she used to travel with him and his orchestra from concert town to concert town. They had an exciting life of musical performances and travels. This now seemed long gone and distant - as if from another life of hers - but the memories were sometimes vivid and alive. The precious feeling, when the music played and brought joy to people who longed for happiness in the still half-destroyed post-war Germany, was wonderful. Life was easy in those days - the air filled with harmonies, and she often saw herself as being part of the music - being part of her beloved husband.

But now - her life's journey had slowed down so much and it seemed as if the curtain had finally closed and would open no more. Sometimes when she was alone in her flat she would still hear the applause and hoped for one more opening - one last time - to see him bow and smile gratefully to the enthusiastic audience. After a concert she would later be seen standing next to him sharing the compliments and the success, which she helped to bring about as a loving, and understanding wife.

But now he had gone before her - quite suddenly - and she wondered through her small world rather lonesome - a widow of a great musician whose tunes the people had forgotten - left with little more than a few sentimental recollections. The transient nature of glory and fame was evident in her life, but she was not depressed or bitter. She had accepted her fate and lived her life as best as she could.

One day on her usual walk through town she saw the letters of a concert advertisement. Her eyesight was rather blurry at times and often quite unreliable, but she seemed to recognise the familiar name of the German female singer "Tina York" on the poster and decided to buy a ticket. She enjoyed concerts because they made her feel like she felt in the bygone days when she was still together with her husband and his music. Concerts were highlights of her quiet life and they gave her strength and good feelings to make it easier to cope with living alone.

When the evening came she dressed up fine and went out - full of expectation. Reaching the concert hall she wondered and hesitated a little as she was seeing mainly younger people there - not the audience she would have expected. And later when the musicians appeared on stage she felt that something was wrong and she asked a young man next to her about the program. It soon became clear that she had misread the name on the advertisement and was in fact sitting in a rock revival concert with "Hardin & York" - a once famous two-man band with a unique combination of Hammond organ and drums. The young man next to her explained and clarified her mistake and - sensing in her a good taste and probably a feeling for genuine music - told her that he knew the band well from former years and that they were very good and he would encourage her to stay and listen. He thought, who knows - she might in fact enjoy the music! And so she did. After overcoming an initial hesitation, she forgot that she was of a different generation. The spirit of the well-played rock-jazzy music and Eddie Hardin's melodious singing while playing a concert piano touched her deeply. The pulsating rock rhythms made her feel younger and very light - a feeling she had not had for a long time. She closed her eyes and drifted back into her earlier life. She was in her husband's concert now, sitting in the audience again and listening to the music of the orchestra. He knew she was there among the people and when his eyes found hers he gave her a loving smile and she knew who she was.

Coming back to reality, she remembered that she had brought a bouquet of roses with her, intended to be given to "Tina York" whom she had come to see and hopefully meet at the end of the concert. But there was now no lady singer - just a the members of a rock band. However, she still wanted to express her feelings for the very different, but fine music and - at the end of a song in an enthusiastic and revitalised mood and with nodding approval from the young fellow next to her - she stood up and proceeded towards stage and presented the roses to the startled rock-musicians. There was silence for a brief moment. Everyone felt that something special was happening. Such deep appreciation of rock music was unusual and roses were definitely not a common gift here. But Pete York, the drummer, found the right words and thanked her for being a fan of Hardin & York's music. The band was not sure whether it was just a little weirdness in an old person or whether they might have indeed touched someone's heart with their music. They seemed to have unknowingly built a musical bridge between generations. That night, age seemed to have lost its power of separating people. She earned a spontaneous applause and was very pleased with herself.

After making her present of roses, the old lady felt even better than before and listened to every song until the end of the concert. When the curtain closed she felt a strong desire to meet the musicians in person. It had often happened to her husband that appreciative music-lovers came to see him after a concert to make compliments on the performance. She asked the young man whether he thought she might be permitted to meet the band back stage and he told her she could always try and he offered to take her back stage. The musicians were very friendly to her and when they heard of her musical life with her husband they understood and gave her warm smiles. Gracefully she thanked every one of them once again for the good music, shook hands with each and left. This had been a very special day for her and - in spite of the late hour - she did not feel the usual heaviness of her advanced age. She remembered that living was easy when being one with the music.

After reaching her flat - still having the music in her ears - she went straight to the picture of her husband on a wall and after silently looking at his face for a while, his eyes reassured her that by the magic of the music they had indeed been reunited tonight.