Week of February 1, 1998
White Plains
Personnel:
Tony Burrows - Vocals
Roger Greenaway - Vocals
Pete Nelson
Robin Shaw
Albums:
White Plains (Deram SML 1067) 1970
When You Are A King (Deram SML 1092) 1971
CD collection: My Baby Loves Lovin' (Deram 820 622-2) 1993.
45s:
My Baby Loves Lovin'/Julie Do Ya Love Me (Deram DM 280) 1970
I've Got You On My Mind/Today I Killed A Man I Didn't Know (Deram DM 291) 1970
Lovin' You Baby/Noises In My Head (Deram DM 312) 1970
Julie Do Ya Love Me/I Need Your Everlasting Love (Deram DM 315) 1970
Every Little Move She Makes/Caroline's Comin' Home (Deram DM 325) 1971
When You Are A King/The World Gets Better With Love (Deram DM 333) 1971
Gonna Miss Her Mississippi/I'll Go Blind (Deram DM 340) 1971
I Can't Stop/Julie Anne (Deram DM 348) 1972
Dad You Saved The World/Beachcomber (Deram DM 365) 1972
Step Into A Dream/Look To See (Deram DM 371) 1973
Does Anyone Know Where My Baby Is?/Just For A Change (Deram DM 388) 1973
Julie Anne/Sunny Honey Girl (Deram DM 405) 1973
Ecstasy/Simple Man (Deram DM 415) 1974
Summer Nights/Wildest Dream (Bradley BRAD 7609) 1976
Reissues:
When You Are A King/The World Gets Better With Love (Decca F 13920) 1982
When You Are A King/? (Old Gold OG 9531) 1985
---
A commercially successful studio group which featured vocalist Tony Burrows whose other session groups included The Ivy League, The Flowerpot Men, The Kestrels, Edison Lighthouse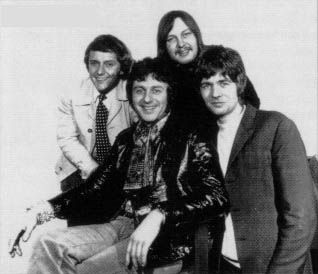 and Brotherhood Of Man. Robin Shaw and Pete Nelson were also in The Flowerpot Men, whilst songwriter Roger Greenaway had previously been the 'David' of David and Jonathan. He co-wrote their debut hit, 'My Baby Loves Lovin'' with Roger Cook ('Jonathan') and was also in The Flowerpot Men. After their second hit, another Greenaway/Cook composition, 'I've Got You On My Mind', Greenaway and Burrows both left to join The Pipkins and Nelson and Shaw brought in other session singers for further studio and live work. This revamped line-up enjoyed a couple more UK hits - 'When You Are A King' and 'Step Into A Dream' - but disbanded in 1974, by which time interest in them had waned.
The band scored a couple of hits in the US in 1970 with 'My Baby Loves Lovin'' (No. 13) and 'Lovin' You Baby' (No. 82).
Their musical format was pure and simple - early seventies style harmony pop with orchestral backing. Their music director was Lew Warburton. Cook and Greenaway were involved in Blue Mink among others...
Taken from The Tapestry of Delights - The Comprehensive Guide to British Music of the Beat, R&B, Psychedelic and Progressive Eras 1963-1976, Vernon Joynson
ISBN 1 899855 04 1
---
...And in the beginning there was The Flower Pot Men - on some discs, and publicity circulars billed them as Flowerpot; the time was 1967 and youth culture the world over was celebrating 'The Summer Of Love'. But what, do I hear you ask, has that to do with White Plains? Well if you're sitting comfortably, then I'll begin...
As the sun shone during mid-'67, teenagers everywhere began the next phase of 'rebelling against the establishment'; for both males and females the sartorial elegance of smart, stylish clothes made way for kaftans and beads; much longer hair became fashionable and the use of hallucinatory-inducing drugs was rather more commonplace than previously, any number of media persons suddenly admitting to experimenting with illicit substances.
Music, as ever, reflected the latest fad, and after four years of British 'beat group' domination, America hit back, with acts who personified this week's trend. They preached that California was currently the place to be, with particular emphasis towards San Francisco; everything revolved around peace, love and the giving of flowers, and with a song written and produced by John Phillips of The Mamas & The Papas - who'd already paved the way with glorious, gentle enchanters like 'California Dreamin'', 'Monday, Monday' and 'Dedicated To The One I Love'. Virginia-born Scott McKenzie forever encapsulated the moment with his worldwide seven-million seller, 'San Francisco (Be Sure To Wear Flowers In Your Hair)'. The 'hippies' had arrived.
Britain was no less affected than any other nation by this 'psychedelic' onslaught, and two successful native singer/songwriters, John Carter and Ken Lewis, saw no reason not to organise a little tribute of their own. These two gentlemen had been working since the early Sixties with, variously, a group billed as Carter-Lewis & The Southerners and then The Ivy League, this latter a superb vocal harmony trio who'd scored heavily with 'Funny How Love Can Be' and 'Tossing And Turning' in 1965.
Multi talented, they now crafted an opus guaranteed to leave nobody in any doubt as to its intended audience: 'Let's Go To San Francisco', it beckoned. Performed by session musicians, the result was leased to British Decca's newly-inaugurated and fashionable Deram imprint and rush-released at home on 4th August. An instantaneous smash, it raced to No. 4 in the UK and made waves around Europe within weeks, leaving its protagonists with one of life's more pleasant problems: how to supply an act to perform live what they had manufactured in the recording studio.
The solution was at hand. John and Ken loaned the Flower Pot Men name to vocalist Tony Burrows, a 1967 vintage member of the Ivy League by happy coincidence, and he recruited Decca singer Billie Davis's then-band and a few other friends to plug the record around clubs and dance-halls the length and breadth of the country. On stage were Jon Lord (Keyboards), Nick Simper (Bass) - later to form heavy rockers Deep Purple; Ged Peck (Guitar), Carlo Little (Drums) and a quartet of larynx-exercisers comprising Burrows, Neil Landon, Pete Nelson and Robin (Scrim) Shaw, Lord having taken over from an ailing Billy Davidson in January 1968.
Further singles followed with 'A Walk In The Sky' (November 1967) - a No. 6 triumph in Holland - and 'Man Without A Woman' (April 1968), but the bubble had seemingly burst and band personnel changes were frequent.
By March 1969, when a final Flower Pots single appeared, the appealing 'In A Moment Of Madness', Londoner Pete Nelson - real name Peter Lipscomb - and Robin Shaw were the outfit's main men, adopting piano and bass duties respectively, while both were more than capable of picking on six-string guitars.
Also pertinent among the ranks in that he, too, would be a founding father of the new band to come, South African Ricky Wolff. A keen swimmer, the brown-haired and eyed writer was adept on any guitar, plus keyboards, flute and saxophone.
When 'Madness' was largely ignored by the masses, and with the label Flower Pot Men having passed its sell-by date, late in 1969 the boys decided it was time for a fresh start. The highly-respected songwriting/production team of Rogers, Greenaway and Cook, had already taken over such duties for that last single, and although, on 26th October, the numbers 'You've Got Your Troubles' and 'Today I Killed A Man I Didn't Know' were taped with the intention of issuing them under the Flower Pot Men stickering, no such event occurred.
By now a five-piece with the earlier recruitment of Harrow, Middlesex-born lead guitarist Robin Box and nearby Kenton lad Roger Hills (drums), both of whom had previously worked together backing Peter & Gordon and ex-Manfred Mann leading light, Paul Jones, a pooling of thought resources decided that they would henceforth go out as White Plains, and the two other titles cut that 26th October, Cook and Greenaway's ultra-commercial 'My Baby Loves Lovin'' and Wolff's 'Show Me Your Hand' were pencilled-in to facilitate a Plains debut.
It was agreed to postpone release of said Deram single DM 280 until immediately after Christmas, to avoid its possibly getting swamped by the usual seasonal fare, a judgement which proved sound. Following January 9th unveiling, heavy radio play ensured chart arrival four weeks later and a Top Ten placing to boot, while two months on U.S. Deram witnessed identical equivalent 45-85058 begin a lively 15-week crusade on the Hot 100 which peaked at a decidedly lucky No. 13.
The happy, danceable 'My Baby Loves Lovin'' claimed converts seemingly everywhere, as country by country White Plains made their presence felt in no uncertain terms, even though in Australia a rival version of 'Lovin'' by The Joe Jeffrey Group matched them place for place on the way up to No. 13 throughout a goodly 18 weeks run.
Our subjects embarked on a hectic personal appearance tour, taking in numerous TV and radio spots beside on-stage demands. September 1970 had their first album gracing dealer issue sheets (SML 1067), and while the directly-appellated twelve-banded White Plains sold well in England, across the Atlantic its ten-track equivalent, 'My Baby Loves Lovin'' (DES 18045), scampered into Billboard's Top 200 album survey and lodged 4 weeks, besting at 166.
Our cousins omitted 'To Love You' and 'Young Birds Fly' from the United Kingdom package, but it is the latter we've adopted as a basis for this collection (tracks 1-12 inclusive), albeit with Uncle Sam's overall title now instated which gives prominence to the seven-inch blockbuster which was its focal point. To this is suffixed the A-side of every British and American single pressed during their Deram tenancy. Not quite enjoying absolute chronological issue status, priority has been given to producing a pleasing running order, while the opening White Plains segment is still laid out in the manner of its vinyl ancestor.
With five Top 30 notations in this green and pleasant land between 1970 and 1973, White Plains were one of Deram's most enduring acts of the period, and only one change in their line-up occurred during that time, organist Ron Reynolds taking over from Ricky Wolff. A second U.K.-only long-player, 'When You Are A King' (SML 1092), reached the shops in October 1971, and a third was mooted, but although a track listing was prepared, neither title nor catalogue number was allocated and the project was sadly aborted when they left Deram for pastures new in 1974.
Two decades later, with a good proportion of that same personnel intact, White Plains are still packing 'em in on the 60s and 70s revival tours, while their beautifully produced discs of the past are seldom far from any music radio programme controller's thoughts. From the upbeat bounce of 'Lovin'' to the delicate 'When You Are A King' via the sing-along 'Julie Do Ya Love Me', all are here and more, but imagine, without San Francisco, the love movement and those Flower Pots, we just might have never had the opportunity to appreciate one of the finest, genuine quality pop bands of the Seventies. From the top, please, guys...
John Tracy London, 1993
Taken from the 'My Baby Loves Lovin'' CD compilation (Deram 820 622-2), 1993.
---