Week of February 8, 1997
BROTHERHOOD OF MAN - UNITED WE STAND (The early years)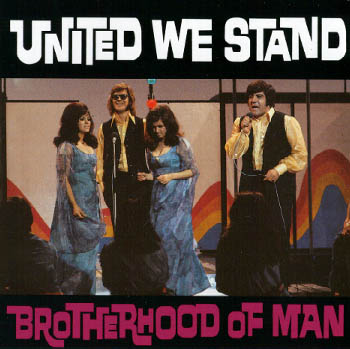 Remember The 5th Dimension? In the late Sixties and early Seventies that Los Angeles-based vocal quintet of three guys and two girls regularly stormed their homeland charts with such fabulous soul-styled harmony discs as "Up, Up And Away", "Carpet Man", "Aquarius/Let The Sunshine In", "Wedding Bell Blues" and "One Less Bell To Answer". Their distinctive sound was masterminded by the legendary Bones Howe, and while any number of top songwriters' catalogues supplied repertoire - including those of Neil Sedaka/Howard Greenfield, Burt Bacharach/Hal David, Laura Nyro, Sam Cooke and Paul McCartney - their name become indelibly linked with championing the cause of a brilliantly innovative young writer named Jim Webb, whose other main mouthpieces were Glen Campbell and actor/singer Richard Harris.
Many outside America were impressed by the 5th's output - a couple of aforementioned
numbers gained Top 20 status in the U.K. also - but few more than Britain's multifaceted Tony Hiller, who rounding up a batch of renowned session musicians and four compatible singers, including the ubiquitous Tony Burrows, set about assembling an act capable of delivering goods of similar quality, many of which would come from his own pen . This, remember, was the beginning of an era when studio groups were flourishing, if a record took off an act could then be rapidly recruited and fashioned to promote the wares on stage and, if necessary, the small screen.
Hiller's idea appealed to those whose happy task in life was finding fresh new blood for British Decca's slightly left-field subsidiary label, Deram, and at the end of August '69 those variously hand-picked to commit a first single to tape duly did so with brace of titles such as "Love One Another"/"A Little Bit Of Heaven", which in turn was rushed out at home on 10th October and offered reciprocal facilities Stateside also. The artist billing was listed, fittingly, as The Brotherhood Of Man.
Although gathering several complimentary reviews, it didn't trouble compilers of the weekly sales tabulations either side of the Atlantic divide, but on 3rd and 4th January next those concerned reconvened for a second shot at the target via an emotive beat-ballad from Mr. Hiller, "United We Stand", a sure-fire radio-friendly piece of ammunition if ever there was one.
Rapidly unveiled across the United Kingdom come the 23rd of the month - less than a week after the Dimension's "Wedding Bell Blues" had logged into our domestic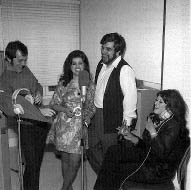 best-sellers - the Brotherhood's sophisticated love ode appropriately introduced their name to the Hit Parade history books on Valentine's Day - 14th February - following which a handsome 9 week stopover was crowned by the disc climbing to No. 10. As it did so its creators hastened back into Decca's own West Hampstead, London, soundproofed rooms in March to preserve four further titles, and then cracked open the champagne when, simultaneously, Deram Australia telexed great news: "United" was in at 39 there with a bullet. Other territories reported growing interest daily, then came the coup de grace: on 18th April the single breached Uncle Sam's Billboard Hot 100 too. Metaphorical coals had been taken to Newcastle, and welcomed with open arms.
In similar vein, the group's next outing was almost as well received. "Where Are You Going To My Love?" clocked in at home on 4th July destined for a high of 22, and their first album, rushed out the previous month where the Stars and Stripes fly, duly rewarded enterprise by charting on August 8th, exactly a fortnight before "Where", which it contained, yielded a second winning 45 there. And to cap a victorious year? The group was invited to perform at Blighty's annual New Musical Express magazine Poll Winners Concert.
Thereafter, subsequent records of like excellence had to content themselves with the status of 'turntable hits' - '71's "Reach Out Your Hand" excepted in America - and a second long-player wasn't forthcoming until April 1972. However, as changing public tastes saw the 5th Dimension's popularity wane by '73, so the Brotherhood and Deram ended their liaison before the calendar turned its next inevitable page.
Still, as one door closes...
The Swedish quartet, ABBA, winning 1974's Eurovision Song Contest with "Waterloo", set Tony Hiller's ever-active mind to ponder a change of direction for his brainchild. The Brotherhood Of Man switched their emphasis towards pure pop, ultimately stabilised a regular line-up around Sandra and Nicky Stevens, Martin Lee and former Deram solo artist Lee Sheriden, and on 3rd April 1976 romped away with Eurovision themselves, representing the United Kingdom with "Save Your Kisses For Me", which swiftly went on to sell millions worldwide and paved the way for numerous further triumphs from the ABBA mould.
Here though we've collected together their complete library of Deram 'A's and 'B's which once graced seven-inch vinyl - the withdrawn pairing of "Rock Me Baby"/"Hang On" (DM 366) excepted and sprinkled liberally with an album track or two for good measure. The Brotherhood Of Man may have been 'manufactured in the likeness of', but they were crafted with loving care and attention to detail, as this long-overdue retrospective confirms.
JOHN TRACY London, 1995 (CD liner notes) DERAM 820 623-2
---