Week of April 15, 2001
Spooky Tooth
Personnel:
Mike Harrison - Piano, Vocals
Luther Grosvenor - Guitar
Greg Ridley - Bass
Mike Kellie - Drums
Gary Wright - Organ, Vocals
Andy Leigh - Bass
John Hawken - Keyboards
Steve Thompson - Bass
Bryson Graham - Drums
Mick Jones - Guitar, Vocals
Ian Herbert - Bass
Chris Stewart - Bass
Mike Patto - Vocals
Keith Ellis - Bass
Val Burke - Bass
Paul Gurvitz - Bass
Albums:
It's All About A Roundabout (Island ILP 980/ILPS 9080) 1968
Spooky Two (Island ILPS 9098) 1969
Ceremony (Island ILPS 9107) 1970
The Last Puff (Island ILPS 9117) 1970
You Broke My Heart So I Busted Your Jaw (Island ILPS 9227) 1973
Witness (Island ILPS 9255) 1973
The Mirror (Good Ear EARL 2001) 1974
The Best Of Spooky Tooth (Island ILPS 9368) 1976
45s:
Sunshine Help Me/Weird (Island WIP 6022) 1967
Love Really Changed Me/Luger's Grove (Island WIP 6037) 1968
The Weight/Do Right People (Island WIP 6046) 1968
Son Of Your Father/I've Got Enough Heartache (Island WIP 6060) 1969
All Sewn Up/As Long As The World Keeps Turning (Island WIP 6168) 1973
Two Time Love/Hooser (Good Ear EAR 109) 1974
Fantasy Satisfier/Hoofer (Good Ear EAR 607) 1975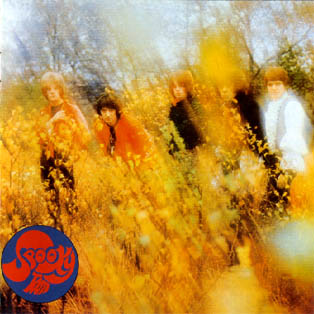 Spooky Tooth were one of Island Records' finest acts, yet never quite scaled the upper echelons of the late 60's/early 70's rock hierarchy. Always a band much loved by writers and fellow musicians, they lacked the commercial sucker punch that would've catapulted them to the toppermost of the poppermost. It didn't stop them making some corking records, however.

The Spooky Tooth story (for those of us who are into this sort of thing), if you want to wax analytical about it, provides the perfect paradigm of how various members of disparate 60's British Beat bands pooled their musical resources and mutated into a psychedelic/progressive outfit.

The story begins in the Summer of 1963, in Carlisle, Cumbria, in the far North-West of England. Jimmy Henshaw (guitar, keyboards), Walter Johnstone (drums), Frank Kenyan (guitar) and former export clerk Mike Harrison (vocals) formed a beat combo, and dubbed themselves The VIPs. Johnstone and Kenyan had previously been in The Teenagers; not long after forming the band, The VIPs added Greg Ridley on bass, who had previously lined up with Dino & The Danubes, The Dakotas and The Ramrods, together with Harrison. They scored a record deal with RCA, who put out their debut single, "She's So Good"/"Don't Keep Shouting At Me" in 1964, both sides being penned by Henshaw. The single is a great slice of sneery Brit R&B, and is now an ultra-rare collectors' favourite. From 1965 to 1966 the band were a top club attraction in London, and gigged regularly at the Star Club in Hamburg, garnering a sizeable cult following.

The original VIPs' line-up recorded three more singles ("Wintertime" as The Vipps for CBS, plus "I Wanna Be Free"/"Don't Let It Go" and "Straight Down To The Bottom"/"In A Dream" for Island, produced by Island stalwart Guy Stevens) before disbanding. Henshaw, Johnstone and Kenyan were replaced by Luther Grosvenor (guitar), Mike Kellie (drums), and Keith Emerson (keyboards). Emerson had previously been a member of Gary Farr & The T-Bones; this variant of The VIPs gigged for only three months, before Emerson upped and formed The Nice, with Brian "Blinky" Davidson, Lee Jackson and Davy O'List. The remaining quartet changed their name from the by then somewhat anachronistic VIPs, to simply Art.

Worcester-born Grosvenor had played guitar for The Hellians, whose 1964 single, "Daydreaming Of You", released on Pye subsidiary Piccadilly, was produced by maverick West Coast genius/madman/charlatan Kim Fowley. The Hellians, if I may digress still further, boasted the nascent talents of both Dave Mason and Jim Capaldi, who would, of course, go on to form Island mainstays Traffic with Steve Winwood, and a young Poli Palmer, who latterly rattled the joanna for Family. The Hellians, in turn, mutated into Deep Feeling.

Mike Kellie, originally from Birmingham, had drummed for second city band Locomotive, who also featured sax and flute player Chris Wood, who joined Traffic in 1967. There. See how incestuous this little scene was? Anyway, Locomotive would go on to enjoy a UK Top 30 hit with the ska-rhythmed "Rudi's In Love" (unusually enough, the band were very heavily ska and bluebeat-driven), and in 1969 put out the awesome latter-day psychedelic gem, "Mr. Armageddon".

Back to Art. Art cut one album, "Supernatural Fairy Tales", also produced by Guy Stevens (and also available on Edsel), released in 1967. Beautifully housed in a Hapshash And The Coloured Coat-designed sleeve, its original Island Records catalogue number was, ironically enough, ILP 967. Hapshash And The Coloured Coat released an album on Liberty, in which Art featured as backing band on several tracks.

Art's line-up was swelled by the addition of American Gary Wright in October 1967, which initiated a name change - Art became Spooky Tooth.

Wright was born in New Jersey, and had been a child actor, before studying psychology. It was these studies which brought him to Europe initially. The vocal and keyboard interplay between Wright and Harrison is what characterised the Spooky Tooth sound. The debut album, "It's All About", originally released in May 1968 on Island ILPS 9080, featured the band's blistering reading of the John D. Loudermilk classic, "Tobacco Road", always a live showstopper, and their debut single, "Sunshine Help Me". The latter so enamoured Brummie poppers The Move that they cut their own version on the live "Somethin' Else" EP. It's inevitable that the band's heavily Hammond organ-saturated sound drew comparisons with Island stablemates Traffic; after all, the various band members had worked together in other outfits, but Winwood & Co. had the head start in terms of record releases and chart success. Moreover, both Traffic and Spooky Tooth shared producers in the shape of Jimmy Miller, so such sonic similarities are perhaps less of a surprise. If anything, Spooky Tooth were darker and doomier, although their strongly melodic rock set them apart from their contemporaries.

The band's penchant for road work ensured that they built up a loyal club following in the UK, but it was in the USA that the band enjoyed greater commercial success. "It's All About" was renamed "Tobacco Road" for the US, and belatedly made No.152 in the US album charts in August 1970.

The original Spooky Tooth line-up cut two further albums for Island, "Spooky Two" (Island ILPS 9098, released March 1969) and "Ceremony" (Island ILPS 9107, released January 1970; here Greg Ridley, who left for Humble Pie, was replaced by Andy Leigh), the latter being unusually distinguished by featuring French electronics wizard Pierre Henry. The band, however, regarded the album as "an utter failure", and claimed that after two and a half years, they had slipped into "stale, predictable music and creative demoralisation", and promptly split in February 1970.

Following the demise, Gary Wright formed the band Wonderwheel (who boasted guitar ace Jerry Donahue in the original line-up, replaced, in turn, by Mick Jones, who had been musical director with French rock and roller Johnny Hallyday), which lasted from April 1971 to September 1972. Wright cut two albums with the band for A&M, after signing to the label in September 1970, namely "Extraction" (A&M AMLS 2004, April 1971), and "Footprint" (A&M AMLS 64296, January 1972).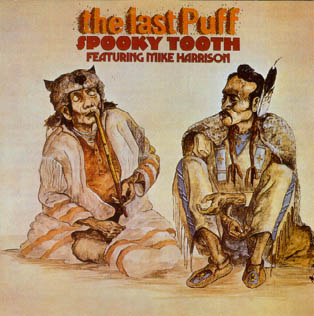 The rest of the band didn't take long to get out of the slough of despond they seemed to have descended into post-"Ceremony"; in Autumn 1970, Harrison, Grosvenor and Kellie reconvened under the Spooky Tooth banner, with the addition of ex-Grease Band members Alan Spenner (bass) and Henry McCullough (guitar) replacing Ridley and Wright to record "The Last Puff" (Island ILPS 9117, July 1970). Ridley had earlier departed to join Humble Pie with Steve Marriott and Peter Frampton. John Hawken (ex-Nashville Teens keyboard man - it was the 'Teens who had the original UK chart hit with "Tobacco Road"!) and Steve Thompson (bass) joined the others to tour the record. "The Last Puff", despite the line-up changes, was still a fine album, with the band's storming version of "I Am The Walrus" kicking things off energetically. They also showed great taste in covering David Ackles' aching "Down River", as well as a spirited version of Elton John's "Son Of Your Father". The band folded again shortly afterwards, however.

After this (again albeit temporary) hiatus, Mike Harrison utilised the services of Carlisle band Junkyard Angel to back him on his eponymous solo debut (Island ILPS 9170, October 1971), and also cut a second solo work, "Smokestack Lightning" (Island ILPS 9209, 1972). Luther Grosvenor, after a period of recuperation and songwriting in Spain, recorded a solo album, "Under Open Skies" (Island ILPS 9168, October 1971, also available on Edsel), before joining Stealers Wheel for their last six months. After that, he replaced Mott The Hoople lead guitarist Mick Ralphs, joining the band at their commercial peak, having been renamed "Ariel Bender" by the Mott main man Ian Hunter. After splitting from Mott to be replaced for a valedictory single by ex-Spider From Mars Mick Ronson, he formed Widowmaker with former Love Affair vocalist Steve Ellis. Mike Kellie went on to rattle the traps with Peter Frampton's Camel, as well as lots of session work.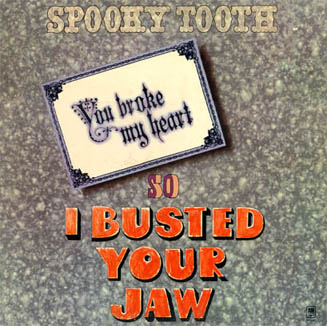 By September 1972, however, with neither Wright nor Harrison's solo ventures stirring up much commercial paydirt, the band again decided to get back into the ring as Spooky Tooth. Apart from Wright and Harrison, the line-up that recorded "You Broke My Heart So I Busted Your Jaw" (Island ILPS 9227, May 1973) featured Mick Jones (guitar, vocals), Bryson Graham (drums), and ex-Junkyard Angel Ian Herbert (bass), and lasted from September 1972 to March 1973. Jones and Graham had worked with Wright in Wonderwheel. "You Broke..." was again a reasonably successful album; Stateside, it reached number 84 in May 1973, it was followed up with a tour and enthusiastically promoted by the band.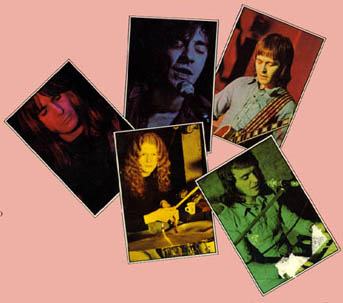 Kellie was welcomed back into the fold to record "Witness" (Island ILPS 9255, Nov. 1973 - the band's last album for the label), and Keith Ellis replaced Herbert on bass. This line-up lasted until February 1974, when Harrison split for good, eventually cutting a solo album for Good Ear, entitled "Rainbow Rider" (Good Ear EARL 7002, August 1975). His place was taken by Mike Patto, who had fronted Timebox, his own, eponymous band, and Boxer; the band decamped to New York, but by now the Spooky Tooth plot was severely lost. The band stuttered on until September 1974, cutting a final album, "The Mirror", also for Good Ear (EARL 2001 - October 1974). By this time, Wright was the only original member of the band, Kellie and Ellis jumping ship, replaced by Bryson Graham (again!) and Val Burke.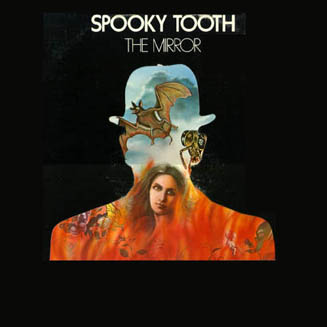 So, the band rather ignominiously ground to a halt by September 1974. The final line-up saw Mick Jones first join ex-Mountain guitarist Leslie West's band, before throwing in his lot with former King Crimson keyboards/horns man Ian McDonald in the massively successful Foreigner; Mike Patto eventually succumbed to throat cancer in 1979; Bryson Graham and Moore went back to session work. Mike Kellie turned up in The Only Ones, another great lost band of the 1970s. Gary Wright signed with Warner Brothers as a solo act, and struck immediate platinum with the hugely successful "Dream Weaver" (Warner Bros. K56141, July 1975). Follow-ups didn't scale the same commercial heights, although he remained a recording artist until the late 1980s.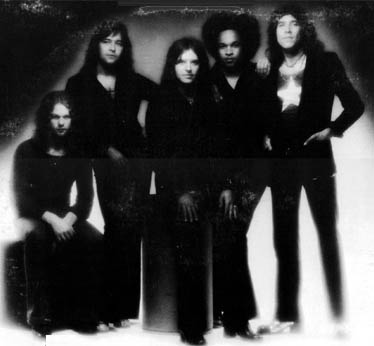 So that was the Spooky Tooth story. The band are still fondly remembered as one of the great live acts of their time who never earned their commercial due. They bequeathed some great records, and bizarrely enough, their name would latterly accrue notoriety following an infamous US court case, wherein one of the band's songs, "Better By You, Better Than Me", covered by Birmingham Heavy Metal legend Judas Priest, resulted in a court case following the death of two fans in a "back-masking" controversy. No matter; the best of their music is to be found in these Edsel reissues.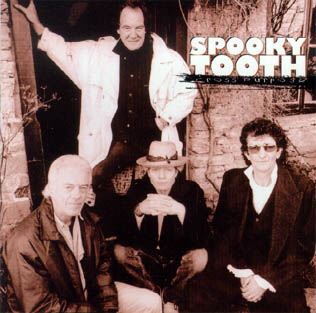 (the band's 1999 reunion album, "Cross Purposes")
Alan Robinson
Taken from the CD reissue of "It's All About", Edsel EDCD467
Discography taken from The Tapestry of Delights - The Comprehensive Guide to British Music of the Beat, R&B, Psychedelic and Progressive Eras 1963-1976, Vernon Joynson
ISBN 1 899855 04 1
---