Week of July 30, 2000
Spiders From Mars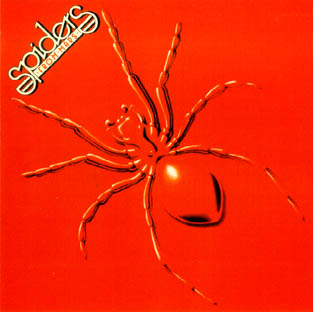 Personnel:
Dave Black - Guitar
Trevor Bolder - Bass
Mike Garson - Keyboards
Pete McDonald - Vocals
Mick 'Woody' Woodmansey - Drums
Album:
Spiders From Mars (Pye NSPL 18479) 1976
45s:
White Man Black Man/National Poll (Pye 7N 45578) 1975
I Don't Wanna Limbo/Can't Be Fair (Pye 7N 45578) 1976

This was David Bowie's backing band in his Ziggy Stardust days. They also made a few solo recordings in their own right.

Mick Woodmansey had been in the Hull-based Rats back in the mid-sixties.
Taken from The Tapestry of Delights - The Comprehensive Guide to British Music of the Beat, R&B, Psychedelic and Progressive Eras 1963-1976, Vernon Joynson ISBN 1 899855 04 1
---
The year is 1975. David Bowie was by now deep into his chameleonic 1970s phase, having gone from the Ziggy Stardust persona, through "Aladdin Sane", "Diamond Dogs", and by now into the 'relentless plastic soul' of "Young Americans". His 'Ziggy'-era backing band, The Spiders From Mars, had lost their lead guitarist, Mick Ronson, first to a solo career, then to the last phase of Mott The Hoople. Ronson would ultimately line up with the lead vocalist of that band, Ian Hunter, who was to issue his first solo album in the same year. Which left the Spiders rhythm section of Trevor Bolder (bass, and possessor of Olympian sideburns), and Woody Woodmansey (drums) to carry the glam-rock torch. Which, by that time, was burning very low indeed. Still, they had the name, and that was enough for them to secure a deal with the Pye Records label, itself an imprint with a great future behind it. Pye survived on the huge sales of records by hideous showbiz entertainers such as Max Bygraves, the odd novelty hit, and an admittedly impressive catalogue of sixties acts such as The Kinks, The Searchers and Sandy Shaw. Apart from the name, one must not underestimate the pair's considerable musical gifts. They were, after all, the bedrock upon which Bowie's big break had been built, and anyone who witnessed the 'Ziggy'/'Aladdin Sane' tours would acknowledge that their contribution to the ferocious rock behemoth that Bowie's band then were was crucial.

But how could they replace the charismatic Ronson, whose scorching, Jeff Beck-derived lead guitar was so integral to their sound? Well, in this case, rather than go for someone with a 'name' (and the attendant baggage that goes with it), they chose an unknown - one Dave Black, a Geordie by birth who had previously been a member of Newcastle based prog-rockers, Kestrel. Kestrel released only the one album, on the Cube label, and it is a highly collectable slab of early 70's progressive rock. Anyway, Black was clearly a more than competent lead guitar player, who obviously saw the opportunity of joining the Spiders' line-up as a challenge to which he could rise.

Mind you, replacing David Bowie was another matter. Filling ol' Ziggy's considerable platform shoes was one Pete McDonald, like Black, a former member of Kestrel. Wisely, perhaps, Bolder and Woodmansey sought not to attempt to match their former boss' otherworldly lyrical concerns, and went more for an orthodox rock approach, redolent of acts such as Bad Company who were then at the peak of their commercial success.

The album was produced by the Spiders From Mars together with Dennis McKay - who would go on to have an interesting career behind the mixing desk, working on albums by acts as varied as Al Di Meola through to Judas Priest, Tommy Bolin and the Mahavishnu Orchestra. The year before, he had worked on the album, "First Starring Role" by one Bob Sargeant. The reason I mention this is because Mick Ronson produced three tracks on the self-same album. Sargeant was a Geordie, to boot, having once been a member of the Junco Partners (Sargeant himself would go on to work as an engineer for the BBC, as well as producing The Beat's first three albums and The Fall's "Live At The Witch Trials"). The album itself was recorded and mixed at Trident studios. It was at the same locale that Bowie/the Spiders cut the "Hunky Dory" and "Ziggy Stardust and the Spiders From Mars" albums. The band obviously felt at home there, and was, no doubt, hoping that some of that fairy dust was still around (no pun intended, giving Bowie's alleged sexual orientation at the time). Also involved on the album was Mike Garson, the New York Jazz pianist whom David Bowie recruited for the "Aladdin Sane" tour, and who has been working with the Thin White Duke very recently.

Well, as far as the music is concerned, I wish that I could say that the album scaled such vertiginous peaks as the aforementioned "Hunky Dory" and "Ziggy Stardust". Truth to tell, the album is a reasonably diverse, competent and often quite energetically performed selection of hard rock styles.

The songs are all composed by various permutations of the Spiders line-up, and the presence of Garson on a couple of tracks, (most notably 'Stranger To My Door'), adds a welcome degree of tonal colour to the sometimes torrid layers of electric guitar. 'Red Eyes' is an attempt at a rock and roll 'road song' that doesn't quite cut it, although the backing track powers along in a suitably spry manner, adorned with a Black guitar solo that recalls Gary Moore's incendiary fretwork. The single from the album, '(I Don't Wanna Do No) Limbo' is an agreeable enough piece of hard rock, with multi-tracked guitar that anticipates the sort of sound that Thin Lizzy would arrive at in their Brian Robertson/Scott Gorham pomp. McDonald does a passable approximation of Paul Rodgers, too.

Woodmansey's sole compositional credit, 'Good Day America' rocks the hardest, whilst Garson adds some nice cocktail piano touches to 'Stranger To My Door', an attractive ballad with some soft-soul touches in the backing vocals, as well as a mellotron choir. Mind you, Bolder's 'Rainbow' has not worn well at all.

Spiders From Mars did not, however, restore their fortunes. By then, the band's name was already synonymous with an era gone by. 1975 was the New Dark Ages as far as rock and roll was concerned, anyway, although by the next year, with the emergence of The Sex Pistols and the whole punk rock thing, that would change. As for the band, Bolder and Woodmansey would go their separate ways. Bolder joined Uriah Heep (who recorded for the Bronze label) for a couple of spells, and Woodmansey would form his own band, U-Boat, releasing an album on Bronze in 1977. Black and McDonald would later turn up in the band Goldie, who scored a Top 10 hit with the single, 'Making Up Again'; interestingly enough, on the Bronze label, in May 1978. Goldie also featured other members of Black and McDonald's former band, Kestrel.
Taken from the CD reissue of Spiders From Mars' lone album (originally released in 1976), Castle Music Ltd., 2000, ESMCD894
---