Week of October 11, 1998
Patto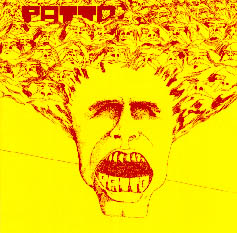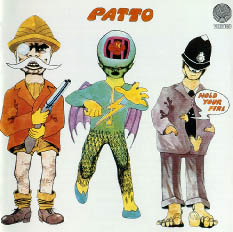 Personnel:
Clive Griffiths - Bass
Ollie Halsall - Guitar, Keyboards, Vocals
John Halsey - Drums
Mike Patto - Vocals
Albums:
1 Patto (Vertigo 6360 016) 1970
2 Hold Your Fire (Vertigo 6360 032) 1971
3 Roll 'Em Smoke 'Em Put Another Line Out (Island ILPS 9210) 1972
"Hold Your Fire" reissued on CD (Repertoire REP 4360-WP) in 1993
"Patto" reissued on CD (Repertoire REP 4446-WP) in 1994
"Roll 'Em Smoke 'Em…" reissued on CD (Edsel EDCD 510) in 1996
Mike Patto Solo 45s:
Can't Stop Talking About My Baby/Love (Columbia DB 8091) 1966
Sitting In The Park/Get Up And Dig It (Goodear EAR 106) 1974

Mike Patto (real name Michael Patrick McGarth) first came to light as the vocalist in a Norwich R&B outfit called Mike Patto and The Breakaways. After several line-up changes, The Breakaways became The Bluebottles, but soon after Patto headed for London to join The National Youth Jazz Orchestra. At the same time he had a spell with The Bo Street Runners and the Chicago Line Blues Band in 1966 before forming Timebox, which eventually evolved into Patto. These three albums were heavier in style than what he'd done to date but failed to capture a wider interest. Nonetheless, "Patto" (1970), was a good jazz-rock fusion featuring some fine vibraphone and guitar playing from Ollie Halsall. "Hold Your Fire", which is now hard to find on vinyl, was reputedly better, although their album for Island was rather disappointing. When the project disintegrated in 1973, Patto embarked on a brief solo career and also had spells in Spooky Tooth and Boxer (the latter venture reuniting him with Ollie Halsall). His final solo 45, "Sitting In The Park" was a ballad done by Billy Stewart and Georgie Fame. Sadly, he died on 3 March 1979 of throat cancer.
The flip side to his first 45, "Love", which was actually a Bo Street Runners track, left over from their earlier sessions, later appeared on the "Pop-Sike Pipe-Dream" compilation.
Source: The Tapestry of Delights - The Comprehensive Guide to British Music of the Beat, R&B, Psychedelic and Progressive Eras 1963-1976, Vernon Joynson ISBN 1 899855 04 1
---
Blessed with the some chugging tempo as The Beatles' "Baby, You're A Rich Man", Timebox's classic 45 "Gone Is The Sad Man" never scaled the charts. With insistent piano chords, McCartney-esque bass runs, Traffic-like vocals, and incisive guitar embellishments, it's a psychedelic classic. It would also be entirely forgotten were it not for the efforts of the psychedelic re-issue labels of the 1980s, and the desire here to delve into the origins of Patto.
Developing from a complicated ancestry that included The Bow Street Runners, Patto's People, and the Chicago Blue Line, Timebox made two singles for Pye's Piccadilly subsidiary as a six-piece, before signing to Decca's Deram label in 1967 with the line-up of Mike Patto (born Michael Patrick McGrath in Glasgow) on vocals, Pete 'Ollie' Halsall on guitar and vibes, Chris Holmes on piano, Clive Griffiths on bass and John Halsey on drums. This line-up recorded five singles for Deram between '67 and '69, none of which troubled the compilers of the Hit Parade, despite the excellent musicianship that allowed them to encompass several genres of music in their output ("Walking Through The Streets Of My Mind").
In 1969, after their last single "Yellow Van" failed, and Chris Holmes departed, they decided that their future lay in the burgeoning progressive movement, which in itself was born of the freedom from instant commercialism that the better musicians of the psychedelic flowering had forged. And thus Patto (the group) was born.
Lucky enough to be signed to the recently created Vertigo label, soon to become home of many progressive rock classics, Patto went into the studio with Muff Winwood in the producer's chair. Winwood had left the Spencer Davis Group shortly after his brother's departure in 1967, in order to take up the job a the head of A&R at Chris Blackwell's Island Records, Blackwell having managed the S.D.G. Perhaps as a reaction to the complicated sound of the Timebox records, Winwood decided to record Patto with a 'live-in-the studio' feel, though the result still showcased Ollie Halsall's guitar virtuosity. The imaginatively-titled "Patto" was released in November of 1970, and whilst the album demonstrated the band's expert handling of tricky time signatures and jazz changes (applauded by the critics and fellow musicians), their efforts were not rewarded with substantial sales.
A second album, "Hold Your Fire", issued a year later, contained many of the same ingredients, and resulted in similarly disappointing sales and Vertigo dropped the band. Muff Winwood's connections got them a new deal at Island Records, and they returned to the studio with Winwood to record "Roll 'Em Smoke 'Em Put Another Line Out", released in 1972. As is plainly audible, the ramshackle element of their live act is well to the fore, along with elongated examples of the band's humour. The outstanding musicianship can still be heard, but the album was unfavourably received.
Despite internal friction, the band recorded the fourth album in 1973. With a title like "Monkey's Bum", it's a fair bet that it was pretty much more of the same, and Island Records rejected it. The group Patto disintegrated after playing their last gig that April. Patto himself joined Spooky Tooth for their last album "The Mirror" (1974), Clive Griffiths played in CCS before resurfacing in Joe Brown's band, and John Halsey played drums for Joan Armatrading and the Scaffold/Liverpool Scene/Bonzos aggregation, Grimms (now available on Edsel EDCD 370) as well as starring in the role of Barry Wom in "The Rutles".
Ollie Halsall joined Jon Hiseman's power trio Tempest for the latter of their two albums, before he and Patto formed Boxer in 1975, their first album being better remembered for its cover than its contents. Two more albums were recorded, but Mike Patto's career was sadly arrested by illness. He died of lymphatic leukemia in March 1979. Halsall linked up with Kevin Ayers in the mid-seventies and remained his touring and recording guitarist until his untimely death in Madrid in May 1992. Only a month earlier he had played three concerts with Ayers at the Shaw Theatre in London, where (as this writer can attest) he was still in quite superb form.
"Roll 'Em Smoke 'Em…" contains some of Patto's finest moments ("Loud Green Song" and "Singing The Blues On Reds"), and was apparently regarded by the group as their best album; this CD is certainly a valuable addition to any collection of Ollie Halsall's work.
Val Jennings, 1996
Taken from the CD reissue of "Roll 'Em Smoke 'Em Put Another Line Out" CD (Edsel EDCD 510)
---