Week of July 20, 1997
Spencer Davis Group
"Gluggo" (73), "Living In A Back Street" (74)
Please note that this week's PICK OF THE WEEK is not dedicated to the entire career of the Spencer Davis Group, but only the two releases from their early/mid-70s reunion era, "Gluggo" and "Living In A Back Street".
Lineup: Charlie McCracken, Ray Fenwick, Eddie Hardin, Spencer Davis, Pete York
---
Whenever a big group splits up for a few years and then reforms, it seems that everyone is ready to lambast the new group for not recapturing the old sound. Well, round one is over for the Spencer Davis Group, and the near-unanimous opinion is that it's a solid, rock and roll band.
Last year Spencer decided that he wanted to get back to rock and roll after three years of critically acclaimed (but commercially disastrous) acoustic music. He got Pete York (the original drummer) plus Eddie Hardin and Ray Fenwick (who joined the SDG when the Winwood Brothers left in 1967) and Charlie McCracken (from Rory Gallagher's Taste).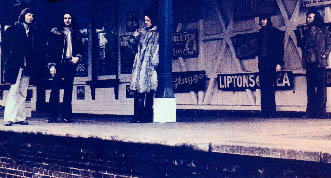 The new line-up was greeted enthusiastically in England, Europe, and the United States during the initial tours. Part of the reason for the good reception is that the revitalized group still bases its music in R&B. Another reason is confidence: the new group isn't afraid to play their big hits from the past with their music of today because it all bears the unmistakable Davis stamp that has made the SDG, as much a part of British musical history as the Beatles, the Rolling Stones, and Rod Stewart.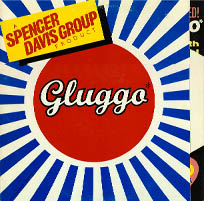 Despite personnel changes, the Spencer Davis Group has been around since 1960 when Davis and York were playing in Birmingham. They moved to London in 1965 when Stevie and Muff Winwood joined up, and in those early days, the band could do no wrong. They churned out hit after hit--almost all classics today. Hits like "Keep On Runnin'," "Gimme Some Lovin'" and "I'm A Man."
At the height of their popularity, the Winwood brothers split, with Stevie joining Traffic. "He had already been working with Traffic while he was with me. In fact, Traffic had been on some of our stuff, like the American version of "Gimme Some Lovin'."
The line-up then became Spencer, Pete, Eddie Hardin and Phil Sawyer, later replaced by Ray Fenwick. One album later there was another division, with Hardin and York forming a separate entity, and Dee Murray and Nigel Olsson (both with Elton John now) joining the group.
This continued through 1969 when Davis formed an acoustic duo, first with Alan Davis (now with Cat Stevens) and then Peter Jameson. The duo recorded two LP's and then split. In 1971 there came a spell of personal problems for Spencer, including illness which forced him to return to England. He spent several months "counting grains of sand on Rhossili Beach" before seriously thinking about music again. When he did decide to start playing again, he returned to Los Angeles. Coincidentally, Eddie Hardin showed up there and suggested that they reform the band. That was the impetus
Spencer needed, and the group went into rehearsals, and shortly thereafter recorded "Gluggo."
While highly acclaimed, Spencer admits it could have been better if the group had done some live gigs before recording. But they have since done several tours, and the tightness of the band is evident on the new Vertigo album, "Living In A Back Street," produced by Roger Glover of Deep Purple.
Obviously, the Spencer Davis Group in composed of five dedicated individuals. "You can't rely on past glories," Spencer says. "You've got to keep moving on and getting, better all the time. The band's really together now, people."
(Original Philips/Mercury/Vertigo Press Release, 1974)
---
'Drink Gluggo - the Wonder Drink!' That was the jolly cry of rock'n'roll revellers during the Swinging Sixties, when rock stars descended on their favourite clubs for a night out. It was one of those phrases that caught on and in this case, ended up as an album title. 'Gluggo' was the new release by the revamped Spencer Davis Group which actually came out in 1973, some years after the Sixties had stopped swinging.
Although Spencer Davis had broken up his group in 1969 and left England to live in America, the call of touring and recording remained strong. Spencer had been working as a record company talent scout and solo performer when Eddie Hardin, his ex-keyboard player, proposed they revive the band. Recalls Eddie: "I went to Los Angeles and we reformed the Spencer Davis Group with Ray Fenwick on guitar. We had Pete York back on drums, who had worked with me in Hardin & York. We also brought in Charlie McCracken from Taste on vocals and bass guitar. I thought it would be nice to do another tour of America and I did a deal with Phonogram to record 'Gluggo', which came out on their Vertigo label. The title came from a roadie called Baz (real name Barrington Marsh Ward) who worked with The Nice. He used the phrase Gluggo a lot as his favourite word for beer." The album was the belated follow up to 'With Their New Face On' (also available on Repertoire), first released in 1968. This helped re-launch The Spencer Davis Group after the departure of keyboard player and lead singer Steve Winwood, who left to form Traffic in 1967. Steve had been with Spencer since 1963.
The Birmingham band became one of the most popular and successful R&B outfits of the period and enjoyed a succession of chart hits including 'Keep On Running', 'Gimme Some Loving' and 'I'm A Man'.
When Steve left, the band was at the height of its fame and it was a blow to Spencer to lose his young protégé. However, after a series of auditions, he found two fine new replacements, Eddie Hardin and Phil Sawyer. Hardin (then 18) a talented keyboard player, singer and composer, was recommended by Paul Jones, lead singer with Manfred Mann. Guitarist and vocalist Phil Sawyer had previously worked with Rod Stewart. The pair completed a line up that included Spencer on vocals and guitar and Pete York on drums. Muff Winwood, Steve's; brother, who had played bass in the old band, decided to quit and concentrate on A&R and production work. The new Spencer Davis Group enjoyed a Top Thirty hit with their first single "Time Seller" (1967), followed by 'Mr. Second Class' which was a minor hit in January 1968. They played at major festivals and concerts and toured America and Germany before Phil Sawyer left, to be replaced by guitarist and composer Ray Fenwick. After a few months, Eddie Hardin and Pete decided to leave to concentrate on their own band, Hardin & York, which became very popular in Germany.
Spencer carried on for a while with Dee Murray (bass) and Nigel Olsson (drums), but in July 1969 Spencer broke up the band and Dee and Nigel went to work with Elton John's new group. Elton, incidentally, had been turned down by Spencer when he applied for the post vacated by Steve Winwood!
The Spencer Davis Group was inactive for four years until Eddie and Spencer reunited to make 'Gluggo'. Recalls Eddie: "I thought 'Gluggo' was a much better album than 'With Their New Face On'. Me and Ray wrote most of the material, like 'Catch You On The Rebop' which was based on a blues riff. 'Don't You Let It Bring You Down' was a kind of 'Fool On The Hill' - type of job, while 'Living In A Backstreet' was a rock'n'roll shouting song. Ray and I wrote practically everything together and we still do. However, one of the tunes, 'Today Gluggo, Tomorrow The World', was an instrumental inspired by Pete, which as I remember, was very difficult to play! He wrote it with Lionel Rubin, a brass player who has a music shop in Birmingham."
Several of the tracks, like 'Feeling Rude' and 'The Screw', retain a strong rock feel, although Eddie describes 'Mr. Operator' as very much a pop song. "Me and Ray thought we'd write a hit and that one was released as a single. 'The Edge' was a B-side instrumental, nothing to do with U2! The last track, 'Tumble Down Tenement Row', was a blues written by Spencer."
As well as the nine original album tracks, Eddie has recently re-mixed and remastered six special bonus tracks from the archives. "Ray and I wrote 'Alone' which is a ballad with a strong Bee Gees flavour. There were actually three different versions of 'Gluggo', including American, German and British versions, and the tracks were all jumbled up. I think 'Alone' was on the American version. 'Legal Eagle Shuffle' was a contribution by Spencer written during a time when we were being sued by everyone and we were suing them. It involved record companies and publishers - oh, it was chaos! Spencer also contributed 'Trouble In Mind', which was an old standard folk song. 'Touching Cloth' was an instrumental by Pete and the second 'Mr. Operator' is a rough mix of our commercial pop song."
The band toured the States and Europe and went on to produce one more album, 'Living in A Back Street', produced by Roger Glover of Deep Purple and released in 1974. Sadly, the band failed to get anymore hit singles and says Eddie: "I think we spent too much time in America and we sort of disregarded Europe. But we had a good time. We toured with Genesis when Peter Gabriel and Phil Collins were in the band and we played at the Madison Square Garden in New York with Focus. The band eventually just fizzled out and I left for the second time, in around 1975. That's when I started to get involved in studio projects and worked with Roger Glover on the 'Butterfly Ball' album. I ran my own commercial studio in Ascot for some years and recorded artists like Rick Wakeman, Tony Ashton, Steve Hackett and Donovan. Then there was a slump in the property market in England in the late Eighties. I got married and decided to move to France about six years ago. I like the people and the quiet way of life in France. I still record myself and made a CD with Pete York called 'Still A Few Pages Left'.
In the Nineties, The Spencer Davis Group is still a going concern and regularly tours, mainly with American musicians. However, Pete York, who now lives in Germany, occasionally plays the drums for his old friend, and other British musicians who lend Spencer a hand include singer/guitarist Miller Anderson (ex-Keef Hartley Band) and bassist Colin Hodgkinson (ex-Whitesnake). Eddie Hardin still has fond memories of his time with the Spencer Davis Group, although there were some less happy moments.
"I always enjoyed the recording, but I hated the travelling. It became a non-stop grind, night after night. Our managers had no regard for distance. We'd be travelling thousands of miles a day and it just became complete lunacy. You can handle it when you are 20 years old, but eventually it becomes too much. I remember on our first tour we travelled by Greyhound bus. Spencer thought that would be the economical way of doing things! Later we would fly everywhere, but two thousand miles a day is still a complete pain. The poor road crews had to travel by bus with all the equipment including my Hammond B3 organ. Nowadays I guess touring is a lot more streamlined. They have proper catering and we didn't have any of that." Many thought that a bigger problem for Eddie Hardin would be having to replace Steve Winwood, who was such a celebrated figure. But says Eddie: "No it wasn't, not at all, because I never actually liked the Spencer Davis Group! I wasn't a fan. When we started out, Spencer gave me a pile of their old records and obviously Steve was great but I wasn't in awe of him. I first met Steve when the Spencer Davis Group was doing a package tour with The Hollies. I went round on the tour to meet everyone. I still speak to him occasionally and wanted him to do something on an album I was doing last year and we nearly got it organised. He is still singing great."
In 1997, Eddie Hardin was planning to work with his old guitarist and colleague Phil Sawyer and record some blues material together. But for the moment he is pleased to raise a glass of Gluggo and drink a toast - to the good old days!
Chris Welch, London, England 1997
---
To Spencer Davis Group Home Page