Week of June 18, 2000
Pete Brown & Piblokto!

Following his shock sacking as leader of The Battered Ornaments on the eve of their prestigious support slot at The Rolling Stones' Hyde Park concert, vocalist and one-time Cream lyricist Pete Brown set about forming a new band, Piblokto! Retaining the services of Battered Ornaments' drummer Rob Tait, he recruited Scottish guitarist Jim Mullen, bassist Roger Bunn and organist Dave Thompson and released the single "Living Life Backwards"/"High Flying Electric Bird" (HAR5008). This was followed in mid-1970 by the LP, "Things May Come And Things May Go But The Art School Dance Goes On Forever" (SHVL 768), an album that to this day is regarded as one of the finest of the progressive era. A lot more commercial than the LP he made with the Battered Ornaments ("A Meal You Can Shake Hands With In The Dark"), it nonetheless was a varied work containing jazz-tinged rock alongside laid-back folk melodies and all augmented by Brown's witty, questioning and poetic lyrics.
By the time of Piblokto's second single, "Can't Get Off The Planet"/"Broken Magic" (HAR 5023), Roger Bunn had left to pursue a solo career (he released the LP, "Piece Of Mind", in 1971) and had been replaced by Steve Glover. It was this line up that also recorded the LP, "Thousands On A Raft" (SHVL 782), which came with a highly original sleeve depicting both Concorde and Titanic sinking into the sea whilst rafts of toast helped thousands of baked beans to escape! However, shortly after the LP's release, Brown broke up the band to create a new look Piblokto! This featured ex-Eyes Of Blue members Phil Ryan (keyboards) and 'Pugwash' Weathers (drums) plus guitarist Brian Breeze and bassist Steve Glover who remained from the second LP's line-up. This version of Piblokto!, however, made only one single, "Flying Hero Sandwich"/"My Last Band" before Brown disbanded the unit altogether.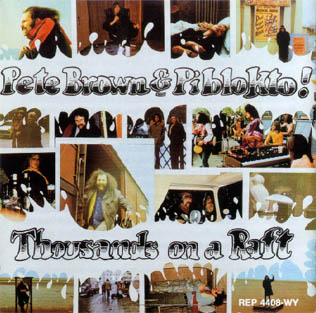 Of the original Piblokto! line-up, Jim Mullen made the most impression on the music scene working with the likes of Brian Auger, Vinegar Joe, Average White Band, Kokomo, Georgie Fame and Chris Rea before forming the Morrissey-Mullen Band, one of the pioneers of jazz-rock fusion. Rob Tait also worked with Vinegar Joe as well as Dick Heckstall Smith and Gong. Pete Brown formed a band with Graham Bond releasing 1972's "Two Heads Are Better Than One" LP, followed by a spoken word album, "The Not Forgotten Association", in 1973. He also continued his writing partnership with Jack Bruce as well as contributing to film and musical scores.

Mark Brennan
Taken from the CD reissue of "Things May Come And Things May Go But The Art School Dance Goes On Forever", Repertoire, REP4407-WY, 1994
---