Week of October 8, 2000
New Trolls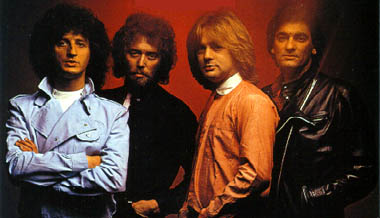 Nico Di Palo - Guitar, Bass, Vocals
Mauro Chiarugi - Keyboards
Giorgio D'Adamo - Bass
Gianni Belleno - Drums, Vocals
Vittorio De Scalzi: Bass, Vocals, Guitar
Albums:
"Senza Orario, Senza Bandiera" (1968) Cetra - LPX 3
"New Trolls" (1970) Cetra - LPX 7
"Concerto Grosso No.1" (1971) Cetra - LPX 8
"Searching For A Land" (1972) Cetra - LPX 12 13
"UT" (1972) Cetra - LPX 20
"Concerto Grosso No.2" (1976) Magma - MAL 02
"New Trolls Live" (1976) Magma - MAL 04
"Aldebaran" (1978) Warner Brothers - T 56589
"New Trolls" (1979) Warner Brothers - T 56761
"F.S." (1981) Fonit - LPX 93
"America O.K." (1983) Fonit - LPX 117
"Tour" (1985) Fonit - LPX 141
"Amici" (1988) Ricordi - SMRL 6384
"Quelli Come Noi" (1992) WEA - 9031 771 01
Singles:
"Sensazioni/Prima C'Era Luce" (1967) Cetra - SP 1355
"Visioni/Io Ti Fermero" (1968) Cetra - SP 1369
"Cristalli Fragili/Ehi Tu Ritorna" (1968) Cetra - SP 1381
"Io Che Ho Te/Lei Mi Diceva" (1969) Cetra - SP 1392
"Davanti Agli Occhi Miei/Quella Musica" (1969) Cetra - SP 1398
"Uniora/Cosa Pensiamo Dell'Amore" (1969) Cetra - SP 1400
"Signore, Io Sono Hirish/Duemila" (1969) Cetra - SP 1408
"Duemila/Signore, Io Sono Hirish" (1969) Cetra Vergara - 45349 (Spain)
"Una Miniera/Il Sole Nascera" (1969) Cetra - SP 1415
"Annalisa/Allora Mi Ricordo" (1970) Cetra - SP 1427
"Una Nuvola Bianca/Corro Da Te" (1970) Cetra - SP 1 428
"La Piu Bella Sei Tu/Come Cenerentola" (1970) Cetra - SP 1445
"Autostrada/Il Nulla E La Luce" (1970) RCA - BM 3563
"Una Storia/Il Vento Dolce Dell'Estate" (1971) Cetra - SP 1449
"Venti Cent'Anni/Una Vita Intera" (1971) Cetra - SP 1453
"Adagio/Allegro" (1971) Cetra - SP 1456
"Adagio/Allegro" (1971) Pierre Cardin 25001 (France)
"La Prima Goccia/Bagna Il Viso" (1971) Cetra - SP 1460
"Black Hand / Percival" (1972) Cetra - SP 1494
"Bella Come Mai/Lei" (1976) Magma - MAG 01
"Solamente Tu/Let It Be Me" (1977) Magma - MAG 07
"Quella Carezza Della Sera/Aldebaran" (1978) Warner Brothers - T 17282
"Anche Noi/Prima Del Concerto" (1979) Warner Brothers - T 17342
"Che Idea/Accendi La Tua Luce" (1979) Warner Brothers - T 17527
"Musica/Poster" (1980) Warner Brothers - T 17654
"Il Serpente/Quella Luna Dolce" (1981) Fonit - SP 1752
"La' Nella Casa Dell'Angelo/Il Treno" (1981) Fonit - SP 1762
"Faccia Di Cane/Manchi Tu" (1985) Fonit - SP 1829
"Cielo Chiaro/Sebastiano" (1988) Ricordi - SRL 1 1 073
If there has ever been one group in Italy that was formed by chance, it's, without a doubt, New Trolls. In 1966, a music critic published his ideal line-up in a Genova newspaper, choosing among the best musicians that had been playing during that year in hundreds of small nightclubs. The listed names were: Vittorio Di Scalzi (guitar), Nico Di Palo (guitar, vocals), Mauro Chiarugi (keyboards), Gianni Belleno (drums), Giorgio D'Adamo (bass). The five musicians -out of curiosity - met and decided to form a group: New Trolls premiered that same year in Genova, achieving a great deal of success. In 1967, they were hired as an opening band for the Rolling Stones' Italian tour , which was the perfect chance to gain much-needed exposure. Later that same year, they recorded their first single, entitled, 'Sensazioni', with which they won the critics' prize at the Rieti festival.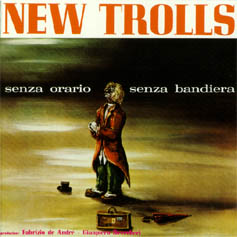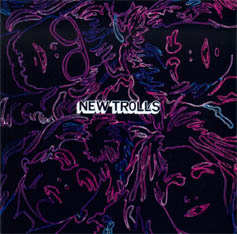 Their music, at least at the beginning, "nodded" in the direction of Hendrix, Vanilla Fudge and other rock performers that were popular in that period. In 1968, the group's new single "Visioni" was released to great success (more than 200,000 copies sold!) During those days, New Trolls played about 250 concerts per year; Nico Di Palo emulating Jimi Hendrix on stage, even playing guitar with his teeth. Having won their own fans over, the five "Trolls" proceeded to conquer the critics too, recording an album of great value for that time, possibly the best by this line-up, "Senza Orario, Senza Bandiera". It was the first concept album to ever come out of Italy, setting the precedent for hundreds more to follow, a record in which the lyrics are not simply conceived for each piece of music separately but thematically linked to each other, all tied together by an overall topical concept. Songwriter Fabrizio De Andre was called in to write the lyrics, while the music was written by New Trolls themselves. They had the good fortune to achieve success with their own compositions in a time when almost all other groups were recording Italian cover versions of music that had already been famous abroad.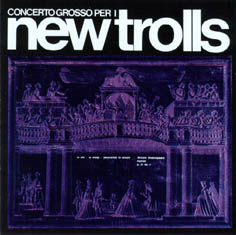 In the following years, New Trolls recorded seven singles ('Io Che Ho Te', 'Una Miniera', etc.), showing again their fine technical skill as songwriters and musicians. Their second LP was released in 1970, simply entitled, 'New Trolls', capitalising on all of the group's prior successes. In 1971, aware of their enormous potential, the group decided to take up a more difficult musical approach, and after two additional singles (the beautiful "Autostrado" and the cut they performed at the San Remo festival, "Una Storia", the "Trolls" went to Viareggio to perform at their first ever festival of avant-garde music. During that appearance, they introduced their new musical style to the public by playing several selections from "Concerto Grosso No.1", an album which was to become an integral part of the foundation of Italian progressive music.
This LP featured piano player Louis Bacalov's contribution. It was the first Italian attempt at the fusion of classical and rock music, and it turned out to be a success (abroad this sort of thing had already been ventured into - most notably, by Deep Purple, on their "Concerto for a Group and Orchestra"). "Concerto Grosso No.1" sold 800,000 copies, successfully followed up by Osanna with 'Milano Calibro 9', and Rovescio Della Medaglia, with 'Contaminazione'.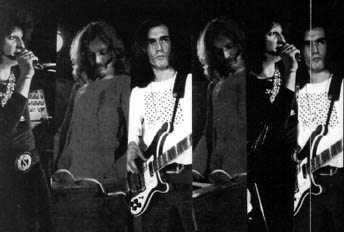 In the meantime, the group's line-up began to fluctuate. Mauro Chiarugi left in 1970 (having been drafted by the Army) and Giorgio D'Adamo was replaced in 1972 with Frank Laugelli. A double LP was released in 1972, entitled, "Searching For A Land". It featured English lyrics, to which the public reaction didn't turn out to be particularly favourable. Following another 1972 release, "UT" (featuring Maurizio Salvi on keyboards), the group split into two camps. The latter album presented some cuts that were very close in style to hard rock: De Scalzi did not particularly enjoy playing in this genre and left the group.

1973 was the year of their big breakup: from here on - until 1975 - only a very few people have been able to follow the many line-up changes that occurred within the band. The group's members admitted that the problems arose from musical and political differences, dividing them up with some legal consequences: Di Scalzi created Magma - a recording label - and released a single under the name New Trolls, 'Una Notte Sul Monte Calvo'. At this point, the other members attempted to clear up as to who had the legal rights to use of the name New Trolls; and the answer was, none of them individually!
Meanwhile, De Scalzi was joined by Giorgio D'Adamo and changed their group's name into New Trolls Atomic System. At the same time, Gianni Belleno recorded a "personal" version of 'Satisfaction', collaborating with Nico Di Palo. After this (all of it still happening in 1973!), Di Palo and Belleno recorded "Nice, Gianni, Frank, Maurizio" for the Fonit label. But as soon as they became Ibis, Gianni Belleno left for a career as a solo artist, under the pseudonym of Johnny Dei Tritons. Therefore, Belleno "knocked" at Magma's door and, after releasing an LP, remained with De Scalzi's team, thus becoming the first component of the new formation.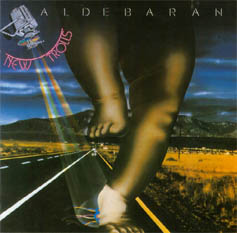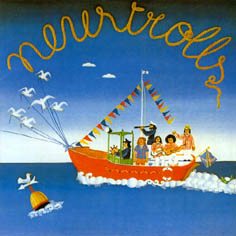 In 1975, Nico Di Palo and other members returned to the group, and, with the addition of ex-Nuova Idea leader Ricky Belloni, the New Trolls started all over again. To garner some interest for this reformation, the group recorded "Concerto Grosso No.2" (Magma), a very good album but inferior to their original one (No.1). In 1977, the group went straight back to the top of the hit parade with "Aldebaran", a commercial product that was a complete departure from their earlier Hendrix influences, much closer towards the Bee Gees territory! The next album contained "Che Idea" and sold well abroad (above all in Spain), but alienated their older fan base. For this album, another ex-Nuova Idea member, Giorgio Usai, joined the group. In 1981, D'Adamo left and wasn't replaced in the group; Nico Di Palo played bass while Ricky Belloni was on guitar. Giorgio Usai left, taking up a career as a solo artist.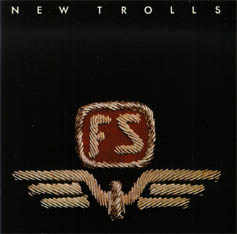 That same year, the group went back to the idea of producing an original concept album with "FS". From 1981 and 'til this day, New Trolls have been primarily performing live. Prior to the release of their 1988 album, "Amici", Ricky Belloni left the group, reducing it to a trio.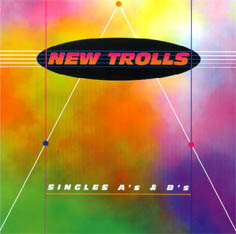 New Trolls are one of the most important groups in the history of Italian progressive rock, as they contributed to the "birth" of the genre. Live (Nico Di Palo in particular) they're especially known as great showmen, knowing exactly how to ignite the crowds. Besides being a fine guitarist, Nico's is still one of Italy's finest pop voices.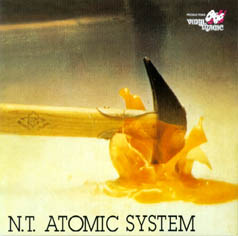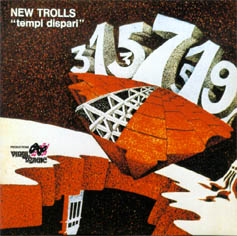 Albums:
"New Trolls Atomic System" (1973) Magma - MAGL 18003
"Tempi Dispari" (1974) Magma - MAGL 18005
45:
"Una Notte Sul Monte Calvo/Somewhere" (1974) Magma - MGL 48007
Vittorio De Scalzi: Keyboards, Flute, Vocals, Guitar
Giorgio D'Adamo: Bass
Renato Rosset. Keyboards
Giorgio Baiocco: Horns
Tullio De Piscopo: Drums
Samasandiran Somusundaran: Percussion

After the breakup of New Trolls in 1972, Vittorio De Scalzi formed his own group, New Trolls Atomic System. It included Giorgio D'Adamo (also ex New Trolls), Renato Rosset and two musicians coming from jazz circles, Tullio De Piscopo and Giorgio Baiocco. In 1973, the group released their self-titled album, trying to follow the path of "Senza Orario, Senza Bandiera". It was recorded at Studio G in Genova, for the Magma label which De Scalzi owned. Thanks to De Scalzi, a lot of groups from Genova were given the chance to record (including Pholas Dactylus, Alphataurus and Celeste).

Their music is close to classic rock (very fashionable abroad during that period), and the lyrics are interesting too (the album includes a song in English). The album also included De Scalzi's long flute passages.

At the end of 1973, the group started a tour of Italy and released a single (under the name of New Trolls!!), 'Una Notte Sul Monte Calvo', a very good rearrangement of the famous symphonic work by Mussorgsky. In 1974, the quintet recorded their live show at Genova's Alcione Theatre, resulting in another album, "Tempi Dispari". It's entirely jazz-oriented and, therefore, did not ignite any enthusiasm amongst fans. Due to this failure, the group broke up until 1975 when they began to talk about bringing the original New Trolls together again; Rosset joined Nova, while De Piscopo, after years of playing as a session man, has become a well-known musician in his own right.
Taken from "The Return of Italian Pop" by Paolo Barotto (Vinyl Magic VM201, 8016158220124)
Vinyl Magic/BTF web site: www.btf.it
---