Week of December 14, 1997
Musicians Union Band
What do you get if you take a bunch of superb British and Dutch rock musicians, put them together in the same studio, and tell them to record a double LP featuring cover versions of their own favourite songs as well as self-penned material?
Such an experiment was carried out in 1971 and released under the name of Musicians Union Band. A brainchild of old pals and ace players Ray Fenwick and Hans Vermeulen, the final result of this North Sea Bridge get-together came out surprisingly American-sounding. Blues, funk, gospel, country - all these flavours are present on this brilliantly performed, altogether enjoyable record.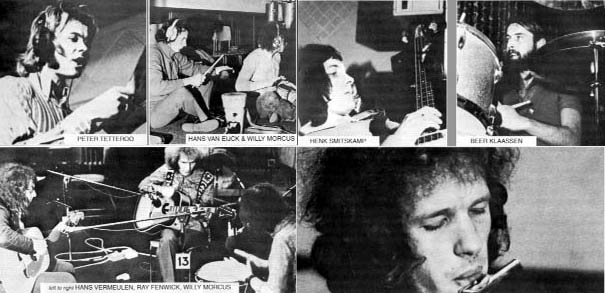 There is a lot of versatility here, yet when you listen to these recordings as a whole they form an integrated artistic unity. This is an album made by music lovers, for music lovers - not an album for the narrow-minded.
Even if you know next to nothing about Dutch rock (to collectors known as Nederpop or Nederbeat, dependent on the exact chronology) a few names here could still sound familiar to you. Perhaps, in particular, Golden Earring, Shocking Blue, and the Tee Set, who all won themselves great international acclaim. Others, like Earth & Fire, were more cult orientated groups whose releases currently gather a following of collectors of progressive bands all over the world.
From the other side of the North Sea we get contributions from people like Ray Fenwick, Nigel Olsson, and Dee Murray. For further reference check the following artist profile and our little guide to take you through the album track by track.
What you are holding here has now become a much sought-after rarity in its original vinyl format, which was only ever released in Holland. It's a little gem, one of these underrated obscurities that all collectors love to dig out at record fairs and tell their friends about in secret. Only now the secret is out, as Musicians Union Band is finally seeing its long overdue release on compact disc.
I hope you will enjoy it as much as I do.
Claes Johansen
---
Musicians Union Band - Artist Profile
Rudy Bennett (vocals) - Charismatic singer of The Motions, who later established himself as a solo artist.
Onno Bevoort (drums) - '4-on-the-floor' drummer of Sandy Coast.
Bert Borgers (sax, flute, vocals) - Played with legendary Dutch group Golden Earring, later involved with Stars & Stips, Herman Brood and Sweet 'D Buster, which also featured ex-Focus drummer Pierre Van Der Linden.
Martin Van Duinhoven (drums) - A fine jazz drummer, who at one time was a member of Den Haag band, Group 1850.
Polle Eduard (vocals, bass, guitar) - Multi-talented musician, former member of Tee Set and After Tea. Later formed Polle Eduard Band.
Hans Van Eijck (keyboards, percussion) Hit songwriter and, like Polle Eduard, a former member of both Tee Set and After Tea.
Ray Fenwick (guitar, vocals) Essential link between British and Dutch rock. Former member of The Syndicats, Tee Set, After Tea, Spencer Davis Group, later with the US-based Fancy, The Guitar Orchestra, The Ian Gillan Band, and Forcefield.
Rinus Gerritsen (bass, piano) - A past and present key member of Golden Earring. Has also played in Stars & Stips.
Jerney Kaagman (vocals) - Celebrated vocalist of Dutch progressive rock group, Earth & Fire.
Beer Klaassen (drums) - The masterly rock drummer of Den Haag bands, Q65 and Group 1850. Later with Finch.
Ferrie Lever (guitar) Yet another Tee Set, After Tea member.
Turquoise Marshall (vocals) - Was part of Rainbow Train. Also pursued a solo career under the name of Dianne Marchal.
Willy Morcus (drums, percussion) - A much sought-after studio musician.
Dee Murray (bass) - The late, great and sadly missed veteran rock musician. In his early career, Dee played with pop group Mirage along with drummer Dave Hynes. Both Dave and Dee joined Spencer Davis and Ray Fenwick in the 1969 line-up of The Spencer Davis Group. When Dave Hynes left the group, he was replaced by drummer Nigel Olsson. The Olsson-Murray partnership later emerged as the renowned Elton John Band rhythm section.
Nigel Olsson (drums) - Initially in Plastic Penny along with Mick Grabham, who later formed The Guitar Orchestra together with Ray Fenwick. Like Dee Murray, Nigel Olsson became part of The Elton John Band.
Henk Smitskamp (bass) - A member of The Motions and the hugely successful Dutch group Shocking Blue, who had an enormous worldwide hit with "Venus".
Robert Jan Stips (piano) - Member of Supersister and later founded Stars And Stips.
Peter Tetteroo (vocals) - Founding member of Tee Set. Went on to become a solo artist. The Tee Set found international success with the Van Eijck-Tetteroo song "Ma Belle Amie".
Hans Vermeulen (guitar) - vocals, keyboards. A founder member of Sandy Coast and Rainbow Train. Worked together with Dutch female vocalist Anita Meijer, both in Rainbow Train and during her solo career.
Jan Vermeulen (bass) - The brother of Hans Vermeulen and bassist in Sandy Coast, Rainbow Train and the Dutch session scene.
Ron Westerbeek (keyboards) - Fine musician and member of Sandy Coast
Taken from the CD reissue of "Musicians Union Band" (Angel Air, SJPCD010, 1997)
---