GOLDEN EARRING(S)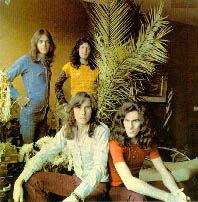 The Earrings were one of the few seminal groups on the The Hague scene. We assume that the group was founded in 1961, contrary to what many other sources suggest. George Kooymans (vocals, guitar) and Rinus Gerritsen (bass) started working together with guitarist Hans van Herwerden and drummer Fred van der Hilst. In 1963, these two are expelled due to lack of musical ability, and Peter de Ronde (guitar), Jaap Eggermont (drums, ex-Pirates) and vocalist Frans Krassenburg joined the group in their stead.
In 1965, things started really happening for the group: in August - the first single was released, in September - the first radio appearance on Veronica, and in October - on TV, in the programme "Waauw". At the end of 1966, Peter de Ronde left the group, followed by Frans Krassenburg (solo and for a short while in Toby Collar) a few months later.
They were replaced by Barry Hay (vocals, guitar, sax, flute), who had turned down an offer by Shocking Blue, preferring the Earrings instead, in the wake of his own group, Haigs', demise. In 1969, Jaap Eggermont left the group, and switched mainly to production work (he later became known for his "Stars on 45" disco medley records, in the early 80s). His substitute was Sieb Warner (ex-Motions), who, in turn, was replaced (after just one LP!) by Cesar Zuiderwijk (ex-Livin' Blues). At the same time, the name was shortened to Golden Earring. In the seventies, the Earring gained international success, due in no small part to their tours with The Who. The lineup didn't change much from then on: from 1974 to 1976, Robert-Jan Stips (ex-Supersister, later with Sweet d'Buster) played keyboards, and after his departure, the group was augmented with a second guitarist, Eelco Gelling (ex-Cuby & The Blizzards).
---
1965 Please go/Chunk of steel                                    Polydor S 1181
     Lonely every day/Not to find                                          1185
     LP Just Earrings                                                    736007
1966 That day/The words I need                                           421023
     If you leave me/Waiting for you                                     421036
     Daddy buy me a girl/What you gonna tell                             421050
     Don't run too far/Wings                                             421056
     Things go better with Coca Cola/Rum and Coca Cola        Coca Cola SL 3004
1967 In my house/Smoking cigarettes                              Polydor S 1223
     Sound of a screaming day/She won't come to me                         1244
     Together we live together we love/I wonder                            1250
     LP Winter harvest                                                   736068
     LP The beast and I (Earrings begeleidden Cees Schrama)              236148
1968 I've just lost somebody/The truth about Arthur                      S 1263
     Dong dong diki digi dong/Wake up breakfast                            1277
     Just a little bit of peace in my heart/Remember my friend             1291
     LP Greatest hits                                                    236228
     LP Miracle mirror                                                   236283
1969 Where will I be/It's alright                                        S 1315
     Another 45 miles/I can't get a hold on her                            1336
     2LP On the double                                                236823/24
     LP Highlights from the double                                       236832
     LP Reflection                                        Boek en Plaat F 762/9
1970 Back home/This is the time of the year                     Polydor 2050039
     LP Eight miles high                                                 656019
     LP Best of the double                                               914706
     LP Pop giants vol.15                                     Brunswick 2911526
1971 Holy holy life/Jessica                                     Polydor 2001135
     She flies on strange wings pt.1/Pt.2                               2001237
     LP Golden Earring                                                  2340003
     LP Seven tears                                                     2344008
     LP Greatest hits vol.2                                             2441027
1972 Buddy Joe/Avalanche of love                                Polydor 2050184
     Stand by me/All day watcher                                        2050216
     LP Together                                                        2925009
     LP Pop history vol.16                                              2625018
     LP Superstarshine vol.1                                            2419028
1973 Radar love/The song is over                                        2050262
     LP Moontan                                                         2925017
     LP Eight miles high (re)                                           1656019
     LP For collectors                                                  2495045
1974 Instant poetry/From heaven to hell                                 2001518
     Candy's going bad/She flies on strange wings (USA)               MCA 40309
     LP Startrack 12                                            Polydor 2491511
1975 Ce soir/Lucky number                                               2050353
     Tons of time/Love is a rodeo                                       2001595
     LP Switch                                                          2344046
     LP The best; 10 years, 20 hits                              Arcade ADEH 11
1976 Sleepwalkin'/Babylon                                       Polydor 2001626
     To the hilt/Violins                                                2121289
     Bombay/Faded jeans                                                 2121312
     LP To the hilt                                                     2310436
     LP Fabulous                                                        2485052
     2LP Rock of the century                                            2625031
     LP Winter harvest (re)                                             2419053
     LP Miracle mirror (re)                                             2419054
1977 Just like Vince Taylor/Radar love                                  2121335
     LP Contraband                                                      2391491
     2LP Live                                                        2335175/76
1978 LP Grab it for a second
1979 LP No promises no debts
1980 LP Prisoner of the night
1981 2LP Second live
1982 LP Cut
1984 LP N.E.W.S.
1984 LP Something heavy going down (live)
1986 LP The hole
1987 LP Keeper of the flame
1991 LP Bloody buccaneers
1991 LP The naked truth (unplugged live)
1994 LP Face it
1995 LP Love Sweat (Covers)       

---
Solo albums by Golden Earring members:
Barry Hay
1972 LP Only parrots, frogs and angels 
        Victory of bad taste 
   
George Kooymans
1971 LP Jojo 
        Solo 

Cesar Zuiderwijk     
Labyrinth 

Rinus Gerritsen
1979 LP Gerritsen en van Dijk (LP)

---
Singles:
[25-09-1965]^10*20      PLEASE GO   the golden earrings
[29-01-1966]^2*15       THAT DAY   the golden earrings
[14-05-1966]^9*10       IF YOU LEAVE ME   the golden earrings
[10-09-1966]^12*10      DADDY BUY ME A GIRL   the golden earrings
[12-11-1966]^14*8       DON'T RUN TOO FAR   the golden earrings
[01-04-1967]^10*10      IN MY HOUSE   the golden earrings
[22-07-1967]^4*13       SOUND OF THE SCREAMING DAY   the golden earrings
[28-10-1967]^6*8        TOGETHER WE LIVE, TOGETHER WE LOVE  the golden earrings
[06-04-1968]^7*8        I'VE JUST LOST SOMEBODY   the golden earrings
[27-07-1968]^1*13       DONG-DONG-DI-KI-DI-GI-DONG   the golden earrings
[16-11-1968]^2*10       JUST A LITTLE BIT OF PEACE IN MY HEART   the golden
			earrings
[28-06-1969]^7*8        WHERE WILL I BE   the golden earrings
[13-12-1969]^3*9        ANOTHER 45 MILES   golden earring
[18-07-1970]^1*20       BACK HOME   golden earring
[06-02-1971]^5*9        HOLY HOLY LIFE   golden earring
[02-10-1971]^4*11       SHE FLIES ON STRANGE WINGS   golden earring
[13-05-1972]^4*9        BUDDY JOE   golden earring
[23-09-1972]^10*7       STAND BY ME   golden earring
[25-08-1973]^1*13       RADAR LOVE   golden earring
[27-04-1974]^3*9        INSTANT POETRY   golden earring
[01-03-1975]^5*8        CE SOIR (KILL ME)   golden earring
[24-01-1976]^5*8        SLEEPWALKIN'   golden earring
[11-12-1976]^7*9        BOMBAY   golden earring
[01-10-1977]^30*4       JUST LIKE VINCE TAILOR   golden earring
[14-10-1978]^27*7       MOVIN' DOWN LIFE   golden earring
[02-06-1979]^3*13       WEEKEND LOVE   golden earring
[15-12-1979]^29*5       I DO ROCK 'N ROLL   golden earring
[20-09-1980]^19*7       LONG BLOND ANIMAL   golden earring
[28-08-1982]^1*10       TWILIGHT ZONE   golden earring
[25-12-1982]^16*7       THE DEVIL MADE ME DO IT   golden earring
[11-02-1984]^1*10       WHEN THE LADY SMILES   golden earring
[21-04-1984]^11*6       CLEAR NIGHT MOONLIGHT   golden earring
[01-12-1984]^33*3       SOMETHING HEAVY GOING DOWN   golden earring
[03-05-1986]^9*8        QUIET EYES   golden earring
[12-03-1988]^24*5       MY KILLER MY SHADOW   golden earring
[22-04-1989]^10*8       TURN THE WORLD AROUND   golden earring
[20-04-1991]^3*10       GOING TO THE RUN   golden earring
[10-08-1991]^26*3       TEMPORARY MADNESS   golden earring
---
The Golden Earring Home Page (click here)
Submitted by: Adri Verhoef (a3@a3.xs4all.nl-removespam)
Back to Alex's Home Page
Back to the Nederpop index