Week of April 26, 1997
Baker Gurvitz Army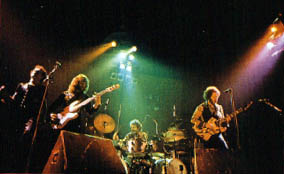 Former Gun and Three Man Army members, Paul and Adrian Gurvitz joined forces with ex-Cream and Airforce drummer Ginger Baker to form this tempestuous trio. Their self-titled debut featured a powerful blend of heavy rock laced with Baker's unmistakable drumming. The lengthy 'Mad Jack' was the album's outstanding track. This autobiographical tale masquerading as a novelty lyric from Baker, told the story of his exploits through the African desert in his Land-Rover. The band enlisted the help of Snips from Sharks and ex-Seventh Wave member, Peter Lemer. The two following albums contained similar material, but the combination of a lack of success in America and personality clashes between the members, led them to retreat back to solo careers.
(from "The Guinness Who's Who of Seventies Music", Guinness Publishing, UK, ISBN: 0-85112-727-4)
---
Albums:
Baker Gurvitz Army (1974) (CD: REP 4163 WZ - Repertoire)
Elysian Encounter (1975)
(CD: REP 4388 WP - Repertoire)
Hearts On Fire (1976) (CD: REP 4605 WZ - Repertoire)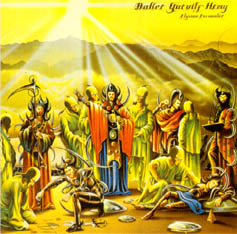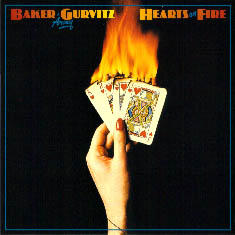 ---
When rumours reached the rock world that Ginger Baker was going to team up with Paul and Adrian Gurvitz, there was much fear and trembling. Here were three of the toughest, most uncompromising spirits in the music business, who would undoubtedly create an explosive, fiery team, not to mention some. explosive and fiery music.
Fans would not be disappointed. The result would be the first really powerful guitar, bass and drums trio since the heyday of Cream, that would at last provide a satisfying outlet for their under-used talents.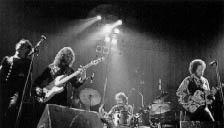 Things had not been going too well for Ginger, the dynamic, influential drummer, since the demise of his own band Ginger Baker's Airforce. The Gurvitz Brothers, too, were looking for a new way ahead after the early success of their band Gun. When they joined forces in 1974, it seemed like the Baker Gurvitz Army would be the answer to all their prayers.
They'd certainly had a lot of past experience. The Gun had a U.K. Top Ten hit in 1968 with that rousing rave up 'Race With The Devil' and it seemed the brothers were destined for stardom. Adrian played biting lead guitar and sang, while Paul played the bass, sang back up and wrote arrangements. The brothers, from Gants Hill in Essex, had been brought up in a music business environment. Their father Sam had been a road manager for The Shadows.
At first Paul and Adrian adopted the stage name Curtis, but later reverted back to their family name Gurvitz. They had started professional playing career in a four-piece called The Knack which toured Germany and played at the Star Club in Hamburg. When their keyboard player quit in 1968, they became The Gun. Adrian was just 17 years old, but had already played with Screaming Lord Sutch when he was 15. In a fit of inspiration he wrote 'Race With The Devil' and quickly recorded it at CBS studios with producer Mike Smith. The new band was managed by Pete King and Ronnie Scott, proprietors of the famous London jazz club. They discovered The Gun when the band went on tour supporting singer Scott Walker, who was accompanied by the Ronnie Scott Orchestra. It wasn't an ideal tour for the heavy rock outfit, as they were confronted with screaming teenage girls lusting after Scott Walker. But it was all exposure and helped boost their single up the charts.
Collectors should note that their original 1968 album together with three bonus tracks, has been reissued on CD as 'Gun' (Repertoire REP 4562-WY). The Gun released several singles, but were unable to repeat the success of 'Race With The Devil.' Facing up to changing times they formed a new group called Three Man Army. This project was given a big boost when they decided to replace their existing drummer and bring in the legendary Mr. Baker.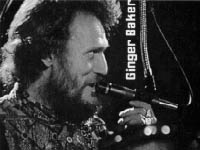 Peter 'Ginger' Baker was born in Lewisham, South London on August 19, 1939. He was a man of many passions and interests, from jazz to painting. Speed cycling was one of his hobbles and this certainly gave him extra power in his legs, needed when he took up drumming. Largely self taught, he even made his own kits out of plastic when he was too poor to afford new drums. Part Irish and of fiery temperament, Ginger approached drumming with the same violence and enthusiasm that he tackled most things in life. He gained his first experience with trad-jazz bands but quickly outgrew them and was much more at home on the R&B scene. In 1964 he became the cornerstone of the Graham Bond Organisation, the world's first jazz-rock band.
His attacking, jazz-influenced style brought new power and technique to the art of rock drumming and his solos became a focal point of the band's 'live' gigs and records.
In 1966 Ginger formed Cream with Eric Clapton and Jack Bruce and the new trio enjoyed enormous success and conquered America during their three year reign. They created such classics as 'White Room', 'I Feel Free' and of course 'Sunshine Of Your Love'. Ginger was hailed as the world's top drummer and was heavily featured on 'Toad', his solo on the double 'live' album 'Wheels Of Fire' (1968).
After Cream split up at the end of '68, Ginger was invited to join Eric Clapton, Rick Grech and Steve Winwood in Blind Faith, which formed the following year. This was not such a successful venture and following its demise, Ginger decided to put together his own extraordinary outfit, Ginger Baker's Airforce, in 1970. This huge band included many of his friends and favourite musicians like Graham Bond, Phil Seaman, Denny Laine and Steve Winwood. They played some memorable concerts and recorded two 'live' albums, but eventually the whole project became too costly. Ginger lost a lot of money and went off to Africa to explore the Sahara Desert. He later opened his own recording studio in Lagos, Nigeria and often threatened to give up drumming to concentrate on sports and business activities.
But in 1974 it seemed he could use his greatest talent in the Baker Gurvitz Army. Their self-titled debut album was released the same year and featured a dynamic mixture of heavy rock, guitar themes propelled by Baker's irrepressible drumming. He also contributed a lengthy dramatic opus called 'Mad Jack' which told the story of a motor race in Africa partly sung by Paul with a spoken narration by Ginger, sounding as if he had a bit of trouble with his teeth! He added some tyre squealing sound effects, presumably from his beloved high speed Jensen sports car - fortunately recorded before the fan blade disintegrated and destroyed the engine.
The Baker Gurvitz Army would later take on extra musicians, including vocalist Snips from the
band Sharks and keyboard player and arranger Peter Lemer from Seventh Wave. In 1975 I went to see the band perform a concert in Paris. They played brilliantly and went down a storm, but what I most remember about the night was Ginger wrestling with the band backstage, and picking an argument with an American tourist in the hotel lobby!
At its best the band was very tight and powerful and the music still stands up today, at a time when many Seventies albums sound weak and poorly produced. Certainly Adrian was a much underrated guitarist, who had a tremendous turn of speed and passionate feeling for the blues. It was perhaps not surprising he sometimes seemed pissed-off at the world. He was a much better guitarist than many of his more publicised contemporaries.
The band recorded two more albums, 'Elysian Encounter' (1975) and 'Hearts Of Fire' first released in 1976. Maybe it should have been called 'Tempers Of Fire' because personality clashes eventually led to the band breaking up the same year! In the aftermath Ginger briefly led a band called Energy, and was associated with Vincent Crane's Atomic Rooster and Hawkwind. Baker the master drummer would spend the next few years dividing his time between playing polo and olive farming in Italy, until he returned to play with such bands as Masters Of Reality and a Cream style trio with Jack Bruce and Gary Moore in 1994 (BBM). Adrian Gurvitz embarked on a solo career and became a successful writer and producer based in Los Angeles, writing for such artists as Whitney Houston. Most of the 'Hearts On Fire' material was written by Adrian, although Snips contributed a couple of songs, 'Neon Lights,' and 'Mystery.'
Paul Gurvitz wrote 'Smiling', something he did rather more than Adrian. Ginger Baker devised the opening title track, but it wasn't long before the fires went out, at least until the next gig and the next band.
Chris Welch, London 1996.
Taken from the liner notes of the Hearts On Fire CD reissue: REP 4605 WZ - Repertoire
---
To the official Ginger Baker Web Site