Various Artists Box Set: "Life Too, Has Surface Noise - The Complete Dandelion Records Singles Collection 1969-1972"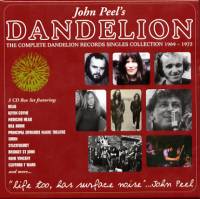 Cherry Red CRCDBOX1, 2006
DISC 1
1917 Revolution – Beau
Sleeping Town – Beau
To B Without A Hitch - Bridget St. John
Autumn Lullaby - Bridget St. John
Ballad (Of The Big Girl Now And The Mere Boy) - Principal Edwards Magic Theatre
Lament For The Earth - Principal Edwards Magic Theatre
Mandy Lee – Clague
Bottle Up And Go – Clague
The Stride – Clague
I Wonder Where – Clague
Be-Bop-A-Lula '69 - Gene Vincent
Ruby Baby - Gene Vincent
His Guiding Hand - Medicine Head
This Love Of Old - Medicine Head
Yawney Morning Song - Mike Hart
Almost Liverpool 8 - Mike Hart
On Ilkla Moor baht'at - Bill Oddie
Harry Krishna - Bill Oddie
White Lightning - Gene Vincent
Scarlet Ribbons (For Her Hair) - Gene Vincent
Coast To Coast (& Shore To Shore) - Medicine Head
All For Tomorrow - Medicine Head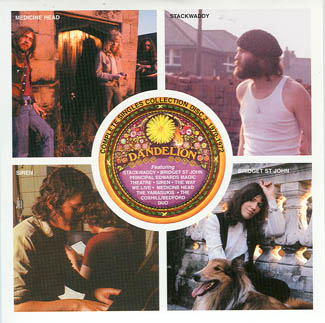 DISC 2
Roadrunner – Stackwaddy
Kentucky – Stackwaddy
If You've Got Money - Bridget St. John
Yep Principal Edwards - Bridget St. John
The Asmoto Running Band - Magic Theatre
Mothballs – Stackwaddy
Lonesome Ride – Siren
King Dick Ii - The Way We Live
Strange Locomotion – Siren
I'm All Aching – Siren
(And The) Pictures In The Sky - Medicine Head
Natural Sight - Medicine Head
Yamasuki – Yamasukis
Aieaoa – Yamasukis
Pretty Little Girl Pt.1 - Coxhill Bedford Duo
Pretty Little Girl Pt.2 - Coxhill Bedford Duo
Kum On - Medicine Head
On The Land - Medicine Head
Fly High - Bridget St. John
There's A Place I Know - Bridget St. John/ Suzanne - Bridget St. John
DISC 3
Sonny Boy
Oh Mein Papa - Will Dandy & The Dandylettes
Mood - Coxhill/Bedford Duo
No Tree Will Grow – Supersister
She Was Naked – Supersister
Stoney Glory – Tractor
Marie – Tractor
As You Say – Tractor
Only To Do What Is True - Medicine Head
Sittin' In The Sun - Medicine Head
You Really Got Me – Stackwaddy
Willie The Pimp – Stackwaddy
Cheat Me - Kevin Coyne
Flowering Cherry - Kevin Coyne
Carrie - Clifford T.Ward
Sidetrack - Clifford T.Ward
Nice - Bridget St. John
Goodbye Baby Goodbye - Bridget St. John
How Does It Feel - Medicine Head
Morning Light - Medicine head
Coathanger - Clifford T.Ward
Rayne- Clifford T.Ward

The complete singles collection of the late and legendary DJ John Peel's beloved Dandelion Records, compiled and brought to you for the very first time by Cherry Red Records. This fantastic 3 CD box set features a 48 page booklet containing the story of Dandelion with original artwork, images, memorabilia and heart-warming, revealing contributions from Clive Selwood and the artistes themselves. In 1969, in the face of the entrenched attitudes of most of the major record companies, the late and legendary DJ John Peel launched his own record label with manager Clive Selwood called Dandelion. They would oversee 18 acts release 27 albums plus a sampler compilation before the label was brought to a close in 1972. They also released a similar number of singles, compiled here for the very first time by Cherry Red Records. Lovingly restored and beautifully packaged, with contributions from the artistes and Clive Selwood himself, this wonderful 3 CD Box Set will astound many and bring joy to collectors and John's listeners and fans alike.

"I read somewhere that John said something to the effect that he didn't really discover anyone - that artists discover themselves, and he just played their music. Well yes, we discover ourselves at home, but it took John to allow others to discover so many of us – and certainly he, and Dandelion, are in huge part responsible for anyone discovering me! I can only say and continue to say thank you." Bridget St.John, New York 2006

"Forty years on it is impossible to describe the impact that John Peel had on the British music and broadcasting scene. My one and only regret is that the man is no longer with us to treasure this collection." Clive Selwood, West Sussex 2006.

"John and Clive certainly swam against the tide, but they didn't change horses just for comfort. They continued with their vision, the road John took until the end." John Fiddler (Medicine Head) 2006.