Joy Division - Martin Hannett's Personal Mixes
INTERSTATE CD 10797
Distributed by Ozit-Morpheus Records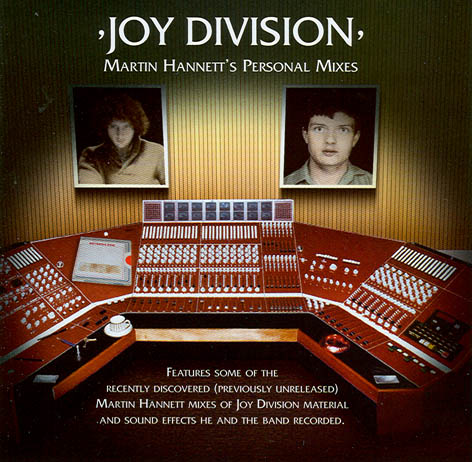 Discovered by friends of Martin Hannett recently and with input from one of his relatives, these recordings give a rare insight into his production ideas for Joy Division and his relationship with the band, the strange things/sound effects they recorded in the studio together, etc. The studio chit-chat and interplay between Hannett, Gretton and Joy Division members is all here as Martin left his own tape machine running throughout studio sessions. On this album we have rare alternative mixes of Joy Division that were Martin's personal favourites and he had the forethought to get the band members to give him control of these recordings. A must for all Joy Division fans. Includes alternative mixes of Autosuggestion, Heart and Soul, 24 hours, Passover, The Eternal (2 mixes), From Safety To Where and Decades (3 mixes).
Track Listing
1. Synth Tone
2. Hannett's Lift Recording 1
3. Joy Division Keyboard Doodles
4. Hannett's Lift Recording 2
5. Joy Division False Start 1
6. Curtis Hannett Gretton Interplay Chit Chat And Cup Smashing
7. Hannett Speaks
8. Joy Division False Start 2
9. From Safety To Where
10. Autosuggestion
11. Heart And Soul
12. N4 Europop
13. 24 Hours
14. Passover
15. N4
16. N4
17. Eternal
18. Eternal