John Peel's Dandelion Records DVD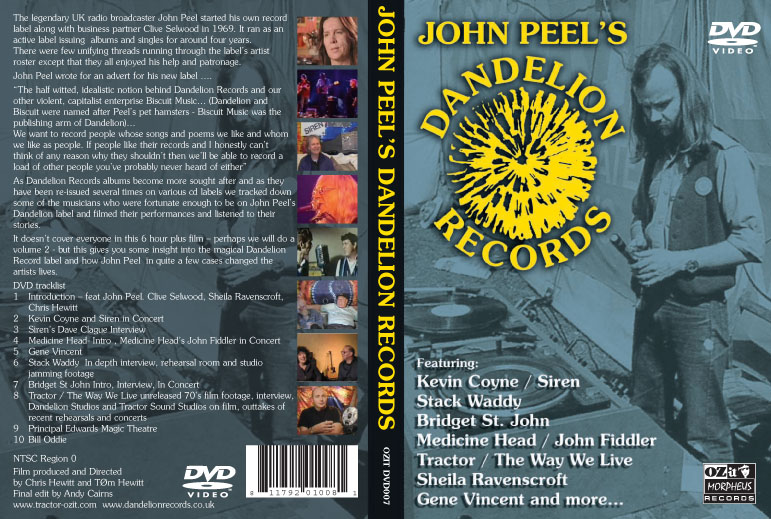 OZIT DVD 007
The legendary UK radio broadcaster John Peel started his own record label along with business partner Clive Selwood in 1969. It ran as an active label issuing albums and singles for around four years. There were few unifying threads running through the label's artist roster except that they all enjoyed his help and patronage. John Peel wrote for an advert for his new label: "The half-witted, idealistic notion behind Dandelion Records and our other violent, capitalist enterprise Biscuit Music…" (Dandelion and Biscuit were named after Peel's pet hamsters - Biscuit Music was the publishing arm of Dandelion.) "We want to record people whose songs and poems we like and whom we like as people. If people like their records, and I honestly can't think of any reason why they shouldn't, then we'll be able to record a load of other people you've probably never heard of either."

As Dandelion Records albums become more sought-after and as they have been reissued several times on various CD labels, we tracked down some of the musicians who were fortunate enough to be on John Peel's Dandelion label and filmed their performances and listened to their stories. This DVD is just over six hours long.

Featuring the following: One of Kevin Coyne's last concerts and his only full reunion with his Siren bandmates in 30 years. Stack Waddy's 2007 reunion studio / rehearsals and hilarious interviews with all four band members. Medicine Head - John Fiddler concert performances. Bridget St. John - interview and concert footage. Tractor- previously unreleased 70s footage and recent rehearsals and concert outtakes and all about Dandelion studios in Rochdale, including Tractor Sound Studios. Sheila Ravenscroft talks about John's hamsters Biscuit and Dandelion and about Stack Waddy. Dave Clague talks about Siren and Kevin Coyne. Gene Vincent - the story of how Gene recorded an album for Dandelion. Plus many more features. Also included is a Dandelion Records booklet. This DVD is NTSC region 0 so will work on all worldwide systems.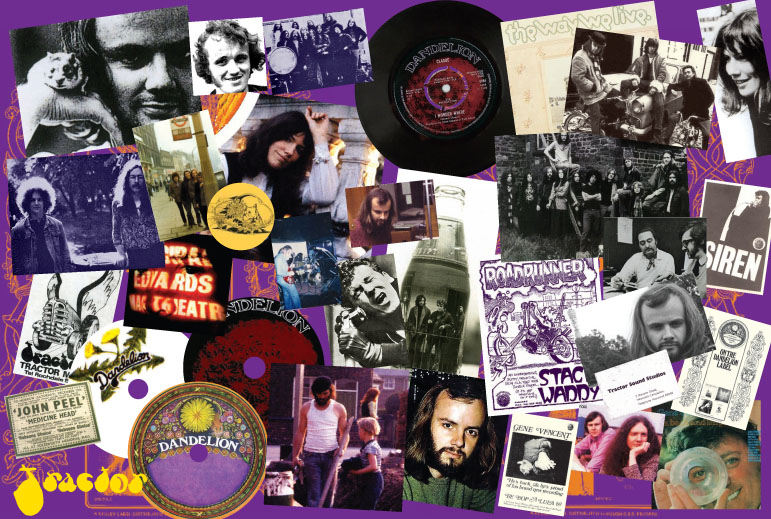 Intro incl. John Peel: 12 minutes
Kevin Coyne and Siren: 1:08
Dave Clague talks about Kevin Coyne and Siren: 38 minutes
Medicine Head/John Fiddler: 1:36
Gene Vincent: 4 minutes
Stack Waddy playing and talking, including Sheila Ravenscroft: 30 minutes
Bridget St. John interview and gig excerpt: 30 minutes
Tractor: 50 minutes
Tractor interview and Dandelion and Tractor studios: 23 minutes
Principal Edwards: 5 minutes
Bill Oddie: 6 minutes

Around 6 hours long, includes 16-page DVD book on Dandelion Records artists