BICKERSHAW FESTIVAL 1972 DVD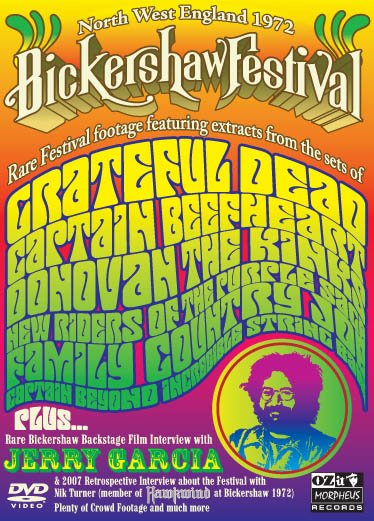 Rare archive film from numerous sources brings together the story of one of the great North-West festivals of the 70s. Over one and a half hours including music/film/stills from the festival. During the 70s there were only 2 great multi-day Greenfield music festivals with camping in North-West England, Bickershaw and Deeply Vale. Bickershaw, held on a fairly wet May weekend in 1972, was around £2.25 in advance for Friday, Saturday and Sunday. Around 40,000 people attended and the festival inspired many audience members to pursue careers in the music industry.

Features tracks from: Donovan - Only The Blues, Incredible String Band - Weather The Storm, Country Joe - Sweet Lorraine, Grateful Dead - Black Throated Wind, New Riders Of The Purple Sage - Watcha Gonna Do, Captain Beefheart - Click Clack, Family - Part Of The Load, Kinks - You Really Got Me, Captain Beyond - I Can't Feel Nothing Past One. Also features interviews with Jerry Garcia, Nik Turner from Hawkwind, Brian Eastwood [guitar builder], poster artist Steve Jacuzzi Hardstaff & Mick Middles.