Week of January 27, 2008
Picadilly Line
Personnel:
Rod Edwards - Vocals, Guitar, Keyboards
Roger Hand - Guitar, Vocals
Keith Hodge - Drums
Norrie McLean - Bass
Jan Barber – Vocals
George Butler - Drums, Vocals

Album:
The Huge World Of Emily Small (CBS (S)BPG 63129) 1967
CD: Lightning Tree LIGHT FLASH CD 004, 2006

45s:
* At The Third Stroke/How Could You Say You're Leaving Me (CBS 2785) 1967
Emily Small (The Huge World Thereof)/Gone, Gone, Gone (CBS 2958) 1967
* Yellow Rainbow/Evenings With Corrina (CBS 3595) 1968
Evenings With Corrina/My Best Friend (CBS 3743) 1968
* As Picadilly Line. Also issued as a demo with a different flip side, "I Know, She Believes".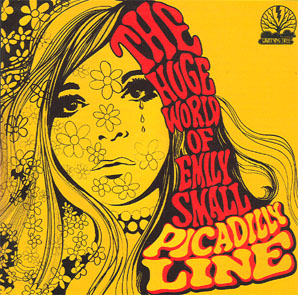 Their album had a superb 'period' cover. Musically, whimsical toytown pop-psych is on offer. In the early seventies Rod Edwards and Roger Hand formed Edwards Hand. Of their 45s, "Yellow Rainbow" was written by Graham Nash.

Keith Hodge later worked with Duncan Browne, Suzi Quatro and Deke Leonard.

Compilation appearances include: "Yellow Rainbow" on "Psychedelic Voyage Vol. 1" (LP) and "Psychedelic Voyage" (CD).

(Vernon Joynson/Stephane Rebeschini)
Taken from The Tapestry of Delights - The Comprehensive Guide to British Music of the Beat, R&B, Psychedelic and Progressive Eras 1963-1976, Vernon Joynson
ISBN 1 899855 04 1
---
An album released under the band name Picadilly Line, the featured musicians were Edwards and Hand plus Danny Thompson (bass), Alan Hawkshaw (keyboards), Jan Barber (vocals), Herbie Flowers (bass) and Harold McNair (flute). All material is original except for a version of Bob Dylan's "Visions of Johanna" and The Everly Brothers' "Gone, Gone, Gone".
(Wikipedia)
---