Week of February 10, 2008
Jade
Personnel:
Rod Edwards
Marian Segal
Dave Waite

Album:
Fly On Strange Wings (DJM DJLPS 407) 1970

45:
Alan's Song/Amongst Anenomes (DJM DJS 227) 1970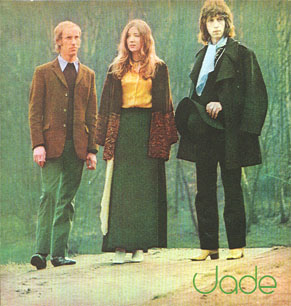 A contemporary folk trio consisting of two boys and one girl. Marian Segal wrote the songs. Segal and Waite had played together as a duo prior to Jade. Waite had played in a group called The Countrymen prior to working with Segal. Edwards was part of a duo called The Piccadilly Line and joined Jade briefly to make the album and do some live promotional work, including an American tour. Garry Edwards replaced Rod Edwards.

Segal and Waite formed The Marian Segal Band with Lee Oliphant on bass and Dave Morris on drums; they stayed together until 1975. Waite later went on to join Country Fever, Morris returned to working with Guys and Dolls, Oliphant returned to Canada doing session work. Segal joined up with Root Cartwright from Principal Edwards Magic Theatre and other musicians to rehearse in a new Marian Segal Band. This band did not make it onto vinyl, although many live studio recordings were made.

In 1980, Segal released a 45, "Love Amnesia"/"Ghosts Of Love" (Double Dee D DEE 4). Today she continues to write and do live work with a new single CD release "Hands Of Friendship", 2002.
Taken from The Tapestry of Delights - The Comprehensive Guide to British Music of the Beat, R&B, Psychedelic and Progressive Eras 1963-1976, Vernon Joynson
ISBN 1 899855 04 1
---