Week of June 2, 2002
Trip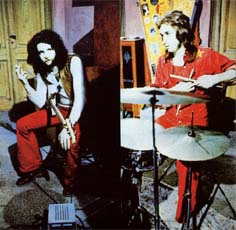 Joe Vescovi - keyboards, lead vocals
Arvid 'Wegg' Andersen - bass, lead vocals
Billy Gray - guitar, vocals
Pino Sinnone - drums
Furio Chirico - drums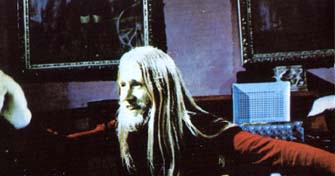 Albums:
The Trip - 1970, RCA PSL 10460 (CD reissue: RCA ND 74111)
Caronte - 1971, RCA PSL 10508 (CD reissue: RCA 74321-26543-2, 1995)
Atlantide - 1972, RCA PSL 10540 (CD reissue: RCA 74321-26552-2, 1995)
Time Of Change - 1973, Trident TRI 1002 (CD reissue: Vinyl Magic, VM 008, 1989)
This was one of the first groups to emerge from the new Italian rock scene. They formed in London in 1967 on the initiative of pop singer Ricky Maiocchi (ex-Camaleonti) who needed a new backing group. Many British beat bands moved to Italy in the late sixties in search of gigs, among them The Sorrows, The Primitives and The Talismen. Most of the original Trip members were also English, including (future Deep Purple axeman) Ritchie Blackmore, who eventually became homesick and returned to England. When Joe Vescovi was recruited in 1969, he quickly became the leader of the group, updating their sound with the current (pioneering) Anglo-American attempts to expand the rock format, blending it together with the inspiration and composing techniques of 17th and 19th century classical music.

On their eponymous first album, The Trip almost sounded like a cross between Vanilla Fudge, The Nice and Quatermass (another group that had a great deal of influence on the early Italian rock scene; they released their only album in 1970). "Prologo" almost pastiched the organ work of Mark Stein on Vanilla Fudge's first album. Other enlightening features were Billy Gray's Blackmoresque guitar parts and Joe Vescovi's distinctive, high-pitched voice. The album showed great promise, but didn't quite succeed in creating an integrated group sound. Organ parts of great emotional intensity were sometimes followed by almost banal vocal arrangements in a more pop tradition.

However, better things were soon to come when The Trip released their masterpiece, "Caronte" in 1971. The powerful interplay between Gray and Vescovi is excellent throughout the album. If the "dream collaboration" between Jimi Hendrix and Keith Emerson had ever happened, then I imagine it would have sounded close to this! The finest example of this is on "Two Brothers", which merged psychedelic, heavy and classical flavours of rock. By now, Vescovi could afford a mellotron, offering mellow string textures on the track, "Little Janie". The excellent rhythm section throughout the album, courtesy of Andersen and Sinnone, was also notable. Speaking of Jimi Hendrix, the album also included the mournful requiem "Ode a J.Hendrix".

The fruitful Gray-Vescovi collaboration sadly came to an end when Bill Gray left, along with drummer Pino Sinnone, in 1972. The latter was replaced by Furio Chirico and for their last two albums The Trip remained a keyboard trio focusing on Vescovi's great talents.
"Atlantide" (1972) was a fine album, absorbing more jazz-rock influences, particularly with the increased use of changing time signatures. The Trip took great care in production details, often using Leslie cabinets and flanging effects on organ, bass and piano.

Their final album, "Time Of Change" (1974), was their crown achievement in terms of musical dexterity, displaying neck­breaking keyboard pyrotechnics. Here The Trip used a very broad range of influences, from conventional music to avant-garde. Opus Avantra had a similar basic idea, but with completely different results, musically speaking. Their complex jigsaw never hung well together, whereas The Trip's work was more convincing. Most impressive was "Rhapsodia" (20:00), in the top class of Italian keyboard-driven progressive rock (along with Metamorfosi's "Inferno", Latte E Miele's "Passio Secundum Mattheum" and Le Orme's "Collage").

The Trip were one of the most influential Italian groups, even if they were heavily influenced by Anglo-American artists in their early stages. Almost all their lyrics were sung in English, but well executed.
Taken from Scented Gardens of the Mind - A guide to the Golden Era of Progressive Rock (1968-1980) in more than 20 European Countries, by Dag Erik Asbjørnsen, Borderline Productions, ISBN 1-899855-12-2
---