Week of May 27, 2001
Latte E Miele
Personnel
Alfio Vitanza - drums, flute, vocals
Marcello Della Casa - guitar, bass, vocals
Oliviero Lacagnina - keyboards, vocals

LPs
Passio Secundum Mattheum (1972) Polydor - 2448 01 1 A
Papillon (1973) Polydor - 2448 01 5 A
Aquile E Scoiattoli (1976) Magma - MAL 01
45s
Getzemani/Il Re Dei Giudei (1972) Polydor - 2060 050
Rimani Nella Mia Vita/Patetica (1974) Polydor - 2060 C 067
Mese Di Maggio/Tanto Amore (1974) Polydor - 260 085
Un Silenzio Diviso In Due/Per Poter Vivere (1976) Magma - MAG 06
Un Mattino/Pavana (1976) Grog - GR 02
Sto Volando Con Te/Restiamo Insieme (1978) RCA - PB 6250
Fiore Di Strada/Severamente Proibito (1979) RCA - PB 6350
Ritagli Di Luce/Metro' (1980) EMI - 006 18470
Latte E Miele premiered at the Villa Pamphili Pop Festival in 1972, as a very young group (the drummer was only sixteen), achieving a fair amount of success. At the some time, this trio from Genova released an album entitled, "Passio Secundum Mattheum", with a very nice fold-out cover. Some tracks on this album were inspired by the Bible, while the music borrowed inspiration from, amongst other things, Bach's "Messa Requiem". This group attempted to combine classical influences with rock, but the result was only partly successful, especially compared to efforts by their contemporaries, Banco and New Trolls, to name but a few.

After a tour as backup band for Van Der Graaf Generator (where the band's problems playing live became apparent), their second LP was released, entitled, "Papillon". The style remained the same, but some parts came out more powerful and effective: the instruments played by group members were now brought to the fore, whereas orchestral bits featured on the first album were mostly avoided.
In 1974, Latte E Miele performed at various rock festivals, then suddenly disappeared from the scene altogether, only to reemerge in 1976, when drummer Alfio Vitanza and his new group got a contract from Magma.

This new group featured guitarist Massimo Gori, keyboard player Luciano Poltini and guitarist/pianist Mimmo Damiani. That same year, the new quartet released "Aquile E Scoiattoli", an album of alternating melodic and more hard-driving pieces (such as their rendition of Beethoven's "Opera 21"). Following this, various members recorded an array of melodic pop-rock singles for different labels.
Taken from "The Return of Italian Pop" by Paolo Barotto (Vinyl Magic VM201, 8016158220124)
Vinyl Magic/BTF web site: www.btf.it
---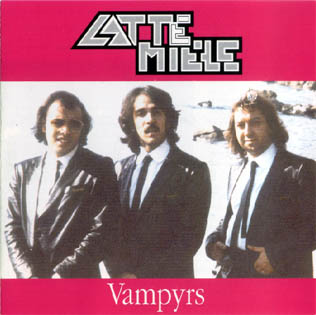 Recently, Mellow Records have come out with a CD of previously unreleased recordings made during 1979 at the Phantom Studios in Tortona by the Gori/Poltini/Vitanza line-up. This 14-track CD, entitled, "Vampyrs", features songs recorded in English as well as the band's native Italian languages. The first (English) half of the CD is melodic guitar'n'synth pomp-rock lite with shades of AOR, similar to what their English counterparts Nightwing and others were doing at the time. The Italian tracks range from mid-paced rockers to ballads in the vein of Umberto Tozzi, Riccardo Fogli and Pooh, to the Italian take on boogie rock on "Rock'n'Roll Star", and sound much more natural for the band. All in all, pleasant listening, but would appall practically any progressive music purist!
Alex Gitlin
May 2001

---