Week of January 23, 2000
Riff Raff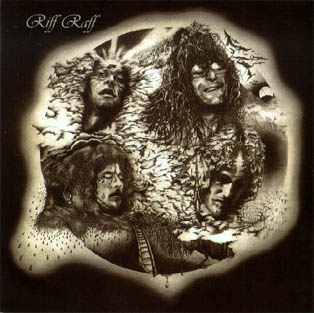 Bud Beadle - Sax
Aurero De Souza - Drums
Tommy Eyre - Keyboards, Vocals
Pete Kirtley - Guitar, Vocals
Roger Sutton - Bass, Vocals
Steve Gregory - Woodwind
Joanna Newman - Vocals
Joe O'Donnell - Viola

Albums:
Riff Raff (RCA SF 8351) 1973 (reissued on CD by Disconforme, DISC 1952 CD, 1999)
Original Man (RCA LPLI 5023) 1974 (reissued on CD by Disconforme, DISC 1953 CD, 1999)
Outside Looking In (never released before 1999; CD by Disconforme, DISC 1951 CD, 1999)

45:
Copper Kettle/You Must Be Joking (RCA RCA 2396) 1973
Taken from The Tapestry of Delights - The Comprehensive Guide to British Music of the Beat, R&B, Psychedelic and Progressive Eras 1963-1976, Vernon Joynson ISBN 1899855041
---
Original Liner Notes:

Riff Raff brings together four men of varying musical experiences whose sound spans both rock and modern jazz but cannot be pigeonholed in either camp.

Their music is their own; they write, arrange and produce themselves, and the result is music of today that succeeds in avoiding the self-indulgence of many of their contemporaries. They named themselves Riff Raff with tongues firmly in cheek, although the name serves to emphasize the individuality of each member of the band. All four musicians have known or known of each other for a couple of years or more: that goes double for bassist Roger Sutton and keyboard man Tommy Eyre, who both ended a two-year run with the Mark-Almond band during the Summer of 1972; guitarist Pete Kirtley is a Geordie last seen as an Alan Price sideman; and percussionist Aureo de Souza hails, as all good percussionists should, from Rio de Janeiro.

Tommy Eyre plays Fender Rhodes electric piano, organ, six- and 12-string guitar, concert and bass flute. He was classically trained on the piano from the age of three (an infant prodigy as they say), and should be best known as the keyboardist in Joe Cocker's original Grease Band (indeed he played on and arranged Joe's cover of "With A Little Help From My Friends"). Later joined Aynsley Dunbar's Retaliation (with Roger Sutton) with whom he made two albums. When Aynstey left to join Zappa, Tommy had a brief period with Juicy Lucy and then moved on to Mark-Almond. Roger Sutton's bass is a specially-made fretless Fender, to which he adds cello, double bass, and six- and twelve-string guitars. He has been a pro musician since he was 17, and played his first starring part as bassist for Brian Auger's Trinity in the days of Julie Driscoll: several Sutton numbers were recorded by Jools and the band. Next came Aynsley Dunbar's Blue Whale (with Tommy Eyre), Heavy Jelly, and in mid-1970 - Mark-Almond. Roger is one of Riff Raff's main sources of original material.
Pete Kirtley has played self-taught guitar professionally from the age of 16 and his first real band of note was Graham Bell's Griffin, which also included Alan White (now of Yes) and later Bud Beadle who added saxes to Riff Raff's album. Also spent some time as session man with Alan Price and met Roger Sutton during sessions in London. Now plays a Fender Telecaster for preference.

Percussionist Aureo de Souza was born in Rio de Janeiro and left Brazil in March 1971. He has played with Paul Horn and Nucleus, and when Riff Raff were looking for a drummer, they heard of him by reputation and signed him on. Altough completely at home with the conventional drum kit, and able to underpin the band with a solid beat, he has a vast knowledge of Latin American percussion techniques which gives his playing a subtlety, sensitivity, and variety not usually found in the majority of rock drummers.

Bud Beadle, formerly with Ginger Baker's Airforce, and currently with Riff Raff, plays saxes on the album.

Riff Raff made a most encouraging if somewhat hasty debut at London's Conway Hall and in something like half an hour manifested a superb show amalgamating moods with exciting melodies, catchy hooks and lots of free blowing. In fact, they exuded too much music, too much energy for the human mind to comprehend - the only way to dig the music was on a visceral level like you would on a night when the Buddy Miles Band or Santana were really cooking or if Shorter, Vitous and Zawinul suddenly walked into your local jazz cellar and took over. About the same time as this concert, I was handed the first pressing of the band's album, recorded in the carefully chosen environment of the Manor Studios in Oxfordshire.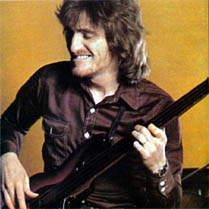 It took some considerable effort to pass onto the second track for having heard Roger singing in unison with himself on his own "Your World", the tendency was always to go back for more.

In as much as it is the only yardstick by which to judge Tommy and Roger's stylistic changes, Riff Raff highlight the inadequacies that existed within Mark-Almond. The group could never sustain itself without a lead guitar and in Riff Raff the emphasis is constantly changing between guitar, horns and keyboards. Pete Kirtley isn't the strident lead player I had expected, in fact, he is entirely cooperative in the true sense of the word.

Composers' credits are shared throughout. Two of Kirtley's songs show the different ways in which Riff Raff choose the handle composition and in each case the result is staggering: "For Every Dog" contains a fairly uniform backing illustrating a strong melodic theme written into the composition, whereas "You Must Be Joking" is total energy and improvisation, the only reconciliation point coming where the musicians join hands for the strong hook. Dig the humour in this one too - it's a wonderful piece of escapism.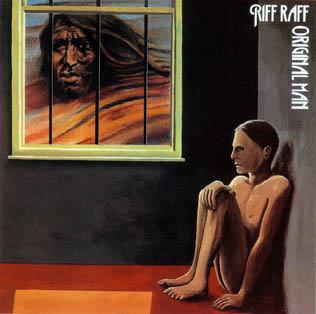 It's easy to relate the Riff Raff discography to the many sources of music which Tommy and Roger site as being their sources of inspiration. And yet no album with this vitality can be taken on such a unilateral basis for in their exposition of West Coast jazz and West Coast rock. Riff Raff speak volumes of their own experiences. And if you want to see the claustrophobic climate known as the English rock scene through a musician's eyes, then cop an earful of this album. But superlatives soon become redundant - the validity of the music goes on forever.

Jerry Gilbert, Sounds magazine, 1973.
---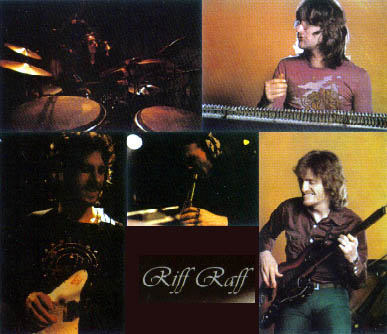 New Liner Notes:

Tommy Eyre and Roger Sutton were neighbours in 1969. Eyre was the organ player with Joe Cocker's Grease Band, and when the band broke up after their No.1 hit ("With a Little Help From My Friends") he chose to stay in London and try his luck rather than go back home to Sheffield. Tommy got the gig with Aynsley Dunbar's Retaliation and brought Roger in for the Blue Whale project. When Aynsley left to join Frank Zappa, Roger, in turn, introduced Tommy to John Mark and Johnny Almond who had just left John Mayall's Turning Point band. The four of them became the Mark-Almond Band which was very succesful in the USA for about three years. Roger Sutton left the Mark-Almond Band shortly before their third album, when he and Jon Mark couldn't get along, (check Roger's lyric, "God damn the man who ever tried to put his mark on you"). It was recorded in a place that Richard Branson had recently opened as a "live-in" studio called the Manor, Oxfordshire, England, a beautiful old mansion where Mike Oldfield's "Tubular Bells" was made.

When John Mark's behaviour forced even Tommy to quit, he and Roger spoke about reforming a studio band, Strabismus (pre-Riff Raff) that they had put on hold due to the success of Mark-Almond. They were introduced to Peter Kirtley, guitarist, singer and composer who had been involved with all the major bands in his native Newcastle. His musical ideas fit perfectly with Eyre and Sutton's plans and he was asked to join (it was Peter who came up with the name Riff Raff). Tommy brought in Kenny Slade from the Grease Band on drums and of course Alan Marshall, Strabismus' brilliant singer who was going to be the linchpin. Songs were written, demos recorded and then Alan quit. His management advised him that merely being the singer in a band would be a back-step for him and he should pursue a career as a soloist. Kenny Slade decided the music was too complex ("I couldn't get to grips with all these strange time signatures!"), so auditions were held and the Brazilian drummer Aureo de Souza was hired, while Peter and Roger took over vocals. Tommy suggested recording at the Manor, Riff Raff produced the record themselves and the sessions were wonderful. Bud Beadle played sax, Tom Newman engineered. When it came to mix time, though, their inexperience showed and Peter recommended Eddie Offord who remixed the album in a now-defunct studio in Victoria, London.

During the next few months, Tommy also worked extensively on other projects with producer-composer Ken Burgess, and when Riff Raff's second album was due, Tommy recommended Ken to co-produce. Ken and Tommy had used a studio in Kent called Escape. It was a converted coast house, (a building for drying hops in the beer-making process). Its biggest claim to fame was that Jeff Beck lived nearby and would often come in to jam, Jeff's the guitarist on "Put a light on me" on Zzebra's "Panic" album, (uncredited, of course).
Thus, "Original Man" was recorded. Buddy Beadle and Steve Gregory played saxes, Tony Taverner engineered and some dubs were done at Advision Studios in London, engineered by Martin Rushent. For Riff Raff the US deals that had looked so promising collapsed one by one. But there were other problems too. Aureo was not granted an extension on his work permit in England. The British goverment and the Musicians Union were inflexible and that was that. Aureo had to return to Brazil, Peter joined the Alan Price group, Roger and Tommy returned to studio work.

However, many of the connections made during this time endured. In one form or another the music has continued until the present day. The reader will see many of the same names turning up in the most unlikely of places, but the future of music that we hoped for never happened. Apart from beautiful exceptions (Stevie Wonder, Marvin Gaye, Weather Report), everything in the seventies seemed to revert to the mindless three-minute pop song, new dance crazes and artists with no musicianship but great make-up.

There will always be the Top 40. Nobody has any problem with that, but the feeling at that time was that pop and progressive music could co-exist and everyone would be the better for it. AM for the teenagers and FM for the people that were intrigued and wanted to know more. Well it never happened.

Disconforme is showing you what it was like. Just imagine what it could have been like.

Tommy Eyre, Encino, California. 1999.
(Taken from the Disconforme reissue of "Riff Raff", DISC1952CD, 1999)
---