Week of October 31, 1999
Quiver
Personnel:
Cal Batchelor - Vocals, Guitar, Keyboards
Tim Renwick - Guitar
Bruce Thomas - Bass
John 'Willie' Wilson - Drums
Albums:
QUIVER (Warner Bros K 46089) 1971
CD reissue - MUSKRAT RATCD-4224 (WQCP-153)
GONE IN THE MORNING (Warner Bros K 46153) 1972
CD reissue - MUSKRAT RATCD-4225 (WQCP-154)
45:
Green Tree/I Might Stumble (Warner Bros K 16165) 1972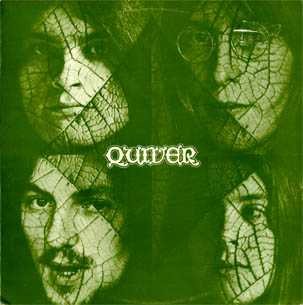 Quiver was formed by Tim Renwick and Honk (bass) who'd formerly been with Junior's Eyes, together with Cal Batchelor. Honk soon departed and the line-up was completed by Pete Thomas (ex-Village) and John Wilson (formerly with Cochise).

Quiver's main claim to fame was to play the first set at The Rainbow in Finsbury Park, London, supporting The Who. Their albums hadn't really made much impression and lacked strong material. So in 1972 all of them (except Batchelor) amalgamated with folk-rock act The Sutherland Brothers with whom they went on to enjoy some success.

Renwick and Thomas later played for Bridget St. John. Batchelor later formed 747 and Kicks, but both bands were short-lived. Renwick now plays guitar in Pink Floyd's live tours. Thomas was later in Elvis Costello's Attractions.
---
Taken from The Tapestry of Delights - The Comprehensive Guide to British Music of the Beat, R&B, Psychedelic and Progressive Eras 1963-1976, Vernon Joynson ISBN 1 899855 04 1