Week of September 10, 2000
Hustler
Personnel:
Tony Beard - Drums
Kenny Daughters - Keyboards
Steve Haynes - Vocals
Mickey Llewelyn - Guitar, Vocals
Kenny Lyons - Bass, Vocals
Henry Spinetti - Drums
Albums:
High Street (A&M AMLS 68276) 1974
CD: Pony Canyon, Japan PCCY-10174
Play Loud (A&M AMLH 33001) 1975
CD: Progressive Line PL 573
45s:
Get Outa Me 'Ouse/Happy Days (Firefly AM 5001) 1975
Little People/Why D'Yer Think Yer Fooling (Firefly AM 5002) 1975
Little People/Why D'Yer Think Yer Fooling (A&M AMS 5002) 1975
Boogie Man/You Had It Coming To You (Firefly AM 5003) 1975
Boogie Man/You Had It Coming To You (A&M AMS 5003) 1975
Money Maker/Goin' Home (Firefly AM 5004) 1975
Money Maker/Money Maker (different version) (A&M AMS 5004) 1976

A heavy rock outfit with a good reputation. High Street is very much in Free/Bad Company mould. Tracks like Just Leave A Good Man and Jack The Lad are hard rocking songs with strong melodies and good vocals and guitar work. There are some mellower moments on Let The Wind Blow and Miranda, whilst The Hustler is reasonably orchestrated. Get Outa Me 'Ouse, the only track where Micky Llewelyn sings, is in a more pub-rock direction and Piranhas has a long instrumental break with keyboard progressive overtones in a Deep Purple direction. A good example of this genre.

Taken from The Tapestry of Delights - The Comprehensive Guide to British Music of the Beat, R&B, Psychedelic and Progressive Eras 1963-1976, Vernon Joynson ISBN 1 899855 04 1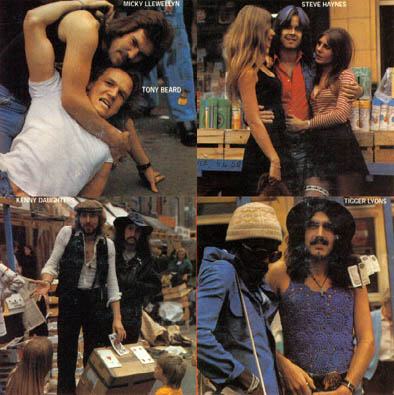 They were hot, they were rockin' - pretty much in the same mold as Status Quo, with just a touch of Heavy Metal Kids; shame they only lasted for two albums, and shame, too, that these undeniable gems are now rare and hard to find: CD treatment way overdue!!

As this was mainly a guitar rock band, they were using keyboards (as well as orchestral arrangements) sparingly and sporadically, whenever it suited the material - honky-tonk boogie piano on some tracks, and heavy Purplesque organ on others. The result was an eclectic but lively mixture of rockers and ballads, in which Get Outa Me 'Ouse and Jack The Lad stick out like sore thumbs, they're so intrinsically British and, at the risk of being ridiculed by connoisseurs, I even dare say Cockney, since, you see, "I'm a peace lovin' bloke" but her dad says, "No daughter of mine is going out with a hippy or a scruffy little bleeder like you!" Under the circumstances, other fast-paced tracks on these two albums seem a bit more tame in comparison, but still excellent through and through.

Just like Heavy Metal Kids, Hustler were in the business of producing unapologetic, scruffy, hot, denim-clad rock. The misspelling antics carry a fine tradition started by Slade, although not quite to the same extreme.

Track 'em down if you can, they'll give you that much-needed swift kick in the trousers, better than any punk record ever could!!
Alex Gitlin
August 2000
---