Week of July 22, 2001
Gypsy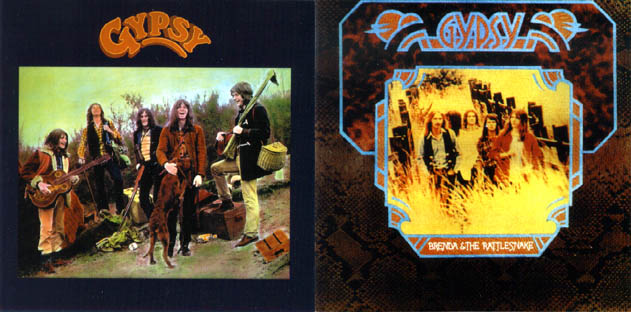 Personnel:
John Knapp - vocals, guitar, keyboards
David McCarthy - bass, vocals
Robin Pizer - guitar, vocals
Rod Read - guitar, vocals
Moth Smith - drums
Ray Martinez - guitar, vocals
Albums:
Gypsy (United Artists UAS 29155) 1971 (CD reissue 1994, SPM-WWR-CD-0061)
Brenda And The Rattlesnake (United Artists UAS 29420) 1972 (CD reissue 1994, SPM-WWR-CD-0062)
45s:
What Makes A Man A Man/I Want To Be Beside You (United Artists UP 35202) 1971
Changes Coming/Don't Cry On Me (United Artists UP 35272) 1971
Brand New Car/You Know Better Than Me (United Artists UP 35462) 1972
Let's Roll/Without You (United Artists UP 35546) 1973
Leicester was this group's home town, and they were originally known as Legay and released one now very rare 45 for Fontana before changing their name to Gypsy just prior to appearing at the 1969 Isle of Wight festival.

Their first album featured some tight harmonies and was well received. Rod Read left after this to be replaced by Ray Martinez. Their second album had a more laid-back country type feel to it, a-la Cochise, Daddy Longlegs, etc., although still featured a few mean blues-rock shuffles not unlike Chicken Shack and Tramp… The band split soon after this release. None of their recordings as Gypsy have interested original album collectors to date, however, both albums have been reissued on CD officially by small German label Worldwide Records in 1994. You'll also find "Let Me Take You Home" from their first album on United Artists' 1971 double compilation, "All Good Clean Fun".
Info partially taken (but edited) from The Tapestry of Delights - The Comprehensive Guide to British Music of the Beat, R&B, Psychedelic and Progressive Eras 1963-1976, Vernon Joynson ISBN 1 899855 04 1
---