Week of November 9, 2003
The End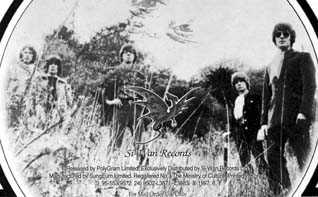 Personnel:
Dave Brown - Bass, Vocals
Nick Graham - Keyboards, Vocals
Colin Griffin - Steel Guitar, Vocals
Roger Groom – Drums
John Horton – Sax
Hugh Attwooll – Drums
Gordon Smith – Sax
Terry Taylor – Guitar
Paul Francis – Drums

Album:
Introspection (Decca LK-R/SKL-R 5015) 1969
Reissued on CD in Korea (Si-Wan SRMC 0065) 1997.

Also of interest are: "In The Beginning" (Tenth Planet TP025) 1996 is a ltd. edition compilation of previously unreleased demos, singles, rare EP tracks, and 'Retrospection' (Tenth Planet TP033) 1998, a ltd. edition album of outtakes, etc.

45s:
I Can't Get Any Joy/Hey Little Girl (Philips BF 1444) 1965
Shades Of Orange/Loving Sacred Loving (Decca F 22750) 1968
Managed by Rolling Stone Bill Wyman, both Charlie Watts and Nicky Hopkins played on a track a piece on the 'Introspection' album, which is very much a product of the psychedelic late sixties and is good. 'Dreamworld' and 'Don't Take Me' have sleepy harmonies, and other tracks like 'What Does It Feel Like?' have some nice organ work. However, success eluded them, and they eventually evolved into Tucky Buzzard, who made three albums produced by Bill Wyman in the 1970s.

Dave Brown and Colin Griffin formed The End in 1965 following the demise of The Innocents. Nicky Graham and John Horton were drafted in from Dickie Pride's backing group, The Original Topics, and the line-up was completed by former Tuxedos drummer Roger Groom. They set about recording at R.G. Jones' Morden studio, and Bill Wyman arranged for them to tour with The Rolling Stones to coincide with The End's first 45. They also appeared with Spencer Davis on ITV's 'Thank Your Lucky Stars' playing 'Hallelujah I Love Her So'. Following the tour, Roger Groom quit, to be replaced by Hugh Attwooll, a former school friend of Nicky Graham. John Horton also quit, although the split was amicable, and he helped out on their second single, 'Shades Of Orange'. Cut by Bill Wyman during the sessions for The Rolling Stones' "Their Satanic Majesties Request" album, the song, has an almost hypnotic, dream-like quality, and features Charlie Watts on tabla.

Following the release of 'Shades Of Orange', Gordon Smith, too, called it a day, and was replaced by former Mode guitarist Terry Taylor. This signalled a change in musical emphasis, more towards the style of their 'Introspection' album, the release of which was delayed for over a year, due to fallout from the 'Stones bust-up with Allen Klein.

The band decamped to Spain, where several singles were released domestically, including 'Why?', with which they scored a Top Five hit in April 1967.

By Christmas 1968, both Colin Griffin and Hugh Attwooll had left, and although a new drummer, Paul Francis, was enlisted, the writing was on the wall... and with the arrival of another Mode refugee Jim Henderson, they metamorphosed into Tucky Buzzard.

Also look out for two albums on the excellent Tenth Planet label. 'In The Beginning... The End' (Tenth Planet TP 025), 1996, is an eighteen-track anthology of the recordings they cut between 1964 and 1967. It charts their development from the beat era, mod-tinged R&B, wild freakbeat and blue-eyed soul, culminating in a previously-unissued mix of their superb psychedelic 45, 'Shades Of Orange', which was written by Bill Wyman and featured Charlie Watts on tabla. It also includes both sides of their 1965 single for Philips, but ten of the eighteen tracks are previously unreleased. Also featured are both sides of two Spanish singles, 'You'd Better Believe It Baby'/'Please Do Something' (Sonoplay SN-20,002), originally released in January 1967, and 'Why?'/'Yo-Yo' (Sonoplay SN-20,014), originally released in March 1967.

'Retrospection' (Tenth Planet TP 033), 1997, is a collection of outtakes from the 'Introspection' sessions including the 45 version of 'Loving Sacred Loving', a US-only remix of 'Shades Of Orange', two tracks only issued at the time in Spain, and a further ten previously unissued tracks. All the material was produced by Bill Wyman, and the album comes in a stunning full-colour sleeve. Only 1,000 copies were pressed of each album, which are bound to be of great interest to collectors of UK pop-psych.

Compilation coverage has included: 'Jacob's Bladder' and 'Introspection, Part 2' on 'Broken Dreams, Vol. 3' (LP); 'Shades Of Orange' on 'The Psychedelic Scene' (CD), 'The British Psychedelic Trip 1966-1969' (LP), 'Great British Psychedelic Trip, Vol.1' (CD), 'Rubble, Vol.6: The Clouds Have Groovy Faces' (LP) and 'Rubble, Vol.4' (CD); and 'Why?' on 'Visions Of The Past, 3' (LP & CD).
Taken from The Tapestry of Delights - The Comprehensive Guide to British Music of the Beat, R&B, Psychedelic and Progressive Eras 1963-1976, Vernon Joynson
ISBN 1 899855 04 1
---