Week of May 23, 2004
Elias Hulk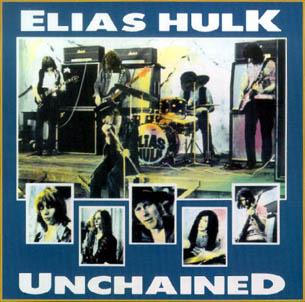 Personnel:
Granville Frazer - Guitar
James Haines - Bass
Bernard James - Drums
Neil Tatum - Guitar
Peter Thorpe - Vocals

Album:
Unchained (Youngblood SSYB 8) 1970
Reissued on See For Miles (SEE LP 286) or (SEE CD 286) 1990;
CD: WON-SIN WS 885 692-2

This rare hard rock album, very much in the mould of Leaf Hound, now changes hands for considerable sums. It's full of endless riffs, tortured blues vocals and drum and bass solos. You'll either love it or find it extremely tedious! File under "stoner rock"!
Taken from The Tapestry of Delights - The Comprehensive Guide to British Music of the Beat, R&B, Psychedelic and Progressive Eras 1963-1976, Vernon Joynson
ISBN 1 899855 04 1
---