Week of May 6, 2001
La Bambibanda E Melodie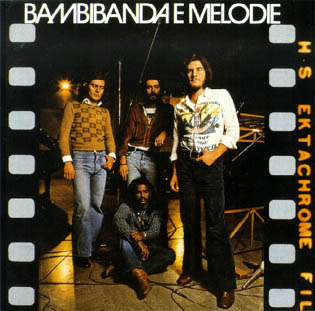 Discography:
LP:
Bambibanda E Melodie (1974) Fonit - LPO 09085
Line-up:
Bambi Fossati - guitar, vocals
Maurizio Cassinelli - drums
Ramasandiran Somusundaram - percussion
Roberto Ricci - bass

After the breakup of Garybaldi, Bambi Fossati decided to form a group together with musicians from Genoa, with whom he had jammed in 1974. The group was composed of, besides Fossati, another ex-Garybaldi member Maurizio Cassinelli, bass player Roberto Ricci and Indian percussionist Ramasandiran Somusundaram (also a featured session man with French prog band Magma on several of their singles). At the end of 1974, this quartet recorded an album called "Bambibanda E Melodie" for Fonit Cetra. The principal instrument here was obviously the guitar, but the great "vibes" happening between the two percussionists were also making a distinction. This album was distinguished by a very rhythmic rock orientation; the lyrics were reduced to a minimum, while the music flowed fast and direct due to the overall spontaneity of the concept. All cuts on the album were composed by Fossati, who continued his live activity with Bambibanda for several years, however, without producing any more recordings.
Taken from "The Return of Italian Pop" by Paolo Barotto (Vinyl Magic VM201, 8016158220124)
Vinyl Magic/BTF web site: www.btf.it
---