Week of October 3, 1999
Ashton, Gardner and Dyke

Personnel:
Tony Ashton - keyboards, vocals
Roy Dyke - drums
Kim Gardner - bass
Albums:
Ashton, Gardner And Dyke (Polydor 583 081) 1969
The Worst Of Ashton, Gardner And Dyke (Capitol EST 563) 1971
What A Bloody Long Day It's Been (Capitol EAST 862) 1972

NB: Ashton, Gardner And Dyke reissued on CD Line (LMCD 9.51136) 1992. The Worst Of Ashton, Gardner And Dyke and What A Bloody Long Day It's Been reissued on CD (Repertoire REP 4458-WY and REP 4457-WY respectively) 1994.
45s:
Maiden Voyage/See The Sun In My Eyes (Polydor 56306) 1969
Resurrection Shuffle/Hymn To Everyone (Capitol CL 15665) 1970
Can You Get It/Delirium (Capitol CL 15684) 1971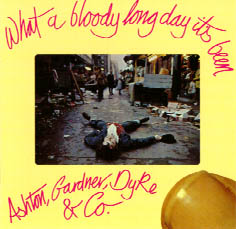 Something of a supergroup, Kim Gardner had been in The Birds and Creation prior to joining this band and Tony Ashton and Ron Dyke had been in The Remo Four. Their debut album lacked a certain amount of verve but was liberally laced with R&B influenced compositions and they scored an unexpected hit with the goodtime rock 'n' blues song Resurrection Shuffle in 1971.

Their second album explored a range of soul-flavoured rock styles with lyrics that often reflected on the evils of war. Eric Clapton and George Harrison guested on one of its better moments, I'm Your Spiritual Breadman and Chicken Shack's Stan Webb played guitar on another, Let It Roll. The final album was less political and more personal than the predecessor. Musically we're talking blues-rock here with the occasional track which veers more towards jazz-rock.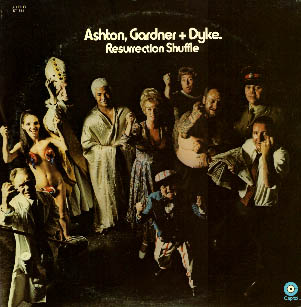 After their demise, Tony Ashton went on to play for Medicine Head and was briefly in Family before teaming up with Deep Purple's Jon Lord in Ashton and Lord. Kim Gardner was later in Badger.

The trio was also featured on a couple of compilations: Supergroups, Vol. 2 (1970) included Rolling Home and Rock Party contained Maiden Voyage.
Taken from The Tapestry of Delights - The Comprehensive Guide to British Music of the Beat, R&B, Psychedelic and Progressive Eras 1963-1976, Vernon Joynson ISBN 1 899855 04 1
---
Though chiefly remembered for their UK No.3 hit, "Resurrection Shuffle", the careers of Ashton, Gardner & Dyke stretched back a long way before they achieved that sole international smash in 1971.

Bassist Kim Gardner (born 27 Jan 1946, Dulwich, London) began his musical adventures in 1961 in the Middlesex based R&B outfit The Birds along with future Rolling Stones guitarist Ronnie Wood, vocalist Alistair McKenzie, guitarist Tony Monroe and drummer Pele McDaniels. They made three singles for Decca between 1964 and 1965, "You're On My Mind"/"You Don't Love Me", "Leaving Here"/ "Next In Line" and "No Good Without You Baby"/"How Can It Be" and also appeared in the horror movie, "The Deadly Bees" (as well as having a legal battle with the American Byrds) before splitting in late 1966 (though a further single, "Say These Magic Words"/"Daddy Daddy", was released, credited to Birds, by Reaction at the same time). Gardner then teamed up with guitarist Eddie Phillips, vocalist Kenny Pickett and drummer Jack Jones in The Creation and scored minor chart success with the singles "Making Time"/"Try And Stop Me" (Planet 116, No.49 July '66) and "Painterman"/"Biff Bang Pow" (Planet 119, No. 36 November '66) though their further singles, "If I Stay Too Long"/"Nightmares" (Polydor 56177) and "Life Is Just Beginning"/"Through My Eyes" (Polydor 56207), both failed to chart as did two other singles, featuring Gardner's old Birds colleague Ronnie Wood who'd replaced Phillips, "How Does It Feel"/"Tom Tom" (Polydor 56220) and "Midway Down"/"Girls Are Naked" (Polydor 56246). With the band splitting in mid-'68, Gardner, along with Wood, Twink and Jon Lord recorded as Santa Barbara Machine Head before teaming up with Ashton and Dyke.
Organist/vocalist Tony Ashton (born 1 March 1946, Blackburn) began his career in North West England beat group The Executives, who, whilst he was with them, released two singles, "March Of The Mods"/"Why Why Why" (Columbia DB 7323) and "Strictly For The Beat"/"No Room For Squares" (DB 7393). He was also briefly a member of The Collage Boys and The Mastersounds before, in March 1965, accepting an offer from Liverpool group Remo Four. The band's drummer was Roy Dyke (born 13 February 1945, Liverpool) who'd been with the group since 1961 and had released two singles prior to the arrival of Ashton, "I Wish I Could Shimmy Like My Sister Kate"/"Peter Gunn" (Picadilly 7N 35186). Together with bassist Phil Rogers and guitarist Colin Manley they played in Hamburg for almost two years and also released a single "Live Like A Lady"/"Sing Hallelujah" (Fontana TF 787) before splitting in early 1968, by which time Ashton and Dyke had met up with Gardner and the trio decided to form their own outfit.

Their first job was to provide backing on one of P.P.Arnold's tours after which, in late '68, they secured a deal with Polydor Records who released the single "Maiden Voyage"/"See The Sun In My Eyes" (BM 56306) plus the threesome's self-titled debut LP (583081) which included the single's A-side. A heavy touring schedule throughout most of 1970 paved the way for their second album, "The Worst Of…", by which time they'd signed to Capitol Records (EST 563), which featured contributions from guests like George Harrison, Eric Clapton, Stan Webb and P.P.Arnold. Later in the same year, they released the single "Resurrection Shuffle"/"Hymn to Everyone" (CL 15665) which promptly shot to No.3 in the UK charts, spending over three months in the Top 75, as well as hitting No.22 in Germany and No.40 in America. However, this proved to be their only UK hit as the follow-up, "Can You Get It"/"Delirium" (CL15684) failed to register (though it did hit No.44 in Germany). Likewise, their third album, "What A Bloody Long Day It's Been" (EAST 563) also failed to chart and so, after providing the soundtrack, alongside Jon Lord, for the U.S. movie, "The Last Rebel" (Capitol 062 80964), the trio disbanded in early 1973.
Tony Ashton had also worked with Green Bullfrog, Mike Hurst, Third World War, Tucky Buzzard and Jon Lord, whilst with Gardner and Dyke and he continued session work by helping out the likes of Family, Chris Barber, Jerry Lee Lewis and Longdancer. His first solo single "You, Me And A Friend Of Mine"/"I'm Dying For You" (CL 15702), taken from "The Last Rebel" LP, had come out in early 1972 and he followed it in 1973 with "Celebration"/"Sloeback" (Purple PUR 109). He also continued working with Jon Lord appearing on the single, "We're Gonna Make It"/"Band Of The Salvation Army Band" (PUR 121) and LP, "The First Of The Big Bands" (3507). He also released two further solo singles, "Resurrection Shuffle"/"Ballad Of Mr. Giver" (Oyster OYR 101) and "The Crezz"/"Somethin' Something" (Handkerchief Hanky 14) as well as working with Chicken Shack, John Entwhistle and Medicine Head before forming PAL with Lord and Ian Paice, releasing the 1977 LP, "Malice In Wonderland" (Oyster 2391269), and taking part in the Wizards Convention project. Since then he's concentrated on producing though he did appear at the all-star Concert For Kampuchea in 1979. Roy Dyke joined Badger and appeared on their LPs, "One Live Badger" and "White Lady". He also worked with Chris Barber, Family and Medicine Head, as well as Pat Travers, and continued as a leading session drummer. Kim Gardner joined Badger for their second LP and then worked with the likes of Mike Hugg, Chris Barber and Dwight Twilley before becoming a permanent member of Billy Burnette's backing group.

Mark Brennan
Taken from the CD reissue of "The Worst Of Ashton, Gardner and Dyke", Repertoire, REP 4458-WY, 1994
---
To Walid Itayim's brilliant Tony Ashton Home Page