Week of November 30, 1997
Hello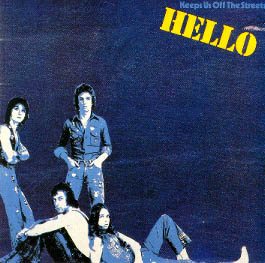 Personnel:
Jeff Allen - Drums
Bob Bradbury - Guitar, Vocals
Vic Faulkner - Bass
Keith Marshall - Guitar, Vocals
Album:
Keeps Us Off The Streets (Bell BELLS 263) 1975

CDs:
The Glam Years 1971-79 (Biff BIFF 1 CD), 1988
The Early Years (DOJO EARL D 17) 1993
New York Groove... The Best Of Hello (Music Club, MCCD 112) 1993
Keeps Us Off The Streets (Castle Legends, CLC5083) 1992
Best Of & Rarities (Repertoire, 4801-WG) 1999

45s:
You Move Me/Ask Your Mama (Bell BLL 1238) 1972
C'mon/The Wench (Bell BLL 1265) 1972
Another Schoolday/C'mon Get Together (PS) (Bell BLL 1332) 1973
Tell Him/Lightning (Bell BLL 1377) 1974
Games Up/Do It All Night (Bell BLL 1406) 1975
Bend Me, Shape Me/We Gotta Go (Bell BLL 1424) 1975
New York Groove/Little Miss Mystery (Bell BLL 1438) 1975
Star Studded Sham/Jenny Dream (Bell BLL 1470) 1976
Teenage Revolution/Keep Us Off The Streets(Bell BLL 1479) 1976
Love Stealer/Out Of Our Heads (Bell BLL 1482) 1976

Reissued single:
New York Groove/Tell Him (Old Gold OG 9463) 1985
---
Hailing from the Tottenham/Wood Green area of North London, Bob Bradbury (guitar/vocals), Keith Marshall (guitar/vocals), Vic Faulkner (bass) and Jeff Allen (drums) were discovered in 1971 by Chappell's Music plugger David Blaylock, playing cover versions, under the name The Age, in the local youth clubs. At the time Blaylock was handling Russ Ballard, guitarist with Argent, and was looking to place a song Ballard had written called "Can't Let You Go". Changing the group's name to Hello, Blaylock and Ballard took the band into Livingston Studios, at the time based in a church in Barnet, to record the song and though it has remained unreleased until now, a version of it gave Barry Ryan a No. 32 chart hit in early 1972.
Another Ballard track, "You Move Me", however became the band's first single release when they signed to Bell Records. When that and the follow up "C'Mon" failed to chart, Blaylock again began searching for the song and was offered "Dynamite" by Nicky Chinn and Mike Chapman who at the time were providing the hits for the likes of Mud, Sweet and Suzi Quatro.
Though the band recorded the song it was rejected in favour of a group composition "Another School Day" by Mike Leander who had taken over from Ballard as producer. Subsequently "Another School Day" failed to chart though it did earn Hello their first TV exposure on "Lift Off" and "Dynamite" became a No. 4 hit for Mud!
Leander then suggested covering the old Exciters hit "Tell Him" as he felt the Glitter
Band's version of the track (from the "Hey!" LP, also produced by Leander) could be improved on. He was right as the song shot to No. 6 in the UK charts and also hit the No. 32 spot in Germany. His choice of the Glitter Band's "Games Up" as the follow up however wasn't so astute as it failed to chart in the UK, though it did hit No. 28 in Germany where Hello were becoming something of a teeny-bop sensation. David Blaylock then suggested a cover of "Bend Me Shape Me" thought this too failed to chart in the UK, even with the help of a tour supporting Gary Glitter, and only hit No. 49 in Germany.
In fact, it would be Russ Ballard who would provide the band and management with that elusive second hit, "New York Groove" became a hit all over Europe reaching No. 9 in the UK and No. 7 in Germany and is the song most remember the band by. Hello also secured a part in the film "Side by Side" alongside Barry Humphries, Stephanie De Sykes and Mud playing the resident club band in a story of two rival gangs. indeed the band were establishing quite a formidable live band reputation through their tours with the likes of Gary Glitter, The Bay City Rollers and Smokie who they toured Germany with when "Star Studded Sham" hit the No. 16 spot, though it incredibly failed to chart in the UK. "Teenage Revolution" was scheduled to be the bands ninth single for Bell but though roughly a thousand demo copies were made it was shelved by the label in favour of the Phil Wainman written and produced "Love Stealer" and though the single was a No. 13 hit in Germany it would be the band's last release for Bell Records as the label was absorbed into Arista Records.
Hello continued to record and tour throughout the late seventies, most notably in Germany and Japan, though success in the home land was not forthcoming and they split in 1979. However, as this "Early Years" more than shows, they left behind some of the best examples of sing-along, foot stomping, first shaking glam rock ever recorded and more than deserve their place in rock's hall of fame.
Mark Brennan
Taken from the CD Compilation, "The Early Years" (DOJO EARL D 17) 1993
---