Week of June 20, 1999
Gary Glitter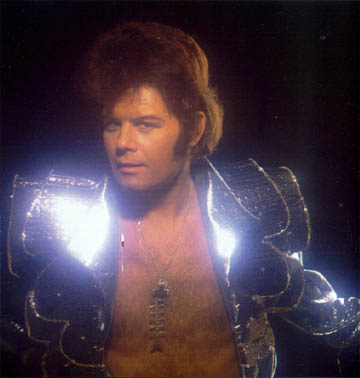 With over 20 million record sales to his name, Gary Glitter isn't just a superstar - he is a phenomenon whose life, both private and public, mirrors his extravagant, controversial and over the top, but always entertaining, live performances. His 21 hit singles have earnt him a place in the Top 100 all time most successful chart acts, the records spending a combined total of 168 weeks in the UK Top 75!
Born Paul Gadd in Banbury, Oxfordshire, on May, 8th 1944, the future Mr. Glitter's first serious band was Paul Russell & His Rebels, the Russell part of the name being his stepfather's surname. His first public appearance was in a Saturday morning Skiffle contest at the Sutton Granada where they performed the Buddy Holly song 'Oh Boy!'
"We were just as bad as every other Skiffle group of the day", recalls Gary, "we had a Tea Chest bass with a broomstick and a drummer who had made his own drums by stretching thick brown paper over some old tin cans!" By 1958, a 'mark two' version of The Rebels, with drummer Brian Ramsay and guitarists Mike Thompson and Pete Rainer, had secured a residency at Trafalgar Squares Safari Club. It was during a gig at The Safari that Gary was approached by film producer Robert Hartford Davis who became his manager. For the year he was handled by Hartford Davis, he secured a contract with Decca Records, changed his name to Paul Raven, released his first record, 'Alone In The Night' ("one of the worst records ever put out", says Gary!), made his debut TV appearance on 'Cool For Cats' and landed a small part in the 'Stranger In The City' film. With The Rebels he also headed out on a package tour that featured the likes of Ronnie Corbett, Tony Newley, Mike and Bernie Winters and Bernard Bresslaw! However, with only Gary willing to take the chance and turn professional, The Rebels soon fell apart leaving Paul Raven to continue alone.
In 1961, after dates in Scandinavia, the second Paul Raven 45 'Walk On Boy' was issued by Parlophone Records, though, like 'Alone In The Night', it failed to chart. The George Martin-produced 'Tower Of Strength' also failed to give Raven a hit and so he took up the job of a warm-up man for the pop show 'Ready Steady Go': "I knew I could do better then a whole lot of the performers going on the show, yet there I was just entertaining the studio audience". Through working on the show he met songwriter Mike Leander who invited him to front the Mike Leander Orchestra on a UK tour, supporting The Bachelors. When the tour finished, he formed Paul Raven & Boston International and headed out to the booming club scene in Germany. Initially booked for a month, he ended staying, almost permanently, for five years!
Throughout this time, he kept in touch with Leander who by then had not only been involved in over 50 hit records (like 'Early In The Morning' by Vanity Fare and 'Lady Godiva' by Peter & Gordon) but was also head of production at MCA Records. Leander signed Raven to the label and wrote the single, 'Musical Man', which Gary released under the name of Paul Monday in June of the same year. Two months later and back under the name Paul Raven, he released 'Soul Thing', again penned by Leander, though neither went anywhere near the charts. Changing name to Rubber Bucket, he released 'We Are Living In One Place' which featured a crowd or 3000 people singing the chorus which was actually a vocal chant to the hymn 'Amazing Grace'! The crowd were actually squatters camped out in offices near MCA's HQ!! Neither this single nor two further MCA's 45s, George Harrison's 'Here Comes The Sun' issued as Paul Monday and Sly Stone's 'Stand' released as Paul Raven, went anywhere near the charts and the last anyone would hear of Paul Raven was on the soundtrack to 'Jesus Christ Superstar' on which he played the roles of two priests!
Both Leander and Raven knew they wanted to work together even though all their previous efforts had failed to set the world alight. At the same time, as Raven was dropped by MCA, Leander also quit the company and got an office in the GTO building, also the base for songwriter Tony McAuley and manager Tony DeFries. From here the pair plotted how to launch the newly-named Gary Glitter on an unsuspecting public. "The name came about one fairly drunken afternoon spent trying to think up names for the ultimate Glam Rock act. Stan Sparkle, Terry Tinsel and Horace Hydrogen were among suggestions put forward, but Gary Glitter was declared the winner". With some free studio time available due to a cancellation by David Essex and a song title courtesy of a Melody Maker feature entitled 'Rock'n'Roll Parts 1 & 2', the pair recorded the debut Gary Glitter single, Leander playing the instruments and Gary painfully putting down every one of those handclaps!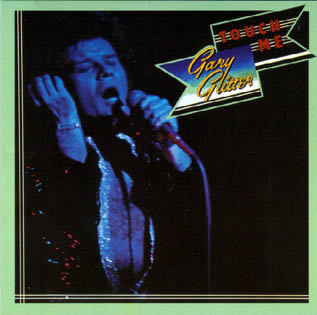 Officially, Gary Glitter was born on March 3rd, 1972 with the release of 'Rock'n'Roll'. 1,500 promo copies were sent out to DJs and journalists but it was the discos that got behind the single and it began slowly climbing up the charts with their support, eventually peaking at No.2 in July and selling over a million copies in the UK alone. "Until the single charted, we'd never considered the live aspect of Gary Glitter so when we got a call from Top Of The Pops we panicked! We had no band so we got as many people we knew who could hold an instrument, eight including myself and Mike who mimed the guitar, got ourselves kitted out top to toe in glitter and did the show!" With demand for a full tour, Gary had to get a proper band together and 'The Gary Glitter Rock'n'Roll Spectacular' featured bassist John Springate, guitarist Gerry Shepperd, drummers Pete Phipps and Pete Gill and sax players Harvey Ellison and John Rossall, their first date being on July 15th at Melksham Village Hall in Whiteshire. Throughout August, they toured the length and breadth of the country, their louder than loud costumes, good time Rock'n'Roll and Gary's unique ability not just to get an audience's attention but to hold it and mold it, laying the foundations for future tours that weren't so much gigs as events.
With the follow-up single, 'I Didn't Know I Loved You (Till I Saw You Rock'n'Roll)' hitting No.4 in October 1972, 'glittermania' swept the nation, a fan club was set up and the venues got bigger and bigger as he ended 1972 in the Top 10 Singles Artists of the Year. "We felt the main reason we'd maintained the first hit's momentum was that we knew immediately what made us popular. We'd established a trademark sound and that's one of the hardest things in the world for a group to do".
That instantly identifiable trademark sound, The Glitter Beat, made 1973 Gary's most successful year. Two UK No.2s, 'Do You Wanna Touch Me (Oh Yeah)' and 'Hello Hello I'm Back Again' were followed by two No.ls in 'I'm The Leader of The Gang (I Am)' and 'I Love You Love Me Love', the latter actually entering the chart at No.1 and staying there for a month. The 'Touch Me' album spent 35 weeks in the charts and, as well as touring the UK, Gary also toured Germany, Australia, France, Spain, Italy, Holland, Belgium, Scandinavia and Austria, and recorded a BP200,000 documentary film, 'Remember Me This Way' at London's Rainbow Theatre. All this despite continued ridicule from the "serious" (?) music press who dismissed him as a passing fad, 'the world's largest chromium jelly', and who also added 10 years to his official age of 28 and continually knocked his weight problems. The people who mattered, however, the record buyers and concert goers, thought differently and lapped up his every extravagant costume change and his pure showmanship. The Gang needed a leader and Gary Glitter won the vote by miles.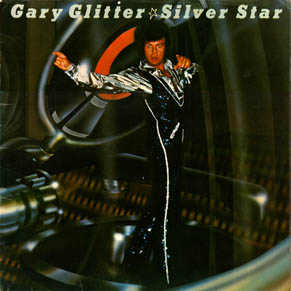 With The Glitter Band launching a chart career of their own with 'Angel Face', Gary continued to confound his critics by continuing his own incredible love affair with the charts. The ballad, 'Remember Me This Way', hit No.3 in March 1974 and was followed by a No.1 with 'Always Yours' and a No.2 with 'Oh Yes, You're Beautiful'. The Glitter Band themselves also scored further hits in the same year with 'Just For You' and 'Let's Get Together Again' and all over the world the Glitter Beat could be found nestling high in the Top 10s. Two 1975 'glitterbeat' hits, 'Love Like You And Me' and 'Doing Alright With The Boys', charted before Gary went to America to record 'The G.G. Album' which also featured a then-unknown Luther Vandross on backing vocals. A mixture of R&B and New York disco, the LP was poorly received by Glitter devotees and the single, 'Papa Oom Mow Mow', only managed to hit No.38. "Somewhere along the line Gary Glitter got lost and Paul Raven re-emerged. It was a very good album but it wasn't Glitter".
Just as 'You Belong To Me' hit No.40 in the singles chart and a 'Greatest Hits' collection reached No.33 in the LP charts, Gary announced his 'retirement' from live performances. A sold-out UK Tour preceded 5 nights at London's New Victoria Theatre, the last of which was televised. These, of course, were not his last gigs but they did give Gary time to sort out his personal and business life, the effects of four years of solid touring, recording, promoting and being a celebrity having severely taken their toll. Minor hits with 'It Takes All Night Long' and 'A Little Boogie Woogie In The Back Of My Mind' kept his name in the spotlight for the early part of 1977, despite neither being really in the 'glitterbeat' vein. Relocating to Paris in the Summer of 1977, he kept a relatively low profile until being offered the part of Frank N Furter in a New Zealand production of 'The Rocky Horror Show': "I was really into the whole spirit of Rocky Horror as the message was, 'don't dream it, be it', which was the true spirit of Glitter!" A spell living in Australia followed before in late 1979 he felt the urge to return to the UK and to re-launch Gary Glitter.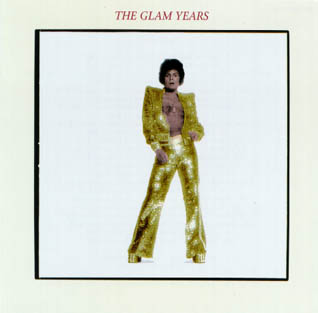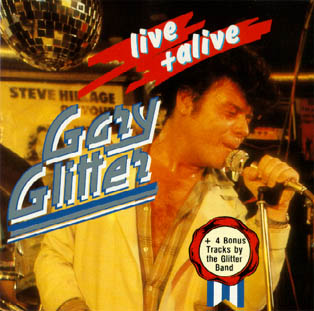 His comeback began in November 1980 with a short small club tour and the release of two independent singles, 'Whatcha Momma Don't See' and 'When I'm On': "I still think they are two of the best Glitter records ever made" - and by now his audiences were swelling with the ranks of Punks and Mohawks who hailed him as 'The Godfather Of Punk'. Throughout the early eighties, he worked tirelessly on the live circuit, his shows as extravagant as ever, and totally reestablished his career and credibility. The Lyceum and other major venues were regularly packed to the rafters and he was a firm favourite on the university circuit. Joan Jett had a US Top 20 hit with 'Do You Wanna Touch Me' and Gary himself stepped back into the UK charts when 'Dance Me Up' hit No.25 in July 1984. That Xmas, he enjoyed his biggest hit for nine years when 'Another Rock'n'Roll Christmas' hit No.7 and he at long last was able to shake off some of the problems that had his personal life.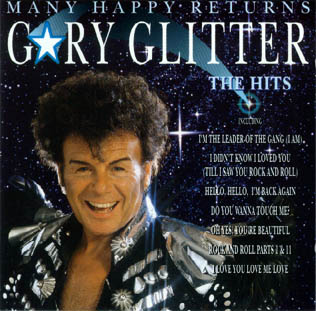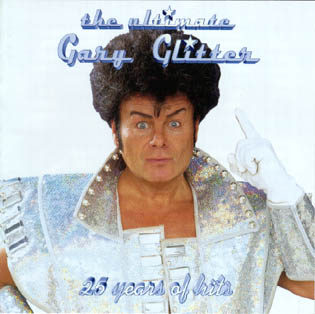 TV adverts for Heinz soup and poster adverts for British Rail kept him high in the public profile stakes and the venues he was filling in 1974, at the height of Glitterdom, were now being filled again in 1988, a remarkable feat when you consider that other chart acts of the 70s like Mud, Sweet and Alvin Stardust were lucky to fill the 'chicken in a basket' cabaret venues. The NME put him on the front cover, The Timelords featured him on their No.1 'Doctorin The Tardis' single and he presented his own chat show, 'The Leader Talks' on late night TV. Acting also took up a huge chunk of his time as did the organisation of The Gang Show, an annual Christmas tour of the UK's largest venues. Still extravagant and still larger than life, he remains the ultimate showman and proof that no matter what life throws at you, if you have the will you'll find the way. Your hero, my hero, the Leader of the biggest Gang around, the One and Only Mr. Gary Glitter.
Mark Brennan
Taken from The Glam Years - Repertoire's 2CD Gary Glitter retrospective, 1995, REP 4430-WO
---
Discography
Paul Raven Singles
Alone In The Night/Too Proud Decca F11202
Walk On Boy/All Grown Up Parlophone R4812
Tower of Strength/Livin' The Blues Parlophone R4842
Soul Thing/We'll Go Where The world Can't MCA MU 1035
Stand/Soul Thing MCA MKS 5053
Paul Monday Singles
Musical Man/Wait For Me MCA MU 1024
Here Comes The Sun/Musical Man MCA MK 5008
Rubber Bucket Single
We Are Living In One Place/Take Me Away MCA MK 5006
Gary Glitter Singles
Rock'n'Roll Pt.l/Rock'n'Roll Pt.2 BELL 1216
I Didn't Know I Loved You/Hard On Me BELL 1259
Do You Wanna Touch Me/I Would If I Could BELL 1280
Hello Hello I'm Back Again/I.O.U. BELL 1299
I'm The Leader Of The Gang/Just Fancy That BELL 1321
I Love You Love Me Love/Hands Up It's A Stick Up BELL 1337
Remember Me This Way/It's Not A Lot BELL 1349
Always Yours/I'm Right You're Wrong I Win BELL 1359
Oh Yes You're Beautiful/Thank You Baby For Myself BELL 1391
Love Like You And Me/I'll Carry Your Picture Everywhere BELL 1423
Doing Alright With The Boys/Good For No Good BELL 1429
Papa Oom Mow Mow/She Cat Alley Cat BELL 1451
You Belong To Me/Rock'n'Roll Pt.1 BELL 1473
Rock'n'Roll Pt.2/ Do You Touch Me/
Hello Hello I'm Back Again/Leader Of The Gang BELL Rebel 1
It Takes All Night Long Pt.1/Pt.2 ARISTA Arist 85
A Little Boogie Woogie In The Back Of My Mind/Lay It On Me ARISTA Arist 112
Baby Please Don't Go/The Wanderer GTO GT 103
Oh What A Fool I've Been/365 Days ARISTA Arist 137
I Dare You To Lay One On Me/Hooked On Hollywood ARISTA Arist 154
Superhero/Sleeping Beauty GTO GT 247
Leader Of The Gang/Hello Hello I'm Back Again/
Do You Wanna Touch Me/ Rock'n'Roll Pt.2 GTO GT282
What Your Momma Don't See/ I'm Not Just A Pretty Face EAGLE ERS 004
When I'm On/Wild Horses EAGLE ERS 009
And Then She Kissed Me/I Love How You Love Me BELL 1497
All That Glitters/Reach For The Sky BELL 1498
Be My Baby/Is This What Dreams Are Made Of BELL 1503
Ball Of Confusion/Suspicious Minds VIRGIN VV219/4AA
Rock'n'Roll Pt.2/Always Yours/I'm The Leader Of The Gang/
I Didn't Know I Loved You/Remember Me This Way/
I Love You Love Me Love SCOOP 7SR5002
Dance Me Up/Too Young To Dance ARISTA Arist 570
Shout Shout Shout/Hair Of The Dog ARISTA Arist 586
Another Rock'n'Roll Christmas/Instrumental Mix ARISTA Arist 592
Love Comes/Boys Will Be Boys ARISTA Arist 615
Rock'n'Roll Pt.3/ Rock'n'Roll Pt.4 STIFF Glit 1
Frontiers of Style/The Only Way To Survive TRAX 7TX 4
Mega Glitter Rock A Live - Be Bop A Lula/Rock'n'Roll Pt.1/
Good Rockin' Tonight/Baby Let's Play House Castle Gary 001
Red Hot Reputation/Beats Being By Yourself VIRGIN VS 1320
Ready To Rock/Only Way To Survive ATTITUDE Oy 1
And the Leader Rocks On/Let's Go Party EMI EM 252
Through The Years/Another Rock'n'Roll Christmas EMI EM 256
Albums
Glitter BELL Bells 216
Touch Me BELL Bells 222
Remember Me This Way BELL Bells 237
GG BELL Bells 257
Silver Star ARISTA Sparty 1020
Boys Will Be Boys ARISTA 206/687
C'mon C'mon - The Party Album TELSTAR Star 2310
Leader II ATTITUDE Oylp 001
Gary Glitters Gangshow CASTLE CCSLP 234
Compilations
Always Yours MFP SPR 90076
Greatest Hits BELL BELLS 262
I Love You Love HALLMARK SHM 916
Golden Greats GTO GTLP 021
The Leader GTO GTLP 046
The Leader EPIC EPC 32200
Alive And Kicking AP, APK 7
Always Yours DOJO Dojo LP 20
Back Again (& The Glitter Band) PICKWICK PWK4052
Many Happy Returns - The Hits EMI, 7 80982
Guest Spots
The Poets 'Baby Don't Do It' (produced by Paul Raven) IMMEDIATE IM24
Thane Russal 'Security' (produced by Paul Raven) CBS 202049
Jesus Christ Superstar (plays role of a priest) MCA MDKS 8012
B.E.F. 'Music Of Quality And Distinction' (lead vocal 'Suspicions Minds') VIRGIN BEF1
Girlschool 'Leader Of The Gang' (dual lead vocal) GWR GWR 1
The Timelords 'Doctorin The Tardis' (vocal on the re-mix version) KLF 003 R
---