Week of March 21, 1999
Curved Air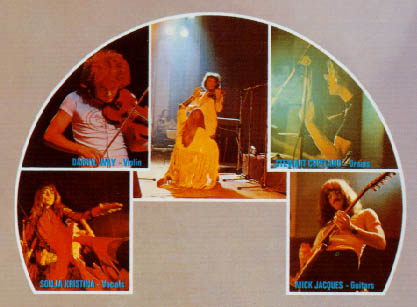 Personnel:
Sonja Kristina
Robert Martin
Francis Monkman
Florian Pilkington-Miksa
Darryl Way
Ian Eyre
Mike Wedgwood
Kirby Gregory
Eddie Jobson
Jim Russell
Phil Kohn
Stewart Copeland
Mike Jacques
John Perry
Tony Reeves
Alex Richman

Albums
Airconditioning (Warner Brothers Ws 3012) 1970
Second Album (Warner Brothers K 46092) 1971
Phantasmagoria (Warner Brothers K 46158) 1972
Air Cut (Warner Brothers K 46224) 1973
Curved Air Live (Deram SML 1119) 1975
Midnight Wire (BTM 1005) 1975
The Best Of Curved Air (Warner Brothers K 36015) 1976
Airborne (BTM 1008) 1976
"Airconditioning" Catalogue number changed to K 56004 in 1971, following the Warner Bros / Elektra / Reprise merger. "Airconditioning" was also the first ever album to be issued as a picture disc (WSX 3012). "Curved Air Live" was also issued on BTM (5001) in 1975. "Curved Air Live" reissued on CD (Deram 820 522-2) 1988, (Repertoire REP 4514-WY) 1995 and (HTD CD 49) 1995. "Midnight Wire" reissued on CD (Repertoire REP 4499-WY) 1995 and (HTD CD 50) 1995. "Airborne" reissued on CD (Repertoire REP 4493-WY) 1994. Fans of the band will also want to check out "Live At The BBC" (Band Of Joy BOJCD 014) 1995, which contains versions of some of their finest moments: "Vivaldi", "Stretch", "It Happened Today", etc. "Lovechild" (Castle ESSCD 024) 1990 contains material dating from early 1973 and is short on playing time.
45s
It Happened Today/Vivaldi/What Happens When You Blow Yourself Up? (Warner Brothers WB 8023) 1971
Back Street Luv/Everdance (Warner Brothers WB 8029) 1971
Sarah's Concern/Phantasmagoria (Warner Brothers K 16164) 1972
Back Street Luv/It Happened Today/Marie Antoinette/Ultra Vivaldi (Warner Brothers K 16412) 1974
Back Street Luv/Everydance (Warner Brothers K 16092) 1974
Back Street Luv/It Happened Today (live) (Deram DM 426) 1975
Desiree/Kids To Blame (BTM SBT 103) 1976
Baby Please Don't Go/Broken Lady (BTM SBT 106) 1976
Renegade/We're Only Human (Pearl Key PK 07350) 1984
---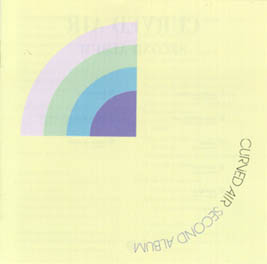 A talented and rather underrated progressive rock band Curved Air formed in March 1970. Sonja Kristina, their lead vocalist and sex symbol, had previously made a handful of TV appearances as a teenager in the 'Song and Story' series. She then worked her way on to the folk circuit and later appeared in 'Hair' providing the lead vocals on Frank Mills, which not only appeared on the Soundtrack album, but was also released as a 45. Darryl Way had met Francis Monkman by chance in a music shop, whilst Way was studying at the Royal College of Music. Monkman was currently playing with an outfit called Sisyphus. He also chose the band's name because he was captivated by Terry Riley's "Rainbow In Curved Air" album at the time.
Their debut album was released to enormous hype and a large promotional budget. Aside from the ordinary release, a substantial number were issued as picture discs - indeed it was one of the first and has inevitably become a minor collector's item. They were carefully packaged to appeal to the prevailing progressive rock genre - using the in vogue violin and synthesizer with quasi-classical material and a sexy female vocalist to provide an additional ingredient. The album's finest moment was "Vivaldi", a 7-minute reinterpretation of "The Four Seasons" by Darryl Way, which includes some superb violin playing, but other highs on what was an imaginative debut include the uptempo "Propositions" and the rather mournful, offbeat "Screw". One of the less strong cuts, "It Happened Today", was released as a 45 and the B-side included "What Happens When You Blow Yourself Up?", which did appear on their album.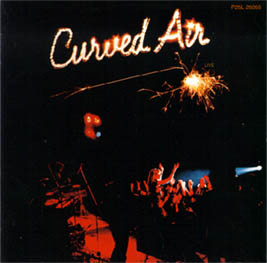 In 1971 the band toured America although they never cracked the lucrative US market and only attained a cult following. Indeed only their first three albums were released there. Shortly after they returned they enjoyed their only UK hit when "Back Street Luv" (later included on their "Second Album") climbed to No 4 in the Summer of that year on the crest of the progressive rock wave. Ian Eyre replaced Robert Martin on bass at around this time.
"The Second Album" was another fine slab of vinyl, in many respects a progression on their innovative debut. The opener "Young Mother" showcased Kristina's vocal talents admirably as well as Way's songwriting talents. Indeed, all the songs on side one were his - and whilst "You Know" may have been rather below par, the dream-like "Jumbo" and "Puppets" were both rather sensitive, melodic songs with Kristina's vocals at their most delectable. Francis Monkman wrote all the material on side two, with the lengthy "Piece Of Mind" the imaginative highlight. Indeed, this highly complex, innovative song was one of the finest moments of their six year career and possibly of UK progressive rock.
In January 1972 Mike Wedgwood replaced Ian Eyre on bass and the third album was preceded by a single, "Sarah's Concern", which made so little impression it was excluded from the "Phantasmagoria" album. For many (though not for me) this was their finest work. Again Way was responsible for most of the material on side one and the rather tedious "Marie Antoinette" became a favourite of the fans though to me Kristina's gentle, dreamlike "Melinda (More Or Less)" was far superior. The side closed with Way's "Ultra-Vivaldi". On side two "Whose Shoulder Are You Looking Over Anyway" consisted of Sonja's voice fed through a computer and accompanied by a synthesizer. The long Monkman track this time, "Over And Above", was jazzier than anything the band had done previously, whilst the finale, the fun-loving "Once A Ghost Always A Ghost" was an assortment of percussion, brass and various noises. To me that album was hardly a progression on their previous works.
After "Phantasmagoria", 'personality clashes and musical disagreements' tore the band apart. Darryl Way left to form Darryl Way's Wolf, Monkman went into session work and Florian Pilkington later played with Kiki Dee's backing group. This left Kristina to build a new band around herself and Wedgwood. The most significant recruit was 17-year old Eddie Jobson, a young keyboard wizard. This line-up recorded "Air Cut", an inconsistent album though arguably their most underrated. The band took on a rockier sound now that the Way/Monkman influence was no longer around, although the instrumental "Armin" sounded like an imitation of a Darryl Way composition. If "World" was a throwaway number and "The Purple Speed Queen" and "U.H.F." were rather nondescript, these were countered by Kristina's upbeat "Easy" and gentle, mournful "Elfin Boy". However, tucked away on this rather erratic album was the band's finest work, Jobson's keyboard-driven "Metamorphosis", which showcased Sonja's crystal clear vocals at their most childlike and innocent and Jobson's keyboard dexterity as he plays the grand piano, electric piano, organ, VC S3, synthesizer and mellotron in the course of this extended delight. This line-up was short-lived, disbanding when Jobson left to replace Eno in Roxy Music. Kirby Gregory and Jim Russell formed Stretch and Wedgwood joined Caravan.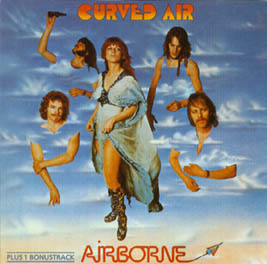 Sonja briefly returned to 'Hair' for three months in the Summer of 1974 but by September of that year apparently faced by a large unpaid VAT bill four of the five original members relaunched the band to make enough bread to pay off the debt. During an intensive three week UK tour "Curved Air Live" was recorded and featured strong versions of some of the band's stage favourites: "Vivaldi" (now complete with a vocal section and highland fling), "Back Street Luv", "Young Mother" and an extended version of "Propositions". A live 45 was issued, coupling their first two singles: "It Happened Today" and "Back Street Luv", but it failed to sell. After the tour Monkman went off to form Sky and Pilkington/Minsa drifted out of the music scene.
Anxious to keep the band on the road Sonja and Darryl Way drafted in their road manager for the reunion tour; Stewart Copeland on drums, and guitarist Mike Jacques. Bassist Phil Kohn, who'd been recruited for the tour to augment the original quartet, was made permanent but left in August 1975. He was replaced by John Perry (ex-Caravan) who sat in on the recording of "Midnight Wire". The highlight of this rockier album was undoubtedly the title track. Co-written by Way and lyricist Norma Tager, who co-wrote all the material on the album, it featured another superb vocal performance from Kristina and more of Way's fine violin playing. Other highlights were the upbeat "Woman On A One Night Stand" and the gentle, romantic "Dance Of Love". No expense was spared in making the album but possibly because it was out of step with the times it didn't sell. Once the album was complete Perry departed to Quantum Jump and brief success. Tony Reeves from Greenslade replaced him.
The band spent much of its final year on the road but managed to find time to record a final album, "Airborne". It passed unnoticed at the time but is worth investigating. The album is dominated by Kristina's vocals. The highlights are three Darryl Way compositions, "Juno", "Moonshine" and "Dazed"; the sad and gentle "Broken Lady" and the summery "Touch Of Tequila". However, the rather mundane "Desiree" was chosen for a 45 and not surprisingly made little impact.
Darryl Way left to go solo before "Airborne" was released. Alex Richman (ex-Butts Band) became the final member to be recruited to the band, who decided they had got as far as they could at the end of 1976. Two weeks later Stewart Copeland met Sting and Police were formed. Some rock books suggest that Curved Air should have been laid to rest a couple of years earlier but those last two albums contained some lovely songs.
"The Best Of Curved Air" features a fairly random selection of material from their first four albums only. A bootleg, "Live In London", from the mid-seventies includes material from "Midnight Wire" and "Marie Antoinette" (from "Phantasmagoria").
In 1984 Kristina and Way re-united for a one-off single for the Pearl Key label, which was released in limited quantities and isn't easy to find. Since Curved Air's demise Sonja has had lots of children (she is married to Stewart Copeland), occasionally returning to the music scene with Sonja Kristina's Escape (late seventies), she recorded solo albums in 1980 and 1992, occasional singles and had a band called Tunis. Two of her recent CDs are "Songs From The Acid Folk", with Tylor and Friends, and "Harmonics Of Love" with Cloud Ten.
Way pursued a solo career, worked with several other artists and even recorded a concert with Francis Monkman for the 'South Bank Show'. Monkman went on to work mainly with electric orchestras and Jobson became a LA session man. In 1998 he's released a CD, "21st Century Blues" as by Francis Monkman & The Virtuous-Realiti Band. With nearly 80 minutes of original material it also includes a short snippet of Country Joe & The Fish's "Section 43".
"Phantasmagoria" figured on Warner's 1972 "Fruity" compilation, whilst more recently "Back Street Luv" has been compiled on "Progressive Pop Inside The 70s" CD.
Taken from The Tapestry of Delights - The Comprehensive Guide to British Music of the Beat, R&B, Psychedelic and Progressive Eras 1963-1976, Vernon Joynson
ISBN 1 899855 04 1
---