Week of March 29, 1998
Bakerloo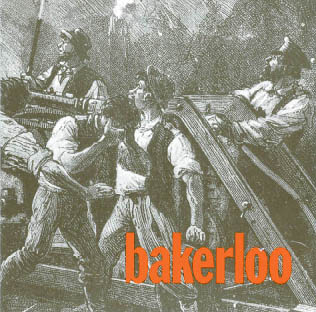 Previously known as The Bakerloo Blues Line, the Tamworth, Staffordshire based Bakerloo originally formed in the mid-sixties with a line up comprising Dave 'Clem' Clempson (guitar/vocals), Terry Poole (bass) and Keith Baker (drums).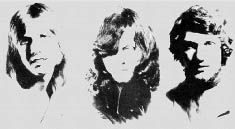 The Jazzy Power Blues style of the band led to them being compared to the likes of Cream and the individual playing skills of each member were definitely of a comparable nature. Their manager Jim Simpson, who also looked after Black Sabbath when they were known as Earth, organised a U.K. tour under the banner of 'Big Bear Ffolly' which saw the band, along with fellow Midlands groups Earth, Locomotive and Tea And Symphony tour up and down the country, each act gaining experience and a considerable following in the process. Indeed, Bakerloo provided the support the night Led Zeppelin made their Marquee Club debut on 18th October 1968.
Signing to EMI's 'progressive' label Harvest Records in the middle of 1969, they debuted with
the single 'Driving Backwards'/'Once Upon A Time' (HAR 5004) in July and followed it up with their self-titled album in December, on which they were supplemented by session trumpeter Jerry Salisbury. The LP has now become a much sought-after collectors item with mint copies changing hands for BP65. However, shortly after its release, Clempson accepted an offer to replace James Litherland in Colosseum and Bakerloo folded.*
Clem Clempson stayed with Colosseum for two years and three albums before taking over from Peter Frampton in Humble Pie. When he left them in 1975, he recorded with Roger Daltrey on 'Ride A Rock Horse' and then teamed up with ex-Uriah Heep vocalist David Byron in the ill-fated Rough Diamond for their self-titled album of 1977, and then formed the short-lived Champion. Since then, he has become one of the most in-demand session guitarists, working with the likes of Cozy Powell, Tom Waits, Jack Bruce, Colin Blunstone, The Records and Finbar Furey, to name a few. Keith Baker supplied the drums on Uriah Heep's 'Salisbury' album, whilst Terry Poole played on Graham Bond's 'We Put Our Magick On You' LP before becoming a respected session man.
Mark Brennan
Taken from the CD reissue of "Bakerloo", Repertoire, 1993, REP 4358-WP
* George Northall comments: "The liner notes are incomplete and incorrect in that Bakerloo carried on after Clem Clempson left. The band reformed under the direction of Jim Simpson (Big Bear Records and owner of Ronnie Scott's club in Birmingham) who had title (allegedly) to the name. I played saxophone and the guitarist was Adrian Ingram. We played even more jazzier style than when Clem Clempson was there. We toured England & Germany and appeared several times at the Marquee in London as well as on German TV. Just before I left the band, it changed its name to Hannibal and signed with Chrysalis Records. It then went on to record songs I'd co-written with Adrian and I never got any credit or a penny in royalties (although I was told I would!). Interestingly we had a black singer, Kirk St.James who came to us from Hair in Paris and then went on to appear in the comedy film "King Ralph". I'm in the process of trying to see if video and audio tapes still exist in Germany of the TV recordings."
---