Week of February 17, 2002
Locomotive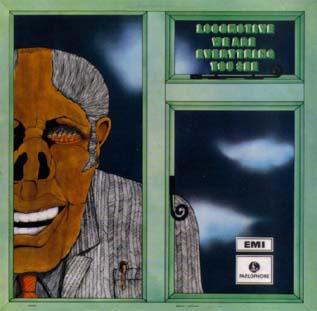 Personnel:
Norman Haines - keyboards, vocals
Mick Hincks - bass, vocals
Bob Lamb - drums
Mike Taylor - trumpet
Lyn Dobson - sax
Dick Heckstall-Smith - sax
Henry Lowther - trumpet
Bill Madge - sax
Chris Mercer - sax
Chris Wood - woodwind
Album:
We Are Everything You See (Parlophone PCS 7093) 1969
Reissued on Zap! (ZAP 5) 1988 and on CD Shoestring (BL 003) 1995; Si Wan, Korea (SRMC6026) 1995
EP:
Rudi's In Love/Mr. Armageddon/There's Got To Be A Way/Never Set Me Free (PS) (EMI 2960) 1979
45s:
Broken Heart/Rudy A Message To You (Direction 58-3114) 1967
Rudi's In Love/Never Set Me Free (Parlophone R 5718) 1968
Mr. Armageddon/There's Got To Be A Way (Parlophone R 5758) 1969
I'm Never Gonna Let You Go/You Must Be Joking (Parlophone R 5801) 1969
Roll Over Mary/Movin' Down The Line (Parlophone R 5835) 1970
Reissue 45s:
Rudi's In Love/You Must Be Joking (Parlophone R 5915) 1971
Rudi's In Love/Never Set Me Free (PS) (EMI 5033) 1980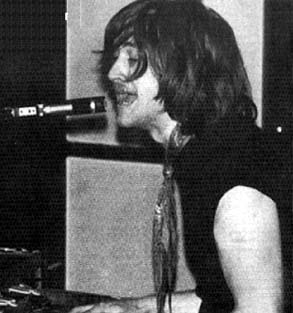 This Birmingham-based band included Chris Wood who was later a founder member of Traffic. They enjoyed a Top 30 hit at the time with their ska-styled "Rudi's In Love". Nowadays their rare album attracts interest from connoisseurs of progressive rock. Far and away the best track on it is "Mr. Armageddon", a stunningly powerful slice of doomy psychedelia with brass, which deserved far more success than it achieved when issued as a 45.

The album, produced by Gus Dudgeon, also includes versions of "Coming Down" and "Love Song For the Dead Che" (songs written by Joseph Byrd and performed with his band The United States Of America on their album). Certainly an album well worth investigating but avoid paying well in excess of £100 for an original.

Locomotive member Norman Haines had earlier played in a mid-sixties beat band called The Brumbeats, but not the band who issued a 45. Haines soon became Locomotive's main songwriter, writing their first 45, "Broken Heart", a soul-based number. The flip was a version of the bluebeat number, "Rudy - A Message To You". The Jamaican influence remained with Haines when he wrote "Rudi's In Love", a dance number which became a hit in the short-term but a millstone in the long-term since it prevented the group from being taken seriously as a progressive rock band which is what they really wanted to be. This was a great pity cause their next 45 was the excellent "Mr. Armageddon", which was their finest moment and had the potential in 1969 to be a hit, but instead it flopped. Their fourth single was a cover of ? And The Mysterians' "I'm Never Gonna Let You Go", a much more poppy offering, though the flip, "You Must Be Joking", was a progressive rock number also featured on their album. When this, too, bombed, the writing was on the wall and Mick Hincks and Bob Lamb soon departed to form Dog That Bit People. Norman Haines went on to form Sacrifice (who did not record) but after their demise EMI released an album of their material credited to the Norman Haines' Band. It is now one of the very rarest artefacts of UK progressive rock and much coveted by collectors.

The recent Shoestring CD reissue of their album comes with 12 bonus tracks, including both sides of their 1968 45 for Direction, all their non-album 45s for Parlophone, a 45 on Transatlantic they recorded under the pseudonym of Steam Shovel and two previously unissued tracks: "Rudi Catch The Monster" and "My Girl Blue".

Compilation appearances have included: "Mr. Armageddon" on "My Generation" (LP), "Not Just Beat Music 1965-70" (LP), "Psychedelia At Abbey Road" (CD), "British Psychedelic Trip, Vol. 2" (LP) and "Great British Psychedelic Trip, Vol. 3" (LP); "Rudi's In Love" on "20 One Hit Wonders" (See For Miles ).
Taken from The Tapestry of Delights - The Comprehensive Guide to British Music of the Beat, R&B, Psychedelic and Progressive Eras 1963-1976, Vernon Joynson
ISBN 1 899855 04 1
---