Billy Fury Merchandise
Billy Fury Rarities - Volumes 15 and 16
Two further volumes in the Billy Fury Rarities series.
Available as a set of two for £69 including postage inside UK; add extra £9 outside UK
These are limited run CDs and will not be going to any other retailers.
---
Billy Fury Rarities - Volumes 13 and 14
Two further volumes in the Billy Fury Rarities series.
15 tracks on each CD - of rare versions of Billy Fury performances and what is probably the most important Billy Fury find for years - one track on each CD is taken from a rare early acetate of a recording of Billy Fury rehearsing acoustic guitar chords for a recording session. Yes, just Billy rehearsing on acoustic guitar - the acetate recording is dated 1959.
Each volume comes with a superb full colour foldout CD booklet with a few previously unseen images of Billy Fury.
Owing to the high cost of the purchase of the two acoustic guitar acetate tracks for the Billy Fury archives, each CD is £23 plus £2 P&P inside UK, £3.90 P&P outside UK.
These are limited run CDs and will not be going to any other retailers.
---
Billy Fury 70th Birthday Special Editions - Rarities Volumes 11 & 12
To celebrate what would have been Billy Fury's 70th birthday, we continue with our popular rarities series - with the Special Birthday Editions, Volumes 11 and 12.
18 great tracks on Volume 11; 21 great tracks on Volume 12. Fold-out birthday CD booklet.
Price each: £19.90 plus £2.50 postage inside UK, add extra postage outside UK.
Not available in shops - very limited supply - the rarities series has become much sought-after and a couple of complete sets went for a very high price at a recent music memorabilia auction!
---
Billy Fury - Maybe Tomorrow DVD
£26 + £2.50 postage inside UK, add extra for postage outside UK
Features some very rare, previously unseen film footage of Billy Fury with a soundtrack of some interesting songs from Billy's career
---
CD Rarities Volume 10

OZIT CD 90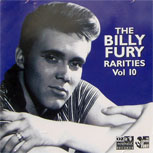 (click above to view full size images)
This CD, Volume 10 in the rarities collection, is not available in the shops and possibly never will be. Only available from Ozit-Morpheus records via mailorder.

18 tracks - two-thirds are rare live recording, one-third - rare live studio material.
Price: £16 + £1.75 P&P inside UK; £3.50 P&P outside UK
---
Over 20 tracks of Billy Fury rarities on each CD
Full litho printed booklet and inlay
Very rare short-run CDR albums - part of the Rarities series which now run from 1 to 9
Volumes 1 to 5 are the rare ones and are available at £16.75 including P&P per volume
---

Billy Fury Rarities Volume 7
Each CD is a hand-numbered limited edition

Contains 18 tracks of superb Billy rarities

Comes with a 12-page CD booklet containing many rare photographs and press articles about Billy
Price: £14.75 including P&P
---

(click above to view full size images)
Special 25th Anniversary Limited Edition CD Rarities Volume 9 is now available!
Each one is hand-numbered on the back.
If ordered from this website, it comes with a set of 8 Limited Edition colour postcards of Billy Fury to celebrate his 25th Anniversary.
Price: £14.75 including postage inside UK, extra postage outside UK.
---
Billy Fury Coasters
Price: £4.60 per coaster including postage inside UK, extra postage outside UK

Price: £3.60 per coaster including postage inside UK, extra postage outside UK
Clear acrylic coasters - mount them on your wall, put them in a display case or use them as drinks coasters! The top surface of the coaster can be wiped clean with a damp cloth! More titles will be introduced and some of the first releases will be phased out eventually to make them limited editions so hurry and order now!
Please specify the title(s) you want
---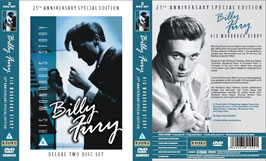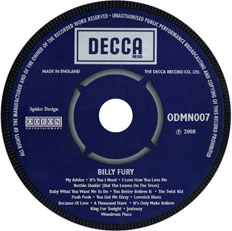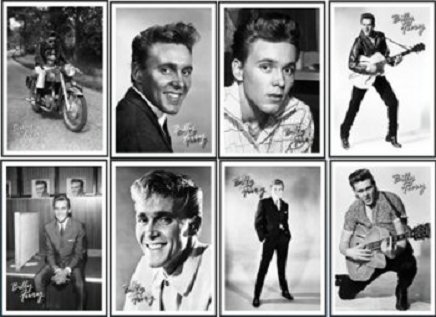 (click above to view full size images)
Available to order - only from Ozit - a special Limited Edition CD/DVD box set with a numbered certificate and B&W & colour postcards*
Release Date: January 28, 2008
First ever DVD release of this iconic British rock and roll star who was labelled Britainís answer to Elvis.
Billy Fury became an overnight music sensation and is still in the Top 40 in the Guinness Top 500 Artists. His appearances on Oh Boy! were as mesmerising as Elvis on the Ed Sullivan show. Fury was banned in Ireland and mobbed by girls in England, becoming Britainís first major teen idol. Fury was the artist who Brian Epstein wanted to manage and the man who turned down the Beatles for his backing band. He was idolised by Lennon and Morrissey and continually voted Britainís Best Live Performer in the NME awards. His hits include Halfway To Paradise, Jealousy, Maybe Tomorrow, Wondrous Place, A Thousand Stars, Iíd Never Find Another You, Like Iíve Never Been Gone, In Summer, In Thoughts Of You and many more.

Billy Fury had more Top 20 hits in the 1960s than either the Beatles or the Rolling Stones.

Features rare full performances of Billy Fury with a soundtrack of his hits from Decca as well as the story of his music, life, loves, lows and untimely death at 42.

Bonus: 3 full televised performances, trailers, outtakes and extended interviews from the main documentary. Animated menus and scene selection.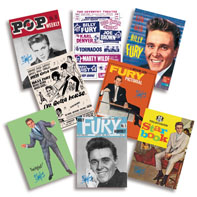 (click to view full size image)
* There are two sets of postcards. The certificate is signed by Billy's family and only part of the Limited Edition Box Set
Limited Edition Box Set - £49 + £3.50 post inside UK, £5.50 outside UK
---
Billy Fury "Rarities And Teenage Jottings"
Ozit CD 223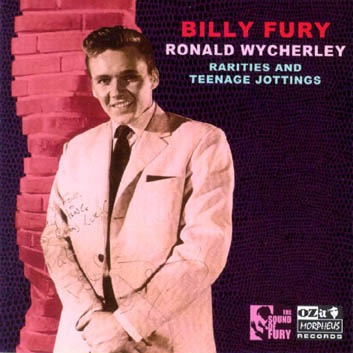 The title for this CD comes from the fact that, whilst Chris Hewitt, managing director of Ozit Morpheus Records and Billy Fury's mum and brother (Jean and Albert Wycherley - Albert being the sixties Joe Meek star "Jason Eddie") were clearing out Albert's garage a couple of months ago, they came across various suitcases that Billy had left with his mum and brother for safekeeping around 20-plus years ago. The contents of these cases revealed various reels of tape and also some exercise books and loose sheets of lined paper dating back to the late 1950s, containing rough drafts of Billy's songwriting written in pencil. The Rarities on the tapes and The Teenage Jottings in the notebooks form the basis of this CD of demos and alternate versions from Billy Fury [real name Ronald Wycherley]. The ten-page CD booklet shows some of the pages from Billy Fury's early songwriting notebooks.

There are 19 tracks, listed on the CD back inlay, and an extra two surprise tracks for fans, making 21 tracks in total. Of particular note is track 3 which is a mainly vocal and piano version of "God Created Woman" (just a hint of bass can be heard at some points in the song). This track is Billy Fury stripped back to basics, and one can see why he still is such a greatly respected artist and often given the accolade of Britains's first rock'n'roll star. A 7 ft. bronze statue of Billy Fury was unveiled in his home city of Liverpool last year, and a picture of this statue features in the CD booklet.
---
Billy Fury "The Last Concert"
OZIT CD 220
A 2CD set: one - a previously unreleased live recording of the last ever concert by Billy Fury and the other featuring rare demos / previously unreleased studio recordings. The CD booklet and double-sided inlay contain rare photographs of Billy during the latter years of his career, all in full colour on every page.
---
plus other early demos and unreleased rare recordings
OZITCD 56 (to be released 8th August 2001)
Also featuring early recordings by Billy's brother Jason Eddie
Produced by Joe Meek

Sixteen-page booklet contains memorabilia from the Fury family scrapbooks
Tracks:
Peggy Sue

Halfway to Paradise

Slow Boat to China

When I Fall In Love

I May Be Wrong

Am I Blue

What Did I Do

Since You've Been Gone

Love Love Love

What I Need

You Wonder Why

Love's A Callin'

Playin' for Keeps

Paralysed

Baby

Heart And Soul

Playin' The Clown

Come On Baby

Watcha Gonna Do

True To You

Marble And Iron

Who Needs Love

She's So Beautiful

Mr. Bus Driver

Singin' The Blues

Wondrous Place

I Know I've Got A Heart
Price: £14 + 75p postage inside UK, extra postage outside UK.
---
Billy Fury T-Shirts - click each one for full-size pictures. These are limited editions, available while stocks last.
Price: £28 + £4 postage inside UK, extra postage outside UK.
---
Albie Wycherley 'I Never Met Colette' T-Shirt to celebrate the CD release by Albie: white T-Shirt.
Size: Large only.
Price: £28 + £4 postage inside UK, extra postage outside UK.
---
A Top Quality Limited Edition Billy Fury Hooded Sweatshirt
This really shows you are a dedicated Billy Fury fan!
Extremely warm!
Two types: pullover with front pocket or zip-up.
The zip-up version can be worn as a jacket.
Both versions are top quality material with great back print of Billy Fury: Billy on scooter and commemorating statue unveiling at the Liverpool concert.
Colour is Dark Blue/Black depending on which batch we have currently run.
Sizes: M, L, XL or XXL.
Prices: £41 standard, £45 zip-up plus postage: £4.50 inside UK, £8 rest of world.
---
Ltd. Edition Laminated Posters
Rare laminated Billy Fury posters are now up for sale at this site.
Size: A3 (12" x 16.5").
Price: £7.50 + £3.50 postage inside UK, extra postage outside UK.
Browse the complete inventory of posters here!
---
Lapel Badge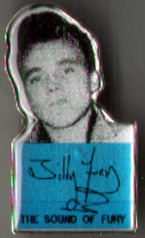 New Limited Edition enameled metal cutout/pin-on-brooch style badge. Ideal for wearing on jacket lapels or pinning on to shirts, biker style leather jackets or even onto a hat!

Price: ₤8.75 + ₤2 postage inside UK, extra postage outside UK.
---

If you have a PayPal account, click on the logo above, login and pay using "hawkethos@which.net" as addressee
Cheques payable to:
Billy Fury Ltd., P.O. BOX 116, Northwich, Cheshire CW9 5UG, UK


Visa/MasterCard orders:
Via Tel: 01565 734066 [(+44)(0) 1565 734066 abroad]
Via Fax: 1565 734196 [(+44)(0) 1565 734196 abroad]
Via e-mail: ozitrecords@which.net
Ozit Morpheus Records is operated by Recordcore Deeply Vale Recordrange
NB: Please state the item(s) you're ordering, quantity, your mailing address, credit card number and expiry date.
Send an SAE [or I.R.C. outside the UK] to the above address for the full list of Billy Fury merchandise.