John Peel's Dandelion Records DVD
OZIT DVD007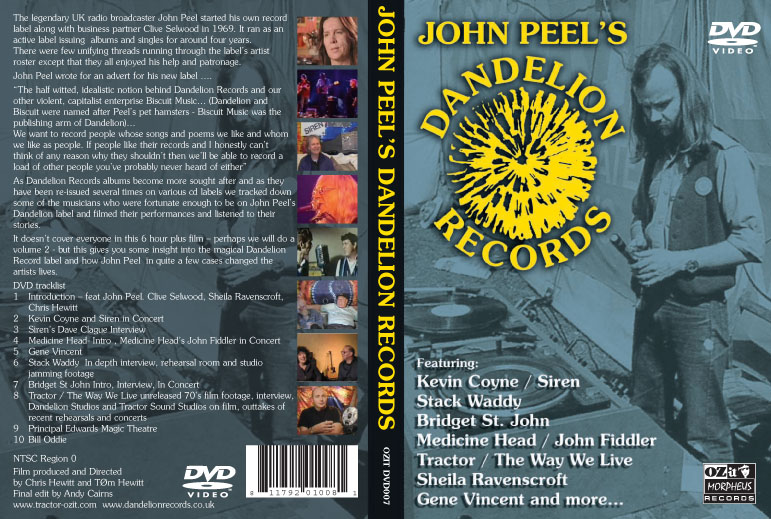 **** (4/5)
Review by Pete Feenstra © www.getreadytorock.com
If Dandelion Records was a labour of love for the late John Peel, then this documentary, filmed by Tom Hewitt (an Atom Hewitt film production) and painstakingly researched and fronted by Ozit records boss Chris Hewitt, is a similar project that makes up for what it lacks in slick production values with a real feel for the core surviving members of one of rock's esoteric labels.

As Peel's Dandelion Records partner Clive Selwood says in a voice-over at the beginning of the film, "Peel was looking for artists that had something to say", and, as he makes clear in this near 6-hour marathon documentary, "We were not relying on it for income." Peel's wife Sheila Ravenscroft adds some telling comments about her late hubbie and humorously recalls some of the rebel-rousing bands like Stackwaddy.

It may seem incredible in today's climate to realise that the whole Dandelion label adventure didn't have money as its primary objective. Indeed, as becomes clear in the DVD, Peel would often either walk away from a band or simply choose not to play them once they became famous. This point isn't actually given any further examination in regard to, say, T.Rex, as its falls outside of the remit of this documentary. But, given the label was run along hippy ideals, the music does indeed seem to have triumphed and none of the interviewees seem to regard the label or Peel himself with anything other than affection.

It isn't until the weighty end-piece on Tractor that drummer Steve Clayton and Jim Milne discuss the value of the music that 40 years on is still very much in demand. But you get the feeling that even with the more eclectic acts such as Stackwaddy and the late Kevin Coyne, the label was a perfect home for artists who were as passionate as they were uncompromising.

Some of the later live footage of Coyne and John Fiddler comes from 2003's Dandelion Reunion gig but there are also frequently used clips from the past and a mix of stills, reviews and audios.

You don't have to look any further than the quite moving performance by the late Kevin Coyne, Dave Clague and Nick Cudworth (from Siren) to see the calibre of the artists that populated the label. By the time he picks up his acoustic and uses it almost as a percussive instrument, Coyne is nearly as oblique as early Beefheart and equally mesmerising.

Medicine Head's John Fiddler is still an excellent performer and even a slight glitch in the film doesn't detract from a strong performance. The reprise of Medicine Head's 'Rising Sun' at an earlier concert filmed at The International 2 is simply excellent.

He finishes on 'Blue Suede Shoes', which is neatly segued into a piece on the legendary Gene Vincent. And though the tales of both Gene Vincent and Kim Fowley are well documented, they still bring a smile, especially when delivered by Clive Selwood, the man who signed Vincent up and who resignedly concludes: 'He was clinically insane'!

You couldn't normally top tales about Gene Vincent but then the film turns to Stackwaddy, who were perhaps the first de-facto punk band, albeit they played heavy R&B and Zappa's 'Willy the Pimp', as evidenced by an accompanying audio. There's brief glimpse of a publicity poster for their 'Roadrunner' single which brazenly calls their effort 'an unpretentious, shitty, silly old 1962 R&B single'.

The following sensual introspective tones of Bridget St.John and her quietly spoken interview with Chris Hewitt is quite a contrast. Her dalliance with Dandelion was remarkable when you realise her recording career also took in several major labels including MCA and Chrysalis records.

And so finally to Tractor who feature Jim Milne and Steve Clayton, a duo who single-handedly invented Trance and Space Rock before it was even thought of. Their brand of North-West psychedelia still sounds fantastic today. The concert footage and latter day studio footage is great and also includes an in-store acoustic session.

Both Tractor members agree in hindsight that, given the fact Peel was the visionary and Selwood the manager, all that was missing was the money man to allow bands like Tractor to flourish as full-time musicians. The fact that their music is still bought worldwide 4 decades on is a glowing endorsement of the musical beliefs of John Peel. And while the interview drifts a little towards the end, there's no doubting the mutual respect and commitment of both the artists and the interviewer towards both the label and the music it produced.

Four decades on, Dandelion records remains a very significant label, even with the briefly mentioned dance and mime troupe Principal Edwards Magic Theatre and a novelty single by comedian Bill Oddie!!

With nearly 6 hours and a 12-page illustrated booklet, there is plenty here to interest both particular fans and lovers of the era alike.