John Peel's Dandelion Records DVD
OZIT DVD007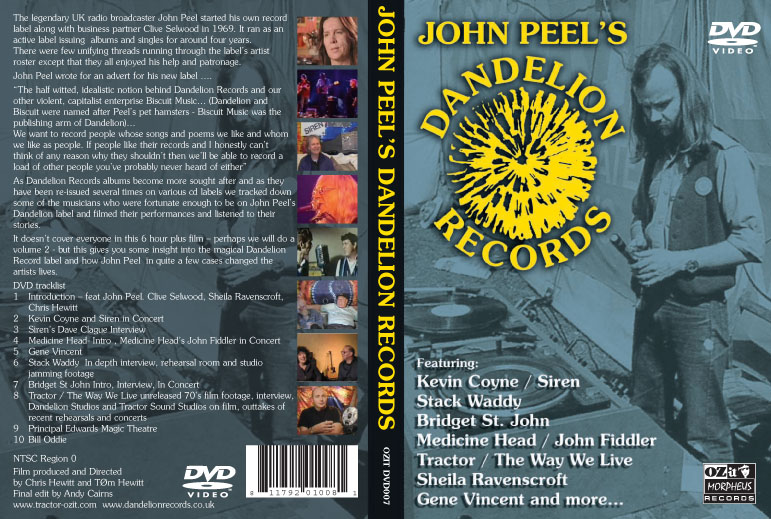 Goldmine
A Broad Abroad: Catch Dandelion Records in full bloom
February 27, 2009
by Jo-Ann Greene

Although British disc jockey John Peel's Dandelion label flowered for little more than four years at the beginning of the 1970s, the artists that it nurtured are, like those he promoted on his long-running radio show, often regarded as the crème de la crème of British rock. Certainly he had an eye for genius. Kevin Coyne, Medicine Head, Stack Waddy, Bridget St.John and Tractor number among Dandelion's greatest hits and a box set released a few years ago by the Cherry Red label remains one of the most precious collections of recent times.

Now Ozit has compiled a companion DVD, John Peel's Dandelion Records - six hours of music and interviews that tells the story of what Peel himself described as "the half-witted, idealistic notion behind Dandelion records". A labour of love littered with rare stills, footage and interviews with both musicians and Peel associates (principally wife Sheila and co-founder Clive Selwood), as well as, of course, music, it also includes excerpts from the Dandelion tribute concert staged earlier this decade, among them an excellent reprise of "Strange Locomotion" by Coyne and Siren.

John Peel's Dandelion Records is not perfect. With a larger budget and more access to the period live footage that surely exists of most of the Dandelion acts, it could have told its story with even greater aplomb. But compared to the vast majority of rockumentaries that litter the shelves these days, that you watch once and then discard because who cares what the third session man on the left has to say about a review written three years before he joined the band, John Peel's Dandelion Records is sharp and to the point and doesn't even point the camera at somebody unless they were actually in the heart of the action. So, no self-aggrandizing "veteran journalists", no self-appointed information gurus, no talking-head idiots at all. Just good, strong storytelling, straight from the horse's mouth. We're only a couple of months in, so I'm taking a chance here, but this is the DVD of the year!