Week of March 22, 1997
Shocking Blue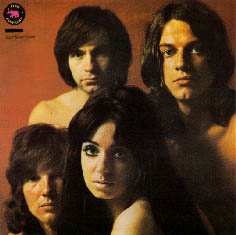 Mariska Veres (voc)
Robby Van Leeuwen (g, sitar)
Klaasje Van Der Wal (b)
Cornelius Van Der Beek (dr)
Pop history has often seen invasions. The most powerful and renown was the British invasion of American pop music in 1963, when the Merseybeat groups led by The Beatles swept across the new world followed by more R&B orientated British bands
like The Stones. Each invasion creates new energy and offers fresh inspiration to a music scene lying in idle sleep.
The spearhead of the brief 'Dutch invasion' of the early Seventies was Shocking Blue. They conquered the international charts with their self-penned hit single 'Venus'. This song not only made the European Top Ten but also reached the Number One position in the US on December 6, 1969 and stayed eight weeks in the Top Ten.
The Shocking Blue had been formed in 1967 by guitarist Robbie van Leeuwen, a veteran of a well-known Dutch rock band The Motions. But the eye-and-ear-catching attraction of the band was the dark-haired singer Mariska Veres. Her soul-tinged voice gave the music a distinct R&B sound that was often compared with The Small Faces. Shocking Blue successfully combined Beat and R&B with psychedelic elements of the time like Indian sitar and odd production techniques.
After some inconsequential recording work, they signed with the Pink Elephant label and released 'Venus' in 1969. They recorded successfully well into the mid-seventies and had more international hits with 'Mighty Joe' and 'Long And Lonesome Road' (both in 1970). The Shocking Blue released their first LP also in 1969 titled, 'At Home', and it featured, of course, the million-seller 'Venus'. 1970 saw two album releases with 'Scorpio's Dance' and 'Hello Darkness', the latter containing the above mentioned singles 'Mighty Joe' and 'Long And Lonesome Road'. The German Metronome issued the next album in 1971 with the confusing title 'Third Album' which was followed by the studio production of 'Inkpot' and a live album a year later.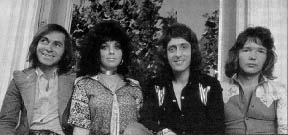 For the 1973 'Dream On Dreamer' and 'Eve And The Apple' the line-up changed slightly. Bass player Klaasje van der Wal was replaced by Henk Smitskamp. Finally in the mid-seventies The Shocking Blue disbanded after a very successful career.
Their first hit 'Venus' became an all-time evergreen and was re-recorded by the British pop trio Bananarama in 1986 (produced by Stock/Aitken/Waterman). It, again, made a huge impact on the international charts and showed the hit potential of this song.
Ulf Marquardt
---
Pop and rock music echoed around the world in a great cultural explosion that shook up the Sixties. One of the great merits of the boom was that pop music became a universal medium,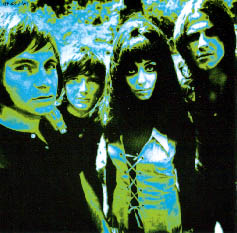 open to contenders from all nations. Although America was the source of many different strands of pop, other countries also developed their own star performers. Germany and England were foremost among the great pop nations, but, despite its small size, Holland also exported a vast amount of talent.
Euro pop stars who sprang to fame during this period included Sacha Distel from France, Nana Mouskouri from Greece and The Rattles from Germany. Shocking Blue was among the most successful pop/rock bands from the Netherlands. They outgunned all their European compatriots when they achieved the coveted miracle - a Number One smash single in the American charts.
'Venus' was the melodic, catchy song that rocketed the band to stardom and transformed their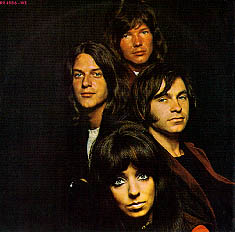 fortunes. It also boosted the hopes of many other artists from their home country and proved there were no national barriers in pop music. 'Venus' topped the U.S. Billboard charts in December 1969 and also reached Number Two in Germany. It became a Top Ten hit in the U.K. when it reached Number 8 in January 1970. Shocking Blue's star attraction was lead singer Mariska Veres, who backed composer and lead guitar player Robbie van Leeuwen. The band's line up was completed by Klaasje van der Wal (bass) and Cor van Beek (drums). Many critics favourably compared Mariska's vocal style to Grace Slick and some regarded the band as the Dutch Jefferson Airplane, although the group never managed to attain the status of the legendary San Franciscans. After 'Venus' they had further chart success with follow up single 'Mighty Joe' (1970) and 'Inkpot' was a hit in 1972.
While Shocking Blue remains active as a touring band, founder member Robbie van Leeuwen has long since retired from the business and is now more interested in art than pop music. However he remains proud of his pop past and has fond memories of those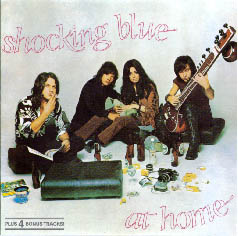 early exciting days. Like many teenagers who came of age in the Sixties, he started out listening to such bands as The Beatles, Rolling Stones, Searchers and Hollies. The Hague became rather like Liverpool, giving birth to many young groups and among them were The Motions. Robbie joined this band on guitar and explains: 'This was the beginning of my professional guitar playing career. But after a few years I wanted to do something a bit different and started a group with a girl singer, which became Shocking Blue.' At the beginning Robbie and the band found it 'quite tough' to find their own musical direction. Then they discovered the music coming out of America's West Coast and formed an affinity with its melodic rock style. The band's striking name was inspired by an Eric Clapton song called 'Electric Blue' which they turned into 'Shocking Blue.'
Mariska was introduced to Robbie through his manager who had heard her singing in a small band out in the country. 'He told me she was the right person for the group and she had a very
impressive voice that was quite different from all the other girl singers. She had a vocal style that was almost like Fats Domino and rather like Grace Slick from Jefferson Airplane. Once she joined everything happened very quickly because the first single we did was 'Venus' which was a huge hit. In one year everything we dreamed about had happened. The song was Number One in America and after that we had about fifty hits in Holland.' They also had five or six records that did very well internationally. In France and Japan they enjoyed great success and in Germany their follow up single 'Mighty Joe' was a major hit.
Strangely enough, two countries where 'Venus' was not Number One were England and the Netherlands. Says Robbie wryly: 'I think this was because in England they are very chauvinistic and in Holland they are not chauvinistic at all! However it sold many millions around the world. I don't know how many exactly but I was very happy with the sales figures. It also gave many Dutch groups more belief in their own potential and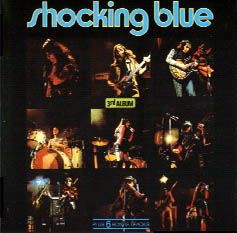 they could see they too stood a chance of being successful.' The original line up of Mariska, Robbie, Cor and Klaasje stayed together for three exciting years. Then Klaasje left due to personal problems and after a while Robbie departed, worn out by the strain of keeping the band on track.
'The whole touring business became too tough for me, so I quit after five tears, in 1975.' The band had been touring not just throughout Europe and the States but the entire world. They visited such far-flung lands as Japan, Indonesia and Hong Kong and even toured South America. We never expected it to be so busy!' says Robbie. 'Traveling facilities weren't as good for groups in those days as they are now. We traveled in a simple station wagon which wasn't very comfortable.' At least they got to meet and perform with some of the greatest names of the rock era. 'In the States we toured with Ike & Tina Turner, Sly & The Family Stone and Three Dog Night. We were always top of the bill in Europe but in America of course we were part of the package tour. When we were with Sly Stone he had the Number one hit 'Dance With The Music.'
However, Shocking Blue was not usually slotted into the hippie festival circuit, where the rock bands played. Explains Robbie, 'In the early Seventies, most of the groups who played the big
festivals had some kind of drugs image. Marijuana influenced their songs and we were quite straight. We weren't a Woodstock generation band. We didn't tour England but we appeared there on BBC TV's Top Of The Pops.' As well as unleashing a succession of hit singles, the band recorded many well-received albums, the first being 'Shocking Blue At Home' (1970) which sold fifty thousand copies and went gold in Holland. It created an impact around the world that would have surprising results many years later. The famed Seattle grunge band Nirvana took 'Love buzz' from the Shocking Blue album and covered it in 1988.
As the band seemed to be on the crest of a wave, their record label Pink Elephant expected them to release three albums a year. Naturally this was too much for Robbie who had the burden of being both lead guitarist and songwriter. 'Later on every group that had a hit released one album a year and that was enough. We made too many!' Robbie wrote all his songs at home, when he got the chance, and that's where he first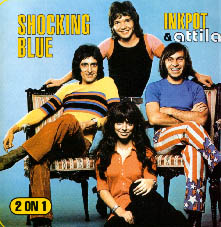 wrote 'Venus' working in a small room at his parents' house. Shocking Blue went on to make such albums as 'Inkpot' and 'Attila' (combined on this 2-On-1 CD) and 'Dream On Dreamer' and 'Good Times' that make up another Repertoire package. As well as the original album material there are the added bonus tracks, mostly the A and B sides of singles. Two of the tracks 'Dream On Dreamer' and 'Gonna Sing My Song' were singles released after Robbie left the group.
'They decided to carry on after I quit but it didn't workout and in short time Mariska went solo. I had some studio groups because I'd had enough of traveling and I had a few hits with a band I put together called Mistral. We had two hits in France and three at home in Holland. But a studio group is very difficult to do because the other members were interested in different things. So it was hard to keep everybody in line.'
Robbie gradually gave up the hard grind of the music business but was able to retire on the royalties from past hits. He now lives in the Hague after some years in Luxembourg. For many years he was a bachelor but in 1996 found himself a girlfriend. 'It's like a new part of my life,' says Robbie, 'Maybe one day I will settle down and become a father. I never was a family man. I was like some kind of hermit when I was living in Luxembourg on my own for 12 years.' He found himself tending his garden rather than playing his guitar which he never touches these days. 'I'm now more interested in art, paintings and sculpture, I am into collecting and selling modern works of art and visiting sales and exhibitions. My last band Mistral broke up in the early Eighties and then in 1983 I moved over to Luxembourg and only returned to Holland in 1996.
'Sometimes when I go shopping I hear some of my old songs being played on muzak in the supermarket. I think yeah, that's me!'
But it is difficult to feel I am the same person I was then. I cannot relate to that situation because I
don't like the music of today. There is too much house music and that's probably why I have a different life now. Shocking Blue played melodic music. It was a Dutch imitation of the West Coast music from America, but we played our own original compositions. We did a few covers but only because I had to write too much. The DJs preferred us to do original songs, but we had to do so many albums, the band had to fill in with a few covers. It was quite exhausting writing all the lyrics and songs myself! They were all in English because I cannot write in Dutch. It's very difficult for me to write in my own language.'
Robbie van Leeuwen certainly achieved artistic fulfillment in the language of pop.
Venus - yeah baby, she's got it!
CHRIS WELCH, London, 1997
---
For more information on Shocking Blue, see the Shocking Blue entry in Alex's Nederpop Encyclopedia on the Web!