Week of December 11, 2005
Vox Dei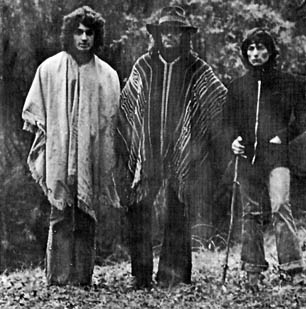 Personnel:
Ricardo Soulé (Lead Guitar, Vocals)
Willie Quiroga (Bass ,Vocals)
Rubén Basoalto (Drums)
Juan Carlos "Yody" Godoy (Guitar, Vocals)
Albums:
1970 - Caliente (Mandioca MLP334)
1971 - La Biblia (Dbl) (Disc Jockey 14004/5)
1972 - Jeremias Pies De Plomo (Disc Jockey 15175)
1972 - Cuero Caliente (Disc Jockey 25176)
1973 - La Nave Infernal (Disc Jockey 25177)
1973 - Es Una Nube, No Hay Duda (CBS 119289)
1974 - Vox Dei Para Vox Dei (CBS119409)

Singles:
1969 - Sin Ropa: Azúcar Amarga/Quiero Ser (Mandioca MS009)
1970 - Presente/Dr. Jekill (Mandioca MS015)
1970 - Canción para una mujer (que no está)/Total que (Mandioca MS019)
1972 - Donde has estado todo este tiempo/Tan sólo un hombre (Disc Jockey TS1383)
1973 - Jeremías pies de plomo/Ritmo y blues con armónicas (Disc Jockey TS1454)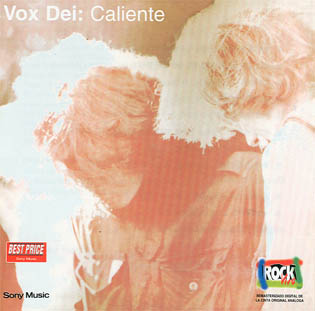 The Three Musketeers were actually four. To the three pioneering foundation groups of Argentine Rock (Los Gatos, Manal and Almendra) we should add a fourth: Vox Dei.
Vox Dei was formed in Quilmes (a big suburb beer factory city South of Buenos Aires). First called Mach 4, they used to sing in English until they heard Manal and Almendra. Producers Pedro Pujó and Jorge Álvarez signed them for their label Mandioca not before suggesting to them that they change their name along the lines of ''Vox Populi, Vox Dei'' (in Latin: ''The word of the people is the Word of God'').
Their first single, titled 'Sin Ropa: Azúcar Amarga', b/w 'Quiero Ser', was straightforward rock & blues. The A-side was also included on the compilation LP, 'Mandioca Underground' (MLP 331).
After several gigs in Buenos Aires, they released their second single for Mandioca, 'Presente', b/w a rock'n'roll number, 'Dr. Jekill'. 'Presente', now a big classic, is a beautiful ballad with superb lyrics (about how ephemeral life is, thus the importance of ''living the present time'').
'Caliente', their excellent first album, followed. This LP included rock & blues numbers such as 'Reflejos', 'Cuero', 'Compulsión' and 'Total qué' along with some soul-rock,'No es por falta de suerte' and great ballads like the aforementioned 'Presente' and 'Canción para una mujer (que no está)', the latter also released as a single.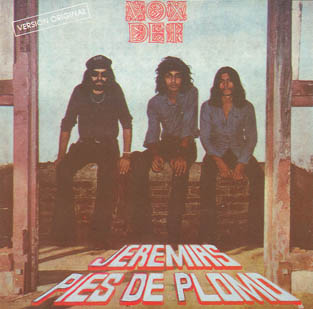 By mid 1970, Mandioca went bankrupt and Vox Dei wound up on another label called Disc Jockey. The group was into heavy work, composing a conceptual album based on The Holy Bible (no less!) For several reasons Yody Godoy left during the recording sessions. Nevertheless, the double LP was finally released as 'La Biblia', Vox Dei's indisputable masterpiece.
La Biblia is magnificent for both its music and lyrics. Soulé did a terrific job summarising in just a few lines the most important facts of the Holy Book. Musically the band turned hard-psycho, with chirping, driving guitars, et. al. 'Genesis', 'Las Guerras', 'Profecías' and especially 'Libros Sapienciales' turned into Vox Dei standards. A truly wonderful album that is absolutely recommended!
To promote 'La Biblia' live, guitarist Nacho Smilari (ex-La Barra de Chocolate, and future member of Piel de Pueblo and Cuero) joined Vox Dei. With this line-up they also recorded a single with two non-album tracks.
'Jeremías Pies de Plomo', their next album, found the power trio going back to hard rock and blues. Another excellent album, it includes great songs like 'Jeremías', 'Detrás del vidrio', 'Ritmo y blues con armónicas' (yet another Soulé classic) and the ballad, 'Sin separarnos más'. Soulé does a wonderful job both with his guitar and harp (he might be the best rock harmonica player in Argentina). A rare single with picture sleeve was also released from this LP.
Their next album, 'Cuero Caliente', was actually a remake of their debut. Vox Dei (as a trio) re-recorded all songs from 'Caliente' minus 'No es por falta de suerte', plus 'Azúcar amarga' and 'Dr. Jekill' (from the singles). The result was good enough to satisfy the needs of those who did not own the original LP (which was hard to find even in those days).
The band was filmed for the movie 'Rock hasta que se ponga el Sol' playing 'Jeremías, pies de plomo' and 'Las Guerras' (the latter inside a Methodist Church). Since they were on another label, their performance was not included on the soundtrack album.
Then Vox Dei signed for CBS and recorded a very good album, 'Es una nube no hay duda', with better production. Best moments are the title track (written by Quiroga, now a classic), 'La verdadera historia de Sam, el montañés' and 'Prométeme que nunca me dirás adiós'.
To conclude their contract with Disc Jockey, a live album was released. 'La nave infernal' was recorded during a national tour and featured old and unreleased songs. Unfortunately the sound quality is far from being good, but the performance is so energetic that the album is fun to listen to. Live albums were unusual in those days for rock groups in Argentina.
At this point we can say that the good days for Vox Dei were over. In 1974, they recorded a second album for CBS: 'Vox Dei para Vox Dei', a mediocre effort. Then Ricardo Soulé quit and the story changed.
Quiroga and Basoalto released two more disappointing albums, 'Estamos en la pecera', with Carlos Michelini on guitar and vocals, and 'Ciego de Siglos' with Raúl Fernández and Enrique 'Avellaneda' Díaz on guitar (both ex-La Máquina).
Ricardo Soulé went to England and met band Heavy Metal Kids. This group recorded some Soulé songs for their debut album. In 1976, back in Argentina, Ricardo recruited brothers Rodolfo and Alejandro Pensa (bass & drums) and released 'Vuelta a Casa' (RCA AVS-4519), a very good hard rock and blues album, and a single containing two non-LP tracks ('Cuéntame dulce' b/w 'Inexplicable para mí', RCA Vik 31A-2683). (Note: the album was also recorded in English; the vinyl version was never released, but these sessions were included as bonus tracks on the CD).
In 1978, Soulé rejoined Vox Dei, and the old trio recorded a new album for Polygram, the satisfactory 'Gata de Noche' (Polydor 2387160). However, Vox Dei sort of split up again.
Willie Quiroga formed a heavy metal group, Destroyer, and released an album in 1982. Soulé recorded two more solo albums - in 1982 and 1985.
Neither friends nor enemies, Soulé, Quiroga and Basoalto occasionally reunited... occasionally split. They had a big successful comeback in 1986, split again, toured together again and so forth.
The lyrics to 'Presente' go like this: 'All things have an ending/nothing can avoid that/all things have a conclusion/everything must end.... Maybe Vox Dei should listen to their own songs!
All their LPs, except Mandioca's 'Caliente', have been reissued on vinyl - sometimes with different covers. Of all compilations, 'Lo Mejor de Vox Dei' (Disc Jockey 11077) and 'Los éxitos de Vox Dei' (Disc Jockey 14022) are recommended.
Their entire albums with Soulé are available on CD. The CD version of Caliente includes the Mandioca singles as bonuses.
Note: A new version of 'La Biblia' (Talent SE-515), performed by Billy Bond and other artists, was released in 1974. Vox Dei members did not play on this album. A newly recorded studio version of 'La Biblia', featuring 90s rock stars Andrés Calamaro, Alejandro Lerner and Fito Páez joining Vox Dei, was released by Warner Music in 1997.
Taken from The Magic Land - A guide to Beat, Psychedelic and Progressive Rock music between 1966 & 1977 in Argentina and Uruguay (Marcelo Camerlo, Marcelo Gasió)
---