Week of August 3, 2008
Velvet Opera / Elmer Gantry's Velvet Opera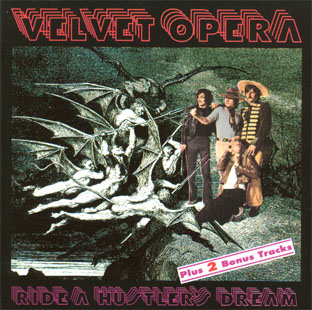 Personnel:
Paul Brett - Vocals, Guitar
John Ford - Bass
Colin Foster - Guitar
Richard Hudson - Drums
Jon Joyce - Vocals
Elmer Gantry - Vocals, Guitar (Elmer Gantry's Velvet Opera)

Albums:
Elmer Gantry's Velvet Opera (Direction 8-63300) 1967
CD: Repertoire REP 4495-WP, 1994
(As Velvet Opera) Ride A Hustler's Dream (CBS 63692) 1969
CD: Repertoire REP 4531-WP, 1995
The Very Best Of (See For Miles SEECD 437) 1995
Mini-LP: Elmer Gantry's Velvet Opera (Apothecary SORCERY 001), contains a 1968 BBC Saturday Club session alongside an acetate version of "Flames".

45s (Velvet Opera):
Anna Dance Square/Don't You Realize (CBS 4189) 1969
Black Jack Davy/Statesboro Blues (CBS 4802) 1970
She Keeps Giving Me These Feelings/There's A Hole In My Pocket (Spark SRL 1045) 1970

45s (Elmer Gantry's Velvet Opera):
Flames/Salisbury Plain (Direction 58-3083) 1967
Mary Jane/Dreamy (Direction 58-3481) 1968
Volcano/A Quick 'B' (Direction 58-3924) 1969

This Coventry band are best remembered for hard rock single, "Flames", a cut from their first album which narrowly missed the charts in 1967. The track was also featured on "The Rock Machine Turns You On" compilation LP. Featuring Richard Hudson and John Ford of The Strawbs and Hudson-Ford fame, the album was full of variety spanning Motown, pop-psych and harder rock genres. Other tracks which catch the ear include the laid-back Oscar Brown song "I Was Cool", the instrumental "Walter Sly Meets Bill Bailey", the Eastern-influenced sitar-based "Air", the beatlesque "What's The Point Of Leaving", the melodic "Long Nights Of Summer" and two tracks - "Dream Starts" and "Reactions Of A Young Man" - which veered towards psychedelia.

For the later single, "Volcano", they shortened their name to Velvet Opera and also recorded a second album under that name. Although a popular underground band, commercial success eluded them. When Elmer Gantry left, he was replaced by Paul Brett, who was later in Fire and went on to form Paul Brett's Sage. Based in London, they finally split up in 1971. John Ford and Richard Hudson were later in The Strawbs and Hudson-Ford, Jon Joyce had earlier been in Levee Breakers. In the seventies, Elmer Gantry was in Stretch.

"The Very Best Of Elmer Gantry's Velvet Opera" includes the best tracks from their first album alongside material from "Ride A Hustler's Dream", their more progressive second effort recorded under the name Velvet Opera, and four previously unissued cuts, of which "Talk To The Devil" is a superb slice of freakbeat from an obscure movie of the same name. This stands alongside "Flames", their best-known cut, as their finest moment on the CD, which also includes covers of "Statesboro Blues" and "Eleanor Rigby".

The "Artifacts From The Psychedelic Dungeon" CD also features two cuts from a session the band did on John Peel's 'Top Gear' around 1968: their best-known number, "Flames" and a version of Hendrix's "All Along The Watchtower". Other compilation appearances have included: "Air" on "Electric Psychedelic Sitar Headswirlers, Vol. 2" (CD); "Mother Writes", "All Along The Watchtower" and "Mary Jane" on "Hard Up Heroes, Vol. 2" (CD).
Taken from The Tapestry of Delights - The Comprehensive Guide to British Music of the Beat, R&B, Psychedelic and Progressive Eras 1963-1976, Vernon Joynson ISBN 1 899855 04 1
---