Week of July 13, 2008
Velvett Fogg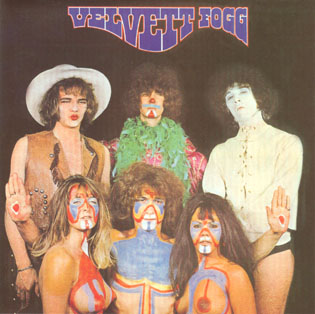 Velvett Fogg (on their controversial 1969 album cover)
(Top) Graham Mullett (drums), Ian Leighton (guitar), Mick Pollard (bass). (Front/center) Frank Wilson (vocals, Hammond organ)
Other members not pictured - Tony Iommi (guitar), Paul Eastment (guitar, vocals) and Keith Law (songwriter)
The two nice-looking painted ladies are models.
Personnel:
Frank Wilson (Hammond organ, vocals)
Paul Eastment (guitar, vocals)
Graham Mullett (drums)
Mick Pollard (bass)
Keith Law (songwriter)
Album:
Velvett Fogg (Pye NSPL 18272) 1969
Reissue: (as "Velvett Fogg Plus") See For Miles SEE 259 LP/CD, 1989
Reissue: Castle/Sanctuary CMRCD 619, 2002

45:
Telstar '69/Owed To The Dip (Pye 7N 17673) 1969

Complete with sleeve notes from John Peel came Velvett Fogg with a blend of their own compositions like "Yellow Cave Woman", the delicate "Wizard Of Gobsolod", "Once Among The Trees" - a story of a chase with strong sexual overtones, "Plastic Man" - a comment on politicians, "Owed To The Dip" - an organ-dominated instrumental, plus their own interpretative cover versions of The Bee Gees' "New York Mining Disaster 1941" and Tim Rose's "Come Away Melinda".

Paul Eastment was later in Ghost. Organist Frank Wilson was a founding member of Warhorse.

The reissues include the band's interesting version of "Telstar '69". Two cuts from their album have also been compiled. The mildly psychedelic "Within The Night" can also be found on "Rubble, Vol. 7 - Pictures In The Sky" (LP) and "Lady Caroline", an anguished story-song, got further exposure on "Rubble, Vol. 10 - Professor Jordan's Magic Sound Show" (LP). "Come Away Melinda" also appeared on "Progressive Music" (LP).
Taken from The Tapestry of Delights - The Comprehensive Guide to British Music of the Beat, R&B, Psychedelic and Progressive Eras 1963-1976, Vernon Joynson ISBN 1 899855 04 1
---
Velvett Fogg was formed in 1968 out of a respectable Brum band called Gravy Train. The initial line-up of Velvett Fogg featured guitarist Tony Iommi (later to make the big time with Black Sabbath). Tony stayed in the line-up for only one gig before leaving to be replaced temporarily by Ian Leighton. It was during this time that Pye Records arranged a photo shoot of the band for the cover of their proposed first album. This is the pre-Paul Eastment line-up of the band wearing garish make-up/body paint and also including two well-endowed young women wearing nothing but strategically applied body paint! UK disc jockey John Peel commented in the sleeve notes that "There is a lot of good music on this record. Remember Velvett Fogg - you will hear the name again."
Velvett Fogg recorded the tracks for their debut album under the direction of Pye producer Jack Dorsey, who aimed to get the band onto the then-popular "progressive" bandwagon. The band also recorded covers of a few songs they liked and these included psychedelic-sounding versions of "New York Mining Disaster 1941" by The Bee Gees, and Tim Rose's "Come Away Melinda". The self-titled album was released on the Pye label in January 1969, which also released their single, a cover of The Tornados' classic instrumental "Telstar", hoping to cash in on the publicity surrounding the American moon landings taking place at that time. While receiving some radio play, the record did not sell enough copies to chart and a big advertising campaign planned by the record company to promote the album never materialised. Though the band did a bit of touring after the single came out, poor sales made Pye lose interest in the band, and they withdrew their backing. In the autumn of 1969 the group disbanded with the members going their separate ways.
---