Week of October 21, 2007
Tranquility
Personnel:
Paul Francis - Drums, Percussion
Bernard Hagley – Bass
Tony Lukyn - Vocals, Piano, Organ
Kevin McCarthy - Vocals, Guitar
Terry Shaddick - Vocals, Lead Guitar
Berkeley Wright - Vocals, Lead Guitar

Albums:
Tranquility (Epic EPC 64729) 1972
Silver (Epic EPC 31989 - US only) 1973

45s:
Thank You/Saying Goodbye (Epic EPC 7603) 1971
Saying Goodbye/Happy Is The Man (Epic EPC 8243) 1972
Dear Oh Dear/Nice And Easy (Epic EPC 1486) 1973
Midnight Fortune/One Day Lady (Island WIP 6192) 1974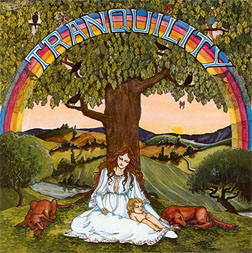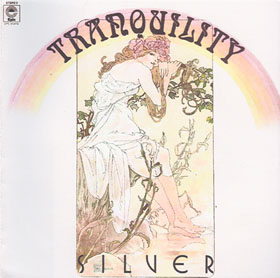 Also featured on the first album are appearances on electric bass by John Perry and Jim Leverton, both members of Caravan at different points in the future, as well as playing on many other records. There was also an extra drummer called Eric Dillon. This odd balance of personnel creates the suspicion that Tranquility was not so much an established band as a vehicle for displaying the considerable talents of Terry Shaddick who composes, writes lyrics, sings, plays guitar and has his fingernails painted in different shades of blue! Every one of the eleven songs is written solely by him except for two joint efforts. This is a strong, quirky collection of songs in a vaguely progressive, vaguely pop direction, given a considerable weight in performance by the four multi-layered vocalists, probably heard at their best on "Saying Goodbye" and "Lady Of The Lake".

In January 1972 they were a support act to The Byrds at their Rainbow concert gigs. Thereafter, they joined them on a five-week USA tour. They returned to England in mid-1972. In August 1972, they entered the CBS studios to complete a second album under the guidance of Ashley Koyaks. The album was only released in the USA, but it was available as an import elsewhere. Between 1971-74, they worked mainly in the States. The proceeds of their first single went to charity.

Kevin McCarthy had previously been in Cressida where he played bass; perhaps Tranquility didn't have a vacancy in that department at the time! Paul Francis had been in Buster and later played with Maggie Bell.
(Neil Murray / Vernon Joynson)
Taken from The Tapestry of Delights - The Comprehensive Guide to British Music of the Beat, R&B, Psychedelic and Progressive Eras 1963-1976, Vernon Joynson
ISBN 1 899855 04 1
---