Week of September 17, 2006
Saint Just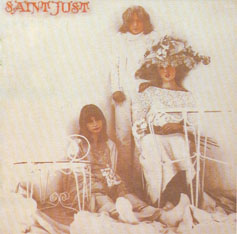 Personnel:
Jenni Sorrenti - vocals, 12-string guitar
Antonio Verde - acoustic guitar, bass, double bass
Robert Fix - sax
Tito Rinesi - vocals, guitars, autoharp, harmonica
Andrea Faccenda - guitars, organ, piano, mellotron, harmonica
Fulvio Maras - drums, percussion
Vince Tempera - violin
with:
Mario D'Amora - piano, organ, celeste
Antonio Esposito - drums, percussion, marimba
Gianni Guarracino - guitars
Alan Sorrenti - vocals

Albums:
Saint Just - 1973 Harvest 3C064-17870
CD: Mellow (MMP193), 1994
La Casa Del Lago - 1974 Harvest 3C064-18033
CD: Mellow (MMP194), 1994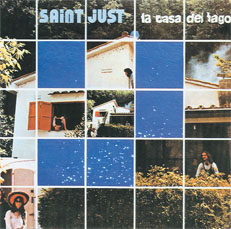 One of the elements that can make music magical is the effective use of sparse arrangements. The smallest details in a recording may appeal to the attentive listener. This 'group' from Naples played a distinctive chamber folk-rock highlighting Jenni Sorrenti's beautiful voice (comparable to Annie Haslam of the British group Renaissance) set in relatively simple arrangements (as opposed to the complex, weaving sound of many Italian progressive rock bands), much influenced by classical and folk music of the 18th Century. Some minor jazz influences can also be found in their music.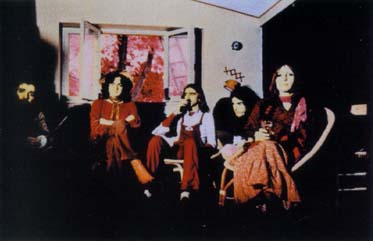 On Saint Just's first album the backing consists mainly of acoustic guitar and piano, with sporadic electric guitars, sax, glockenspiel and bass/drums. The production is tasteful with the occasional use of studio effects (like echo or a Leslie unit). The texture is thickest on the 10-minute opening track "Il Fiume Inondo'", which weaves between solo piano and powerful sections with electric guitar, bass, drums, sax and organ. Later tracks are generally more relaxed, like the beautiful "Dolci Momenti", where Sorrenti's voice is accompanied by glockenspiel, organ and bells. For their masterpiece 'La Casa Del Lago' the group was considerably expanded, and electric guitars and bass/drums backing became more prominent, along with new instruments like violin and mellotron. Best of all was "Nella Vita, Un Pianto" (11:04) with its great emotional intensity.

Their albums were among the most aesthetic and romantic in Italian rock and are highly recommended.
Taken from Scented Gardens of the Mind - A guide to the Golden Era of Progressive Rock (1968-1980) in more than 20 European Countries, by Dag Erik Asbjørnsen, Borderline Productions, ISBN 1-899855-12-2
---