Week of August 5, 2007
Peggy's Leg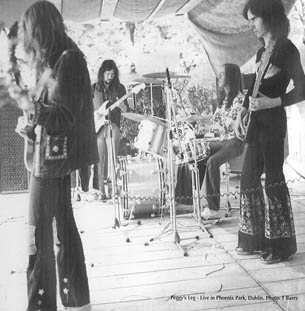 Personnel:
Vincent Duffy - Bass
Jimmy Gibson - Guitar, Vocals
Don Harris - Drums
Jimi Slevin - Lead Guitar, Vocals

Album:
Grinilla (Bunch BAN 2001) 1973
Reissued in 1995 by Kasoa Records, Italy
CD: digitally remastered with a bonus track (Kissing Spell KSCD 915) 2001

45:
William Tell Overture (Bunch no # ) 1973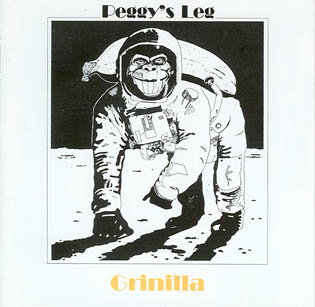 This is one of the rarest albums of the seventies. Peggy's Leg were an Irish classical rock outfit and their sole album was recorded in just 23 hours. 500 copies were pressed originally and as most were sold to local fans, originals are extremely difficult to locate nowadays, particularly with the inner lyric sheet. The album consisted of six tracks and, aside from an unadventurous cover version of Love Sculpture's "Sabre Dance", they comprised self-penned compositions which forged frantic heavy rock sections with soft dreamlike passages into a series of well structured songs. They also recorded a pretty frantic and indeed demented version of the "William Tell Overture", which was put out on a 45.

Jimi Slevin, the founder and leader of Peggy's Leg, joined Skid Row when the band split. He later went on to record several solo albums. Don Harris went into session work and played with David Bowie in the early eighties. Vincent Duffy sadly committed suicide in 1983.

In 2001, "Grinilla" was reissued officially on CD, digitally remastered and with a bonus track "Son Of Gorilla", which consists of a live recording featuring a drum solo by Don Harris.

"Just Another Journey" has got another airing on "Psychedelic Salvage Co. Vol. 1" (LP & CD). This is typical of their more melodic, well-structured songs and is very pleasant though too loose to have any commercial potential. "Sabre Dance" is featured on "Psychedelic Salvage Co. Vol. 2" (LP & CD).
Taken from The Tapestry of Delights - The Comprehensive Guide to British Music of the Beat, R&B, Psychedelic and Progressive Eras 1963-1976, Vernon Joynson
ISBN 1 899855 04 1
---