Week of April 9, 2006
Marvin, Welch and Farrar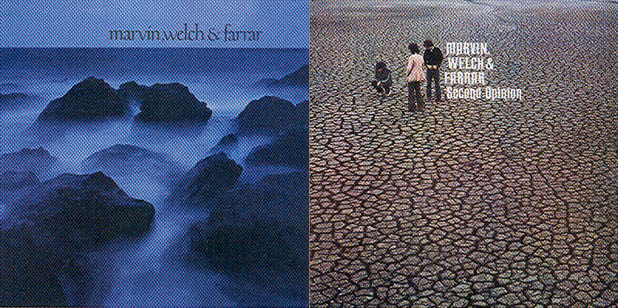 Personnel:
John Farrar - Vocals
Hank Marvin - Vocals
Bruce Welsch - Vocals

Albums:
Marvin, Welch And Farrar (Regal Zonophone SRZA 8502) 1971
Second Opinion (Regal Zonophone SRZA 8504/quadrophonic 4SRZA 8504) 1971
CD: See For Miles SEECD 324 and 325; BGO BGOCD714 2006
Step From The Shadows (compilation of tracks from the above two albums plus some by Marvin and Farrar)
CD: See For Miles SEECD 78

45s:
Faithful/Mr. Sun (Regal Zonophone RZ 3030) 1971
Lady Of The Morning/Tiny Robin (Regal Zonophone RZ 3035) 1971
Marmalade/Strike A Light (Regal Zonophone RZ 3048) 1972

Formed in 1971 as a harmony vocal trio. Marvin and Welch had both played together in The Shadows. The new trio made their debut on Cliff Richard's UK TV show. Then, in March, backed by another ex-Shadow Brian Bennett (drums) and Dave Richmond (bass) they toured West Germany, Switzerland, Belgium, Holland and Luxembourg, but it was old Shadows material rather than their new songs the fans wanted to hear. Their debut album made the UK Charts but their 45s didn't sell well. This combination was brought to an abrupt end when Bruce Welch left the trio. Marvin and Farrar continued to record together.
Taken from The Tapestry of Delights - The Comprehensive Guide to British Music of the Beat, R&B, Psychedelic and Progressive Eras 1963-1976, Vernon Joynson ISBN 1 899855 04 1
---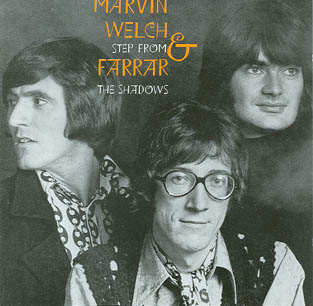 "For two and a half years we'd go on stage with our acoustics and people would be calling out for 'Apache', 'Wonderful Land' and 'FBI'. We couldn't get away from it. There we were with our Martin acoustics, vocal harmonies, good songs, but we just couldn't escape it."

(Bruce Welch, in conversation, 1993)

The knowledge that their early successes in a particular idiom have pigeonholed them for life must be a constant source of frustration for some musicians. The Shadows are a perfect example of this phenomenon. Timeless hits like 'Apache' and 'Wonderful Land' made Hank Marvin a hero to an entire generation of putative guitarists, as the Shadows dominated the late 50s/early 60s charts and became synonymous with British instrumental music. Nearly fifty years after making their breakthrough, they still are.

There are worse fates to endure, of course, than fame and fortune without needing to open one's mouth. Still, such a niggardly attitude amongst the record-buying public definitely had a detrimental effect on the band's ability to step out of those perceived parameters and diversify. Ironically, the Shads possessed more vocal ability within their ranks than most vocal groups: anyone in any doubt should check out criminally neglected singles like 'Dear Old Mrs. Bell' and 'Run Billy Run', non-hits from 1968 and 1975 respectively.

Somewhere between those two dates, Hank Marvin and Bruce Welch made a brave but ultimately unsuccessful attempt to break free of those instrumental shackles and forge a new identity. Heavily influenced by the American West Coast sound in general and Crosby Stills and Nash (Neil Young's thin whine being an optional and occasional extra) in particular, Hank and Bruce teamed up with New Zealander John Farrar to form an acoustic-based harmony trio who survived for long enough to make the music that is now collected on this essential reissue. As can be heard, their attempts to step out of the shadows of the Shadows (first and last excruciating pun, I promise) deserved a far better fate than the minor acclaim that they received at the time.

The seeds for the Marvin, Welch & Farrar venture were sown in 1968, when the law of diminishing chart returns finally put paid to the Shadows. After completing a Palladium season with Cliff Richard, they announced that they were splitting, although tours the subsequent year of Britain and Japan were undertaken in the group's name for sound financial reasons. With John Rostill joining Tom Jones's backing band and Brian Bennett moving into the lucrative session circuit, the two men most widely associated with the Shadows, Bruce Welch and Hank Marvin, opted for markedly different approaches. While Bruce would spend just over eighteen months away from active music-making, Hank embarked on a solo career with an eponymous album and a clutch of singles, including the excellent vocal offering 'London's Not Too Far'. However, he also continued to collaborate with Cliff Richard, and a couple of singles - the atypically muscular 'Throw Down A Line' (No. 7) and 'The Joy Of Living' (No. 25) - were hits in the winter of 1969/70 when issued in the collective name of Cliff & Hank.

By the middle of 1970, Welch had recharged his batteries, and he and Marvin began to discuss the possibility of working together again -but this time in a determinedly non-Shadows setting. "I thought about forming a five-piece, but he wasn't keen on a big group", Hank was to reflect. "We started writing songs together, and he suggested the two of us should record together. I suggested adding one more person - I wanted the extra strength of a third voice and the scope it would offer."

Back in 1968, the Shadows had toured Australia, where they had played some cabaret dates at Menzies Hotel in Melbourne. They had been impressed by the support act, a Beach Boys-style vocal and instrumental group by the name of the Strangers. The pivotal member of the Strangers was John Farrar, an accomplished singer, composer and arranger as well as the group's lead guitarist: at the point that the Shadows chanced upon him, and firmly in keeping with the experimental nature of the late 60s, Farrar played his guitar with the aid of a Coca Cola bottle! Serendipitously, by 1970, Bruce Welch was engaged to Olivia Newton-John, who had worked as a double act with Pat Carroll - who had just married John Farrar. Knowing that Hank and Bruce were looking for a third member, Olivia reminded them how impressed they had been with John's abilities when the Shadows were in Australia.

Marvin and Welch then contacted Farrar, asking him to submit a demo tape, though they apparently failed to explain the precise reason. Once those demos arrived, Bruce then made a further call, as John recounted to writer George Tremlett. "I had been out working and had gone home with my wife. We were both fast asleep around 1:30 am when the phone rang. When I picked up the phone, and Bruce told me what he was planning, I couldn't believe it. Pat wanted me to drop everything and fly to London on the next plane, but I was desperately trying to be cool. Pat and I didn't go back to bed until the following morning. We spent the whole night smoking cigarettes, drinking cups of coffee and talking... I was trying hard to be cool, but if the truth be known, I wanted to get on the next plane too."

By the time that John Farrar made it over to London in September 1970, his new colleagues had already written the bulk of the material for the debut Marvin Welch & Farrar album. In October, the trio set about recording that album, although the waters were already being muddied: that same month EMI released a new Shadows album, 'Shades Of Rock', featuring Marvin, Brian Bennett and Bruce Welch's replacement in the band, keyboardist Alan Hawkshaw.

With Bruce speaking of the challenge to "persuade people to like the new kind of music we are creating", the first fruits of the inaugural Marvin Welch & Farrar sessions appeared in January 1971. 'Faithful' b/w 'Mr. Sun' revealed their new direction, heavily influenced by the meshing acoustic guitars and three-part harmony vocals of Crosby Stills & Nash as well as the songwriting approach of James Taylor. But 'Faithful' was a strange choice as opening single: perhaps too subtle and low-key for the charts, it didn't take off despite coinciding with a new Cliff Richard BBC TV series that saw the band feature in five of the thirteen episodes.

Fortunately, the self-titled album, which came in an attractive gatefold sleeve designed by the Hipgnosis team, made slightly more impact when it appeared in February. Comprising a dozen original songs, the album was a largely internal affair, although Clem Cattini and Dave Richmond helped out on drums and bass respectively, with Alan Hawkshaw and recording engineer Peter Vince sharing keyboards responsibilities. Included was a fabulous soft rock remake of the Cliff/Hank hit 'Throw Down A Line' as well as a couple of compositions that were immediately covered by Cliff - the lyrical 'Silvery Rain' (a Top Thirty hit for him in April) and 'A Thousand Conversations', which, later in the year, would be the B-side of 'Sing A Song Of Freedom'.

It was a hugely accomplished, remarkably consistent debut work, full of superior songs, sympathetic playing and seamless, soaring harmonies. Particularly worthy of note were the statement of intent opening track 'You're Burning Bridges', that stirring revamp of 'Throw Down A Line', the desolate ballad 'Wish You Were Here' and the ambitious 'Mistress Fate And Father Time', which, like several tracks on the album, featured a stunning John Farrar arrangement. Curiously, the beautiful 'A Thousand Conversations' and 'Take Her Away' — not entirely dissimilar from the kind of sound that the Hollies were making at the time - were omitted from the American pressing, which trimmed the album to a ten-track release. Meanwhile, Hank's infectious 'Brownie, Kentucky' (backed by 'Faithful') appeared as a single in New Zealand, but doesn't seem to have been issued in seven-inch format in any other territory despite its relative commerciality.

Aided by the regular exposure the band received on Cliff's shows, Marvin, Welch & Farrar spent four weeks in the British album charts, peaking at the No. 30 position - bizarrely replicating the exact performance of the most recent Shadows album, 'Shades Of Rock'. It was an encouraging start, and EMI duly rush-released the group's latest brace of recordings that May. 'Lady Of The Morning' was a fine, mid-tempo song, awash with Hollies-style harmony hooks and bucolic romanticism, and was the obvious choice for promotion. However, perhaps the more enduring track was the B-side, 'Tiny Robin', a marvellous piece of early 70s acoustic balladry that had an echo of late period Beatles.

By the time that 'Lady Of The Morning' had appeared in the shops as a taster for the group's second album, Marvin, Welch & Farrar were supporting Cliff on a European tour that reached Holland, Belgium, Germany and Switzerland. Augmented by Dave Richmond and Brian Bennett, they were billed as 'The Shadows featuring Marvin Welch & Farrar'. In the event, though, only three MW&F songs ('You re Burning Bridges', 'My Home Town' and 'Faithful') were featured, with the larger portion of the show taken up by Shadows classics. It was to be a recurrent theme of their live performances: the need to attract a new audience stymied by the desire to keep the old fans on board. A disastrous opening night in cabaret at Batley Variety Club meant that, the following evening, the likes of 'Apache' had to be added to the show. "We lost out both ways", admitted Hank Marvin. "We lost out on the old Shadows, and we lost out by not getting through to the people we thought we'd get through to. They just wouldn't accept us."

That glum appraisal was reinforced with the release in November 1971 of the second Marvin, Welch & Farrar album, also recorded at Abbey Road. Briefly available in quadraphonic sound - particularly useful for those punters with four ears — 'Second Opinion' refined the sound of the first album with the aid of what, if anything, were a stronger set of songs. Farrar's 'Simplify Your Head' proved the band could rock out with conviction, 'Ronnie' was the kind of wry character-based
vignette that Ray Davies and Paul McCartney specialised in, and the shimmering 'Thank Heavens I've Got You' (which featured on an EMI quadraphonic sampler) really should have attracted the same level of industry attention as Lesley Duncan's similarly-inclined 'Love Song'. Other songs worthy of note include the engagingly goodtime 'Lonesome Mole', which featured the talents of session hotshot violinist Johnny Van Derek, and the closing track, 'All Day, All Night Blues', on which legendary British R&B man Duffy Power guested on harmonica.

Despite its many virtues, 'Second Opinion', which appeared in the US in a single sleeve rather than the lavish gatefold design (once again the work of Hipgnosis) employed at home, failed to build on the success of the first album. Instead, the extracurricular activities of the band members were more successful: Hank Marvin had a prominent part on Cliff's TV series, while, as a result of shared management, Bruce Welch and John Farrar ("He was the technical man, a brilliant musician, and I was the song man", Bruce reflected) guided the nascent career of Welch's girlfriend, Olivia Newton-John, producing the Top Ten hits, 'If Not For You' and 'Banks Of The Ohio'.

A third success for Olivia, a cover of George Harrison's 'What Is Life', followed in early 1972, its release coinciding with the appearance of the latest Marvin, Welch & Farrar 45, 'Marmaduke'. Penned by the then little-known duo of Alan Tarney and Trevor Spencer, 'Marmaduke' (backed by the fine, otherwise unavailable John Farrar song, 'Strike A Light') was a seemingly irresistible collision of harmonies, handclaps and hooks matched to a powerful anti-war lyric, but it inexplicably bombed despite strong support from BBC Radio One, who were normally capable of breaking any record that they threw their weight behind.

It was around this juncture that Bruce Welch left, suffering a nervous breakdown after the collapse of his relationship with Olivia Newton-John. MW&F had been booked for a week at Batley Variety Club, but Bruce only managed to perform for one night before returning to London, leaving Hank and John to hastily revamp their act by adding a clutch of old Shadows favourites. Subsequently they joined the likes of Brian Bennett, John Rostill, Alan Hawkshaw and the vocal backing team of Olivia Newton-John and Pat Farrar as part of a Cliff Richard tour, with Marvin & Farrar performing a set on a live double album released by Cliff in the Far East.

When they returned home, Marvin & Farrar recorded an album for EMI. Prosaically entitled Hank Marvin & John Farrar, this release appeared in August 1973, the same month that a single coupling the tender, Bee Gees-style 'Music Makes My Day' (featuring a recorder solo by Olivia) and 'Skin Deep' also appeared. Both single and album made no real impact, and Hank later dismissed the Marvin & Farrar material as lacking "something in direction... it was a bit like Frankenstein meets the Beach Boys". But 'Small And Lonely Light' and 'Galadriel (Spirit Of Starlight)', the latter complete with sumptuous string arrangement from Richard Hewson, were breathtaking creations: in addition to being covered by Olivia Newton-John and Cliff Richard respectively, the two songs were belatedly issued by EMI as a Marvin & Farrar single in August 1975.

By the time that 'Small And Lonely Light' appeared as a single, the Marvin/Welch/Farrar axis was no more than a memory. Bowing to the inevitable, the Shadows had reformed in 1973, initially as a studio-only unit comprising Marvin, Welch, Farrar and Brian Bennett with the aid of session bassist Alan Tarney. For a brief period, Marvin & Farrar continued to play live, sometimes augmented by Tarney and Trevor Spencer, but then the Shads took to touring again. "As long as people knew they were going to hear the instrumental hits, they were quite willing to listen to the vocal stuff as well", recalled Hank Marvin of this period. "They loved it, in fact. But when Marvin, Welch & Farrar were only doing vocal numbers, you could sense the unease of the audience."

Suddenly, however, the Shadows were given an increased public profile when, at the behest of the BBC's Head of Light Entertainment, Bill Cotton, they represented Britain in the 1975 Eurovision Song Contest. 'Let Me Be The One' came second in the show, but it also gave the Shadows their biggest British hit single (it reached No. 12) since 'Don't Make My Baby Blue' back in 1965.

The accompanying album, 'Specs Appeal', also sold well, reaching the Top Thirty. However, Olivia Newton-John's decision to relocate to the United States saw John Farrar follow her as musical director and record producer (a couple of years later, he would write 'You're The One That I Want' and 'Hopelessly Devoted To You' for the soundtrack of 'Grease'). While Bruce Welch masterminded Cliff Richard's remarkable artistic renaissance, producing the album 'I'm Nearly Famous' and the pivotal singles 'Miss You Nights' and 'Devil Woman', the Shads themselves became increasingly conservative, concentrating once more on instrumental after being shorn of John Farrar's distinctive falsetto and harmonies. Speaking some years later of the public's lack of acceptance of his vocal work, Hank Marvin admitted that it "had been a source of frustration in the past, but... I'm fairly philosophical about it now. I feel that most of us find some kind of niche, or marketplace if you like. It's not always satisfactory to the artist, to feel they've been slotted into a pigeonhole, but that's the way the business works."

Back in the early 70s, though, the vocal team of Hank Marvin, Bruce Welch and John Farrar had, irrespective of sales figures, been responsible for some of the most adventurous, intelligent, enduring soft rock and harmony pop to emerge from this country. Here's the definitive anthology of that halcyon period.

David Wells, December 2005
With acknowledgements to George Geddes and Record Collector magazine
Taken from 'Marvin, Welch And Farrar'/'Second Opinion' 2CD set BGOCD714 2006
---